Hey there everyone – so we had a bit of an issue uploading the photo of the week a couple of weeks ago, so we decided to combine the Light Stalking update for you and present a bumper crop of community awesome this week.
So today we bring you a lovely selection – 2 Photos of the Week – one from DavidC and the other from P71 (Pat). Both these images have a moody and mysterious feel, so really a nice complimentary Photo of the Week diptych of sorts.
We will also bring you two weeks of highlights from the Weekend Photography Challenge – first up some beautiful photographs from challenge #460 – black and white and more in #461 – circles, curves and spirals, which funnily enough gave us a lot of stunning, full colour images. Again a fortuitous compliment!
There will also be discussions that you may have missed on the forum and some great posts to the Shark Tank that are looking for your expert critique!
So let's get started…
Photos Of The Week – November 2019
So here are the wonderful photos of the week – from DavidC and Pat! We were obviously feeling quite enigmatic over the past couple of weeks as these images attest.

So here is what Kent DuFault had to say about these wonderful images. And congratulations and thank you so much to David and Pat for sharing these beautiful landscapes.
Our POTW winner for this week is P71 (Pat) for his mysterious landscape photograph titled, "In the thick of it."
In my mind, I often compare viewing photography as a similar experience to reading a book.
There are books that you pick up and read them. You get through the book, and you come away feeling that it was ok.
There are books that you start and quickly put down, never pick them up again.
Finally, there are books that, from the first moment you begin reading them, you're hooked. You can't put them down. They leave an indelible impression.
Our POTW winner for this week is like one of these fantastic books that hook your imagination and won't let go.
Tersha (Diane) commented on this photograph, and I think it fits perfectly. She said, "Both good Patrick, but the 1st is special!" (He had posted two pictures. This being the first one.)
She's right. This picture is captivating. It's an excellent use of Minimalism. It lets the fire up their imagination.
Also, this week, I want to mention @Davidc. He was poised to be the POTW winner last week. However, I was unable to make the post due to complications with the website. His photograph titled, "Lochgoilhead in the rain" is also an amazing and memorable moment capture.
Weekend Photography Challenge #460 & #461
Here is our mash-up two weekly challenges, so we hope you're kicking back with an extra-large cup of coffee for this! Here are some great shots from our 460th and 461st Challenges Black and White and Circles, Curves And Spirals:
This is an eerie shot and quite a find. The shadows make it quite moving and it tells a great story and the way the mannequins alternate between black and white clothes makes the image extremely balanced – what a great capture
I simply love the light in this photograph, it enhances the mood and makes the viewer wonder about all the stories inside her eyes. A very beautiful photograph.
This long exposure feels really silky, but the extra is in the snow covering the rocks making them feel like being made of some sort of polished metal. Due to all the tones, this is a great subject for black and white
There is something about flowers that make them such wonderful objects to study in a visual way. The choice of black and white here is a brilliant one.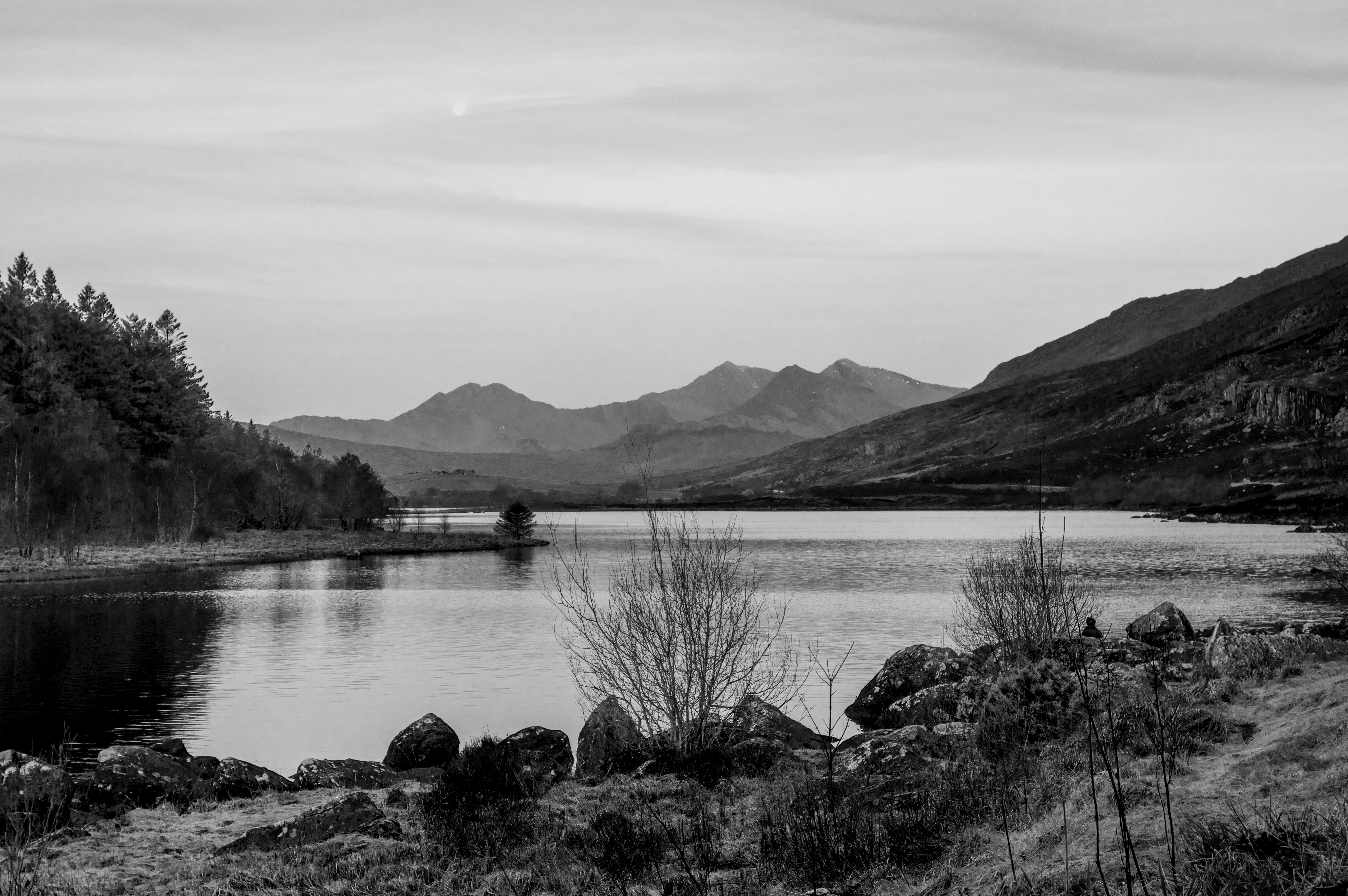 Black and white enhances the sense of depth in this landscape. It also adds a moody element, you can feel the cold!
You can feel all the heat coming from this steaming cauldron. What a stunning image from Bobbie. It is wonderful to be able to find visual interest in an everyday item.
It is hard to keep it up with the rule of odds in street photography, and Jim has really told a visually pleasing story thanks to it. and in words of John Teate: "this works with the haze and gradual fading of the silhouettes". It sure does, congratulations Mistyisle on a wonderful image.
Jasenka and Antonio do look like statues in this odd angle shot. At first glance, I thought it was a photograph of a statue! The black and white choice here definitely makes the image creative and visually interesting!
Nice details and textures, which really come into relief when in black and white. Honestly, the shot would not be as impactful in color
What a find and the muted tones in it makes the scene look even sadder than it is. This image is quite poignant
Swirls always make compositions better, and this is surely the Queen of the Vortex! Everything in this composition fits perfectly and we love it!
This is the time of the year when everything turns windy and bright. Nice pair of roads mate! Leading lines curving away really makes the viewer want to follow them to the end!
It appears that we got a bokeh burst here, and the gradient feel it has makes it even more dynamic. This is a stunning image from a master of flower photography
Patrick is surely nailing light painting techniques and processes! We are really glad to be witnessing this particular evolution. Congratulations Pat on working to master a new skill in photography – this group is great.
Line, circle and spiral indeed. The way the colours show themselves in such an imperfect way makes this shot very interesting. Also, the complementary colours help to make it more noticeable too. Great composition!
Hey you, tiny sprouting spiral! Nature loves her spirals!
Nature is a true master when it comes to spirals, it will always deliver the most fascinating figures, we just need to keep our eyes open to see them.
Nice and clean swirl, this lovely abstract really makes you wonder what it might be.
This is such a clean photograph, this first snow of the season almost looks surreal.
We are sure that such a lovely composition wasn't easy to achieve. An amazing curve and lovely contrasting colors really make it pop. Thanks, John and Nature!
The rule of odds is a nice technique when isolating objects or subjects and still keeping that "group unity" feel. This is great composition and beautiful light – all around a great photo!
Here Are Some Discussions And Images From The Forum
Elin shared a very interesting link depicting some strong images and strong stories from army veterans that participated in a three-month photography workshop as a healing process.
David went into a light painting workshop:
Patrick shared a pretty funny dolly or doodle, or you name it!
Charmaine shared this beautiful lion she photographed back in 2017:
It is awesome when Light Stalkers get to meet with each other, especially when it is for the first time! Jasenka and Erik met last week at Amsterdam, and they had a great time.
Beth stumbled into some pretty territorial sheep, she left before they became carnivorous, but not before she shot this beautiful photo of them:
Dave Watkins was inspired last week, and made this nice tribute to Alfred Hitchcock:
Dave shared this lovely snapshot that means a lot to him!
Patrick did a very clean and symmetrical experiment with a nice and bright orange light – this is awesome:
What about some nice photos from the streets at Wyoming? Not my joke, Robert is the genius here.
Paul shared this candid shot with us:
Oh, and the issue with posting images to the forum was because the maker of our forum software updated it after 6 years…
Give Us Your Thoughts In The Shark Tank
We truly believe in the power of critique and feedback, and we promote it via The Tank. Take a look and provide your feedback or post your own photo that you would like critiqued. It is positive and powerful and will definitely help you become a better photographer
Here are some of the shots shared over the last couple of weeks:
We love our community and our community loves photography – so make sure you take a look or participate in the latest challenge published by Tersha on Triangles and Threes! Please remember to join our friendly photography community if you haven't done already! And also take a look at our Members Picks from this last week as well, here you'll find the best of the best from Light Stalking, curated by our very own members.
Today We Leave You With…Congratulations To Pat
Congratulations Pat on your amazing photograph. This mesmerising shot has had a great journey – Pat posted it to the Shark Tank for feedback, it was our Photo Of The Week – then Pat entered this in the Down East Magazine photo competition and came in second in her category…then it was showcased on a local TV news program in their story about the competition!!! WOW!! Read about this photo's journey in Pat's own words here: