Mobile phone cameras are becoming more and more impressive nowadays, which means they are often used instead of compact cameras and DSLRs. Hey, they are the camera we have with us most of the time!
Because of the rise of mobile phone photography, there are a plethora of apps that can improve the quality of your photos – and the best thing is that you don't have to bother transferring the photos to your computer, if you want to do a quick edit before posting them to your social media account, or sending them to your family.
The following list features 10 of the most popular photo editing apps for iOS and Android:
1. Adobe Photoshop Express (iOS/Android)
Adobe Photoshop Express is among the most popular editing apps – it has many advanced editing tools and filters. Just like in regular Photoshop, you can crop, straighten, rotate and flip your images.
In addition to that, you can also change brightness and white balance and add some creative frames to your mobile photos. What's really interesting about Adobe Photoshop Express is that it supports even raw photo formats, which you can easily import – giving you quite a powerful editing tool right in your pocket.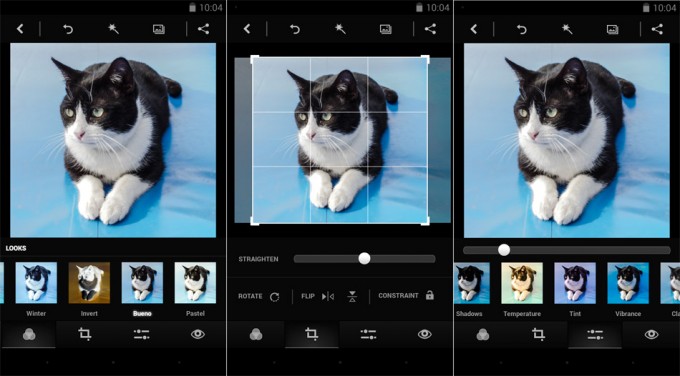 2. AutoDesk Pixlr (iOS/Android)
AutoDesk Pixlr is another popular photo editor with over 2 million effects, overlays and custom filters. What's unique about Pixlr is that it allows for the creation of photo collages with multiple layouts and background options.
It's also possible to layer and blend together single photos.
AutoDesk Pixlr is a great aid in enhancing selfies, too. Thanks to its advanced tools, you can effortlessly remove all kinds of skin blemishes and even whiten teeth.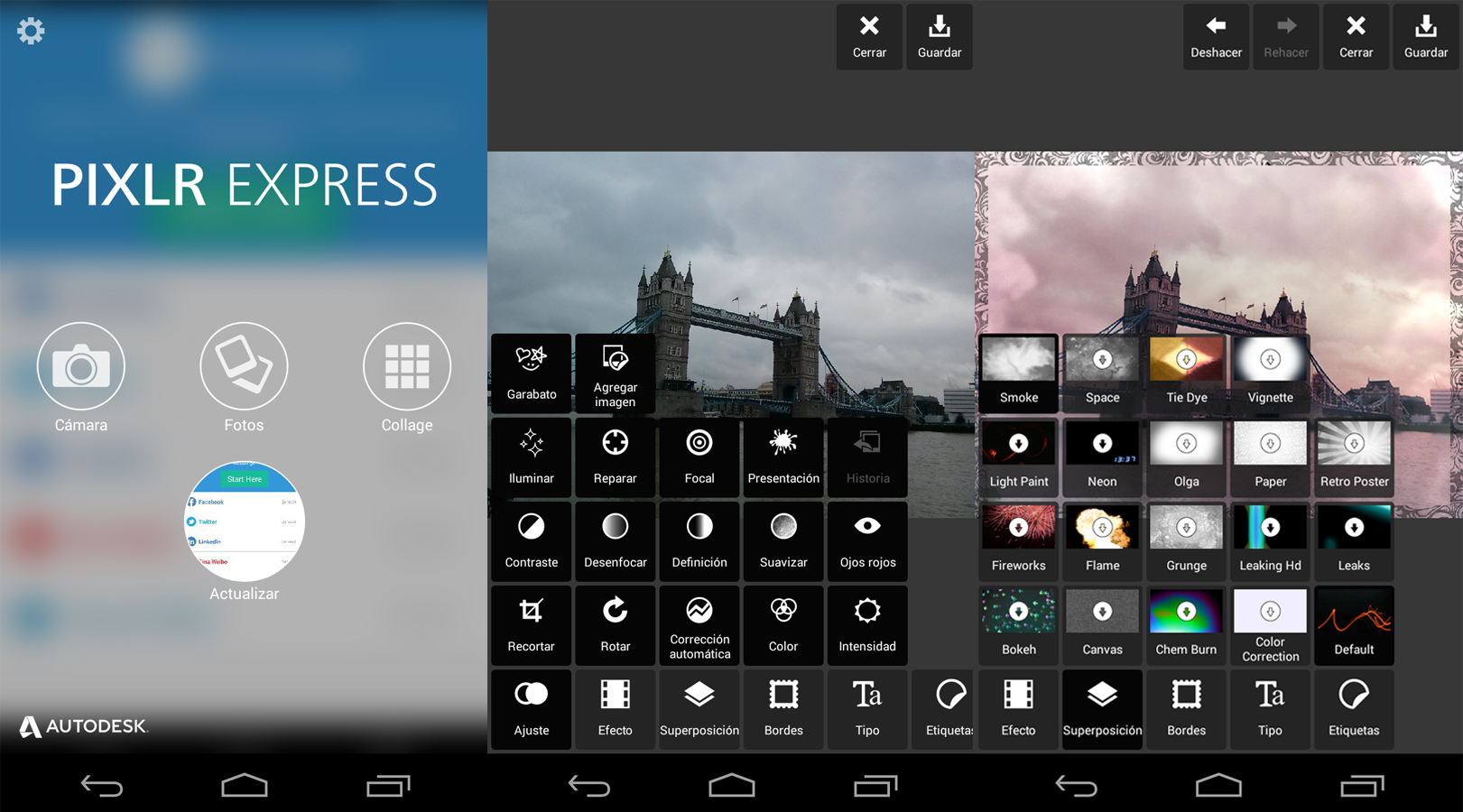 3. FaceTune (iOS/Android)
FaceTune is a great app designed specifically for improving portraits. It can brighten teeth, remove blemishes and even make dark circles under the eyes disappear. FaceTune has some more advanced options as well, such as replacing grey hairs with a different color and filling in bald patches. It can even refine jawlines, reshape noses and fix various makeup issues.
This is probably the most popular photo editing app to give you your best selfie.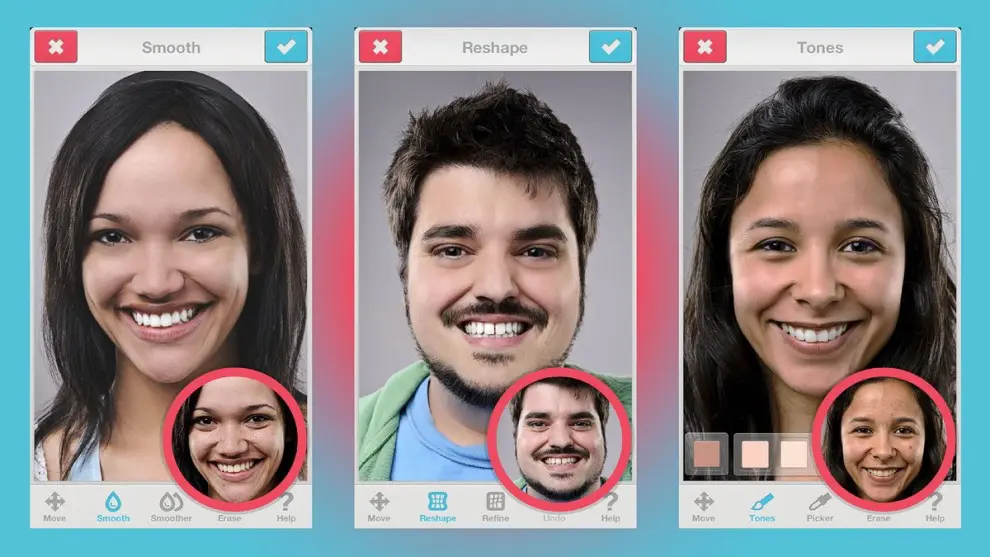 4. Google Photos (iOS/Android)
Google Photos is more than a simple photo editing app – it is a free and unlimited photo and video storage service. When it comes to editing your mobile shots in Google Photos, you can simply tap on the pencil icon of a photo and the app will allow you to start post-processing your photos. Just like in other similar apps, you can adjust color and exposure, crop and rotate or apply various filters.
In case you're not satisfied with your editing, you can easily restore the photos to their original version.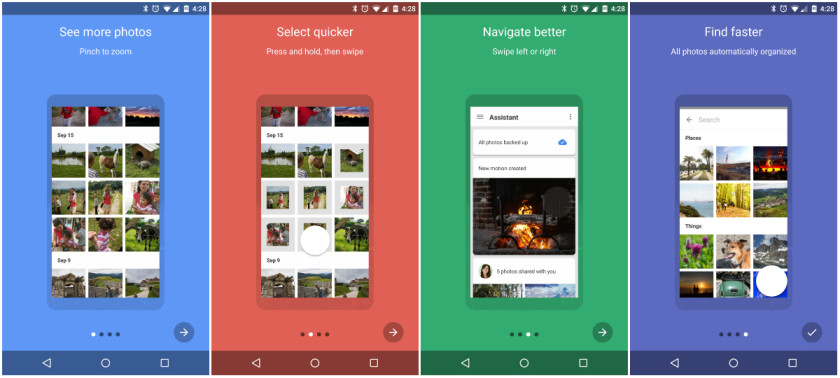 5. Prisma (iOS/Android)
Even if you haven't heard of Prisma, you've surely seen some photos edited in this app. Prisma is a mobile app that turns your photos or even videos into unique artsy pieces inspired by Van Gogh, Picasso, and other painting masterminds. All you have to do is to take the photo and select the filter! Prisma has developed very elaborate algorithms to make photographs turn into digital art smoothly.
Currently, Prisma has over 30 different styles you can apply to your photos and it is really successful – it has been downloaded tens of millions of times.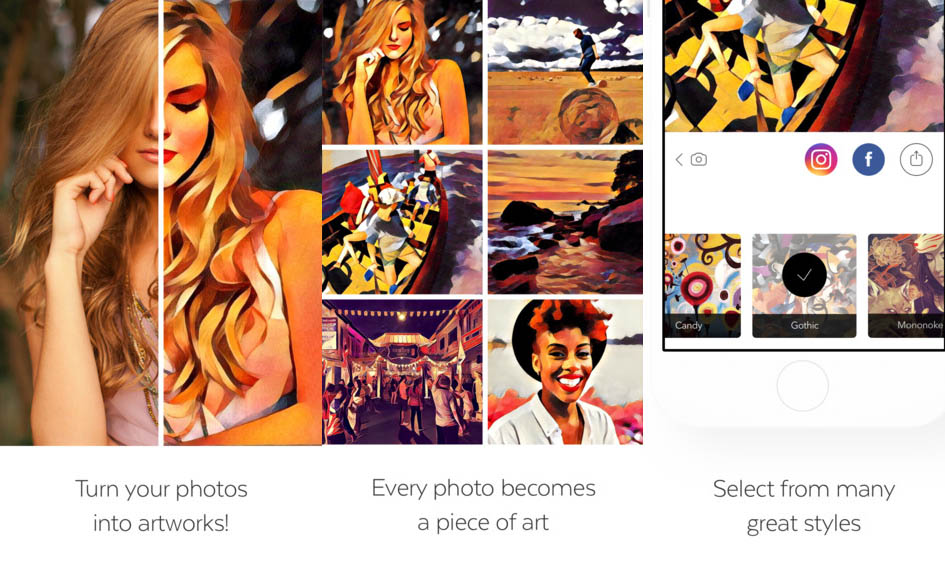 6. Repix ( iOS/Android)
Repix is another popular photo editing app with over 15 million users. This app is very simple and user-friendly – it has more than 15 filters and 10 different frames you can use to make your images stand out. Besides standard editing tools such as brightness and saturation controls, you can also play around with special effects like lens flare and posterize.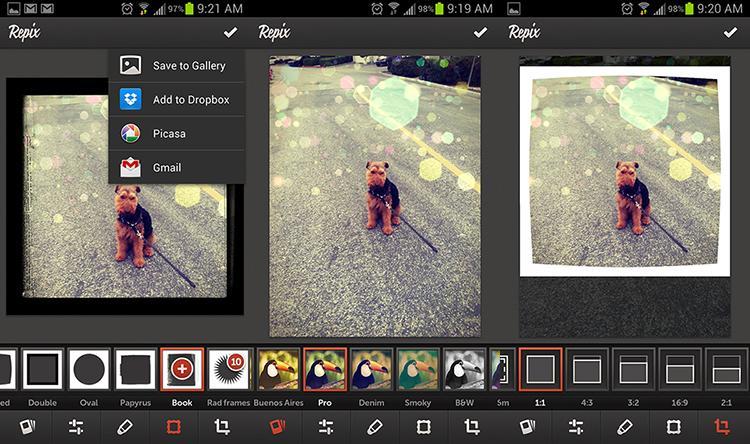 7. Litely (iOS)
Litely might not be as popular as Adobe Photoshop Express, but it's still a great editing app created by Cole Rise, the photographer who launched some of the most famous Instagram filters, such as Amaro, Hudson, and Sierra.
In addition to amazing filters tailored by this successful photographer, Litely also allows you to adjust exposure and sharpness and apply different kinds of vignetting.
8. Font Candy (iOS)
Font Candy is a very useful photo editing app that allows its users to overlay font captions on photos.
This is a perfect option for any blogger who's not too much into graphic design. In addition to some basic options, Font Candy also has scaling and cropping tools that you can easily use in various marketing projects
9. Camera+ (iOS)
Camera+ is a rather sophisticated photo editing app that offers many features that similar apps lack. For instance, it has a stabilizer shooting mode that helps you take sharp photos. Another great feature you can find in Camera+ is clarity, which makes great adjustments to photos taken in low light situations.
Some of the additional options you can find on Camera+ are various filters, brushing, layering, white balance, red-eye removal, vignetting and color toning.
10. Darkroom (iOS)
Darkroom is another elaborate photo editing app that gives you more control over post-processing than typical simple apps. In addition to options such as crop, brighten, saturate, fade and add filters, you can also adjust the curves and levels, just like in regular Photoshop.
It's interesting that Darkroom has infinite undo history and custom filters, which allows you to process your photos in a quite professional way.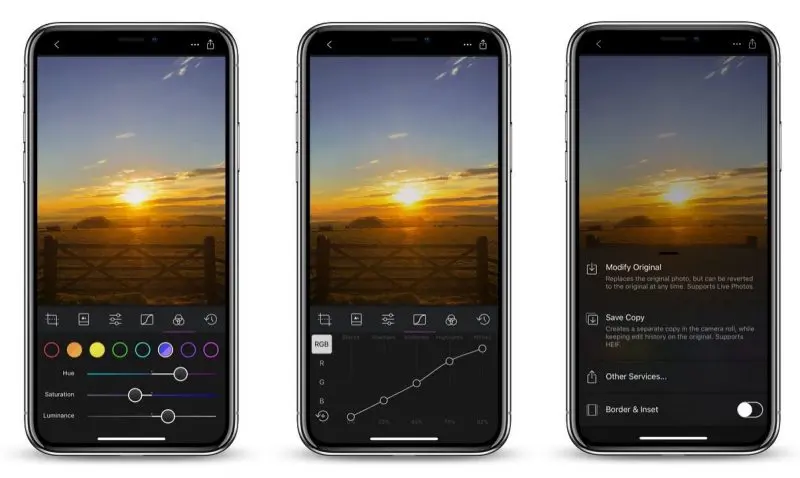 If you're into mobile photography, we hope you'll find this list useful for your photo editing needs!
This list isn't exhaustive and, needless to say, these apps cannot really replace editing in Photoshop and Lightroom. However, they can make your mobile photographs much more intriguing and fix some of those issues you get when shooting on your phone for Instagram.
If you use other mobile apps, let us know in the comments below.
Further Reading: