Let us all face the facts: mobile photography isn't going anywhere. It's only getting better — the cameras, the apps, the photos. I'm not one that needs convincing as I've long been an advocate of the legitimacy of mobile photography, but there are still legions of doubters. Those individuals won't be easily swayed so I won't bother trying. For those who are looking to maximize their mobile shooting experience — from fun, social media oriented apps to more full featured editing apps — here are four apps that should be given serious consideration by all. Each app (except the one listed in the Bonus section) is available for both iOS and Android platforms as free downloads, though in-app purchases may be required in some cases to unlock certain features.
Instagram
Virtually everyone recognizes Instagram as the world's most popular social network for photographers, but did you forget that the Instagram app also features a camera? If you're the type to upload and share shots taken with a camera other than the one built into your phone, the Instagram camera (which lets you capture stills and video) probably never crosses your mind. But it's there and it works perfectly well. It's not the most feature laden camera app out there, but it doesn't need to be. Yes, it has basic image editing options but the Instagram camera app is famous for its filters and a host of fun adornments that are available. Plus, you get access to a global community of photographers of all skill levels — follow your favorites to keep your home feed stocked with lovely imagery.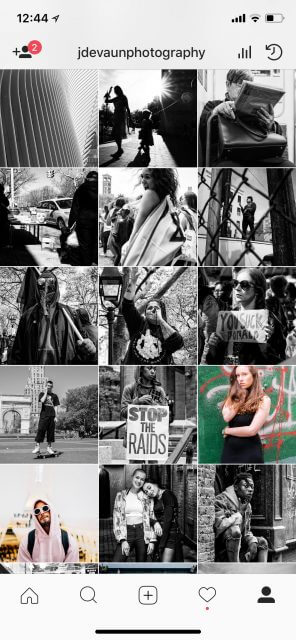 VSCO
VSCO is basically a social media driven app that forgoes the commenting and liking component of an app like Instagram, and focuses more on providing visual inspiration. The camera is quite good — it allows you to manually control shutter speed, focus, white balance and ISO. You can also capture raw files but when you export them they will be converted to JPEG. VSCO's editing suite is robust and contains everything you might need to perform perfect edits of your photos — from highlight and shadow adjustment to perspective correction. VSCO's claim to fame, however, is its preset library; it is vast, diverse and visually appealing at nearly every turn. You'll get a healthy selection of free presets included with the app, plus the option to purchase other individual preset collections, or you may subscribe to VSCO X for access to the full preset collection (plus new monthly additions).
Snapseed
If you want a mobile app with editing features that closely resemble what you would find in a desktop application, Snapseed is what you're looking for. You can use Snapseed to capture images, but it uses your device's inbuilt camera which may or may not be to your liking. What will definitely be to your liking is the depth of the editing experience that Snapseed provides. As with just about any mobile photography app, you get some predefined "looks" that you can apply to your images. These give you a nice starting point, but it's when you get into the Tools module that you begin to see the true power of Snapseed. You can adjust curves, perspective and tonal contrast; create double exposures; add vignettes, text and frame. There's a healing tool, a brush and, yes, you can perform selective edits much like you would do in Lightroom. Snapseed really does have it all.
Prisma
Prisma is a fun app. It takes your photos and videos and turns them into quasi-art pieces in the vein of Van Gogh, Mondrian, Picasso; there are also comic book emulations, pencil sketch looks and plenty of other styles to choose from. Prisma is easy to use; there's not much in the way of settings and customization. You select the look you want and apply it. You can also share to Instagram and Facebook, and Prisma now has a feed where you can see what other Prisma users are doing. In short, Prisma does one thing and does it well.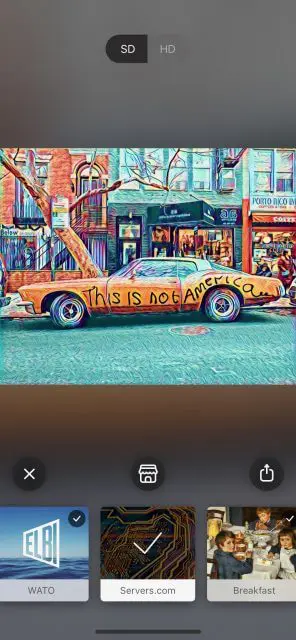 BONUSES
iOS Exclusive:
Darkroom – Lightroom meets VSCO. Darkroom sports a decent supply of free, high quality filters (more are available via in-app purchase), supports raw files (even the iPhone's Live Photos can be edited as-is in Darkroom), allows batch processing and automatically syncs with your iPhone's Photo Library. Darkroom is a close second to Snapseed as an image editor.
Android Exclusive:
Little Photo – The fun factor is obvious with this app. Little Photo's easy on the eyes interface guides you through more than 70 filters (all free), ranging from dramatic black and white to "flawed" film. Filters are stackable and can be applied with different intensities, meaning you have a mind boggling range of possibilities for what you final image can look like.
Conclusion
Naturally, mobile photography apps will continue to improve along with advancements in hardware. High quality apps are plentiful — the ones listed here represent staples, so to speak. Any mobile shooter could certainly get by with just one or two of these apps, but once you've tried one or two of them, I'm confident you will want to try more — and there are many more than I could possibly cover in one sitting.
Feel free to share some of your favorite mobile photography apps, free or not, with us.