Photographing your pet can be a fun experience for the both of you as there are so many unique ways to capture them. However, it takes a bit more than random snapshots to encapsulate the true nature of your pet and create a worthy portrait. With this in mind, here are some simple guidelines to help you photograph some stunning moments of your pet.
1. Know Their Personality
The personality and attitude of your pet should be the driving force of your photo shoot. While a simple portrait of them sitting happily in your hallway might be cute, it's certainly not representative of who they are (unless, of course, they sit in the hallway and smile all day).
Instead, plan your session rather than jumping into it. What does your pet like to do? Are they the playful, energetic type or do they snooze on the couch all day? If your dog loves to run, bring them to the park and ask someone to play Frisbee with them while you snap away some great action shots (make sure to use a fast shutter speed if you want to freeze that action).
Alternatively, if you have a rather lazy pet that spends their day lounging around the house, incorporate that personality trait into your image.
2. Change Your Perspective
Your pet is (typically) not at the same eye level as you, so why would you shoot from your perspective? Sure, you may get some interesting shots of them looking up, but these images get old rather quickly. Get down on the ground and capture your pet head-on. Not only will this capture a more interesting background for your image, but it can create some great pet-owner interaction moments.
3. Get Environmental
If you want to create truly unique portrait of your pet, consider placing them in an environment where they can interact. Bring them to the beach and have your dog run around and chase the waves. Or perhaps you'll be having a house party soon – grab your wide angle lens and capture some moments with your pet interacting with the guests. Placing your pet in the right environment creates more opportunity for candid images, which works fantastically if you're looking for photos that go beyond a staged portrait.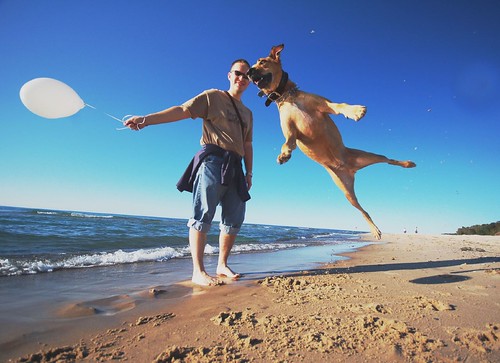 4. Extreme Focal Lengths
Once you've got your pet in place, think about your surroundings and how you can benefit from the extreme focal lengths.
If you're doing an outdoor photo shoot where you have plenty of room, you might like to use a zoom lens as it has the ability to compact your environment. Those trees in the background that seem to get lost with your regular focal lengths can be brought into your frame and make fantastic bokeh.

Photo by Christopher O'Donnell
Alternatively, an extreme wide angle lens can give you a unique perspective and exaggerate your distances rather than compact them. This type of shot can create a fun and interesting image of your pet, while allowing you to pin-point your focus.
When using wide angle lenses at such a close distance, make sure to watch your f/stop and see if your image is too shallow for your taste. If you want to create a pet portrait where the entire face is in perfect focus, you'll need to increase your f/stop as wide apertures can be very sensitive in tight quarters.
5. Consider Your Background
This tip probably applies more towards those who want to take staged images, but it's still something to consider. Like with most photographs, your background is an important, but often overlooked, part of your image. Taking a pet portrait with dirty dishes and other clutter in the background is not going to create the best scenery for your photograph. If you can't find a background that compliments your image, place your pet in front of a solid color wall for a minimalistic image that throws the attention on them rather than what's going on in the background.
6. Change Your Framing
Don't be afraid to get close to your pet – extremely close. A tightly cropped image (even with your macro lens) using a wide aperture can create some stunning shots. Consider filling the entire frame with just the face of your pet, or perhaps even just a whisker or a snout. It's a great way to create some artful images.
7. Self Portrait With Your Pet
Finally, have some fun with your images and jump in on the action. It's your pet after all so why leave yourself out – capture a great moment between you and your pet with a new self portrait.
You can also take it a step further and set the stage for an interesting environmental portrait that you're a part of. If you enjoy story-telling with your images, this is a great way to include both you and your pet in a special image.
Read more great articles by Christopher O'Donnell at his blog or follow him on Facebook.