Apple is definitely a mainstay in the digital media space – and for more than one good reason.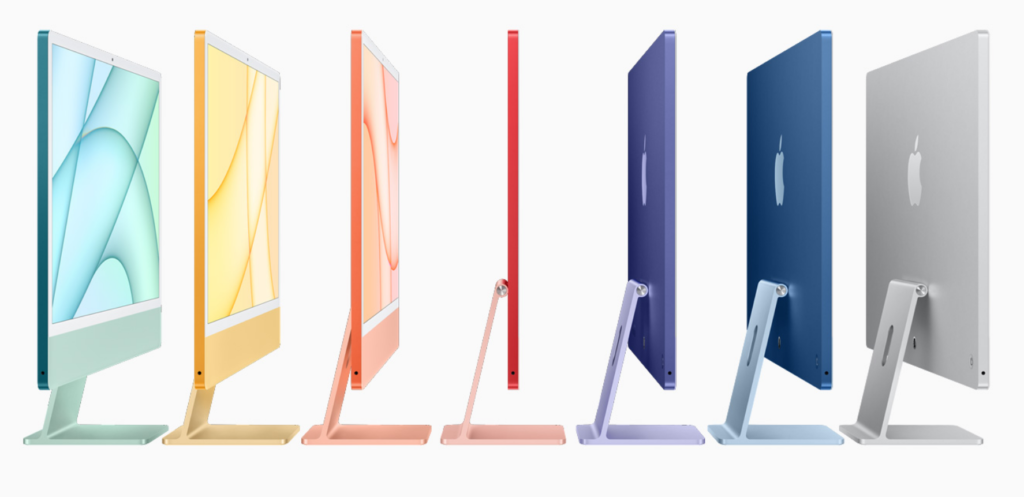 Sure, Cupertino is primarily known for its iPhone today but, back at the start of it all, Macintosh personal computers kind of made a name for themselves among photographers and videographers and the reputation has kind of stuck ever since.
So, as you can imagine, some of us really look forward to the release of new Apple hardware, and the latest iteration of the popular all-in-one iMac was just unveiled to the world.
Sporting a sea of rainbow colors and a slim form factor, it would seem that this generation is more of a throwback to the Jobs era Bondi blue buckets of yore. Yet this latest incarnation is also pretty darn special because it is the first in the iMac line to sport Apple's new in-house silicon, the M1 chip.
In fact, FStoppers reports that Apple is boasting the new M1 chip is 85% faster in the CPU performance area compared with previous models which translate into faster, more efficient workflows for many of us. In terms of display, we're getting a 4.5K retina display 24" monitor capable of 11.3 million pixels with True Tone technology that adjusts the display's output in accordance with the ambient light in the room.
Aside from the blazing-fast M1 chip and the other accouterments, perhaps the biggest headline grabber of them all is the fact that the iMac is ditching the rather staid colors of the past couple of generations in favor of a return to a classic style. Arriving in green, yellow, orange, pink, purple, blue, and silver, the latest iMac is anything but boring and more closely resembles the company's iPhone offerings. Whether or not this kind of thing will spill over into the laptops eventually (or tablets, for that matter) remains to be seen but it is kind of a love-it-or-leave-it proposition for many on its face.
Does the new iMac lineup look promising as a digital media workspace? Let us know your thoughts on Apple's latest iteration on their popular all-in-one computer in the comments section below.
Be sure to check out some of our other photography news on Light Stalking at this link right here.