Beach photography presents many unique challenge to the amateur photographer due mainly to the extreme photographic conditions in which it is often undertaken. Contending with an abundance of light, reflections and movement can leave some photographers grasping at straws, yet beach photos can also produce some of the most starkly beautiful images of any subject matter. We've put together a list of beach photography tips that you may want to consider more guidelines than rules, but which might help you take your beach photos from the realm of average to great. Well, at least we hope they do.
Updated: 2 November 2018 – extra links
Published: 26 April 2009
1) Shoot in the Golden Hours – It is going to be very difficult to take an above average beach photo in the middle of the day. Even on cloudy days, there is usually going to be a problem with over exposure. While many photographers put their cameras away between 10am and 2pm, that time is usually extended dramatically when shooting beach scenes – especially if you are lucky enough to live in an area with reasonably good weather. As you can see from the photos below, the best images are usually taken at sunset or sunrise, so try to emulate that.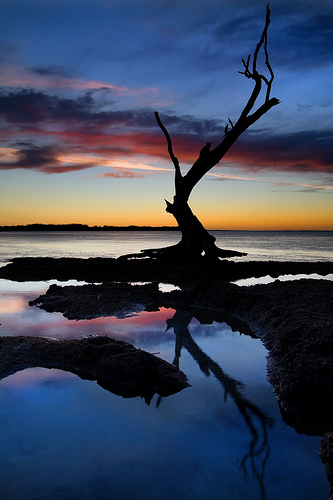 2) Capture Motion – With lower light and longer exposures comes the chance to capture the motion of the waves and sea. As you can see, this can really result in some haunting images that are ten different kinds of awesome.
3) Remember the Rule of Thirds – Composition of beach photos is just as important as any other type of photography. Remember to consider the rule of thirds and you shouldn't go too far wrong with your beach composition.
4) Remember the Sunny F16 Rule – If you absolutely, positively must shoot at the beach when the sun in shining, then you might at least come away with some images worth looking at if you remember the sunny F16 rule. This is not an ideal situation, but if you are even remotely experienced with photography you will realise that there are very few ideal situations in this hobby and when they come up, you usually get a prize for the resulting images!
5) Take Advantage of Reflection – Being around so much water is going to give you a lot of opportunities to take advantage of reflection. If you need some inspiration then check out these reflection photos to see what we mean. Getting reflections under the right circumstances can add a huge element of interest to your images.
6) Don't Ignore Black and White – While you may think of the water or beach as a place where you can get fantastic contrasting colours (and you would be right) you might also like to take a moment to consider black and white images. Some of the greats were able to get incredible black and white seascapes that ooze atmosphere. Look at this image for instance:
7) Use Driftwood in the Composition – You can find it on almost any beach and you can use it in good composition and to draw the viewer's eyes to an area of the image. You can also move it around to build the image you want. (Ok, some people might consider that cheating, but we all do it!)
8) Think About the Weather – While the beach might provoke mental images of flawless cloudless days, more dramatic weather can result in incredible images at a beach. Look at the brewing storm in the image below to see what we mean or check out these storm photos to see what can be done when shooting in extreme weather.
9) Use Clouds for Drama – Going along with considering the weather is watching out for clouds. Most of the best images of beaches somehow incorporate clouds into the composition to add interest to the beach.
10) Don't Forget Night Time – Beaches usually make us think about beautiful sunrises and sunsets. Don't forget that you can get some spectacular night time beach photos too. There are a whole heap of separate issues in incorporating the moon into a photo but the results can be great. Check out our moon photos post to get some more inspiration.
Other Awesome Beach Photos
Concluding Thoughts
Shooting at the beach presents its own set of challenges with lighting, motion and composition. Even so, even a rudimentary adherence to some of the suggestions here should increase the chances that you're able to capture an image a cut above most other beach photos. A bit of experimentation and deference to the conditions will mean you should come up with a couple of solid photos.
More Beach Photography Resources: