In an auction to be held at Christie's in New York City and online, the Museum of Modern Art (MoMA) will offer the public a selection of over 400 prints including mid-19th century through to the early post-war period photographs from masters such as Man Ray, Ansel Adams, Alfred Stieglitz, Edward Steichen, Walker Evans, Bill Brandt, and Henri Cartier-Bresson. The Museum of Modern Art's auction proceeds will benefit the Department of Photography's acquisition fund.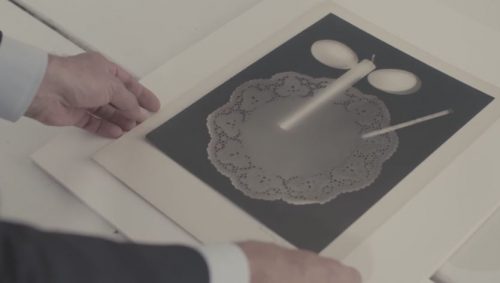 Names familiar to any devotee of photography, many of the prints on offer will be from photographers whose work initially debuted within MoMA's exhibition program.
Among the most anticipated works are prints from Man Ray. The lot Man Ray (1890–1976), Rayograph, 1923, which comes to MoMA from Man Ray's friend, the poet and co-founder of Dada, Tristan Tzara, has an estimated value between $200,000 to $300,000. Another lot on offer, Man Ray (1890–1976), Rayograph, 1928, has an estimated value between $150,000 to $200,000.
Darius Himes, International Head of Photographs at Christie's, describes Man Ray's development of the discovery of the photogram process while experimenting in his darkroom in Paris. Creating a photogram involves placing an object onto photosensitive paper and exposing it to light in a darkroom, a process that creates an entirely unique print because there is no negative.
Photographs on auction from Ansel Adams tell a particularly special story for MoMA: When it first established the department of photography, the famous landscape photographer served as the vice chair of the Photography Committee.
The masterpiece on offer, Clearing Winter Storm, captured in Yosemite National Park, California in 1938, was included in the MoMA exhibition, Ansel Adams at 100. That photograph is expected to fetch between $60,000-80,000.
Himes called Clearing Winter Storm "a superb example of the amount of detail and richness that you can get from that size negative. For Adams, the negative was, as he called it, the 'composer's score' from which he could print a symphony."
In 1940 Ansel helped organize Sixty Photographs: A Survey of Camera Esthetics, a collection that included Henri Carter Bresson, whose 1932 work Behind the Gare St. Lazare, Paris, a gelatin silver print printed in 1968, is expected to bring in between $12,000 to $18,000. Himes describes the print as, "…emblematic of Cartier-Bresson's philosophy of 'the decisive moment'…an instinctual sense of when to release the shutter — when to create the picture that will stand as the symbol for the entire story."
It is speculated the print was originally commissioned for the 1964 The Photographer's Eye exhibition, the print itself likely being produced the prior year.
The auction, MoMA: Henri Cartier Bresson, brings the photography of the co-founder of the Magnum Agency, who premiered at the Museum of Modern Art in 1937, in Beaumont Newhall's exhibition, Photography: 1839–1937. This auction contains 35 photographs ranging from $3,000 to $50,000 in value.
The auction,MoMA: Pictorialism into Modernism, displays two of the most prominent movements in photography in the first half of the 20th century with photographs by Alfred Stieglitz, Edward Steichen, Alvin Langdon Coburn, Constantin Brancusi, Man Ray, Edward Weston, Ilse Bing, Laszlo Moholy-Nagy, Walker Evans, and Berenice Abbott. This auction contains 58 works ranging from $1,000 to $80,000 in value.
Other photographs on display include works by Sugimoto, Mapplethorpe, Newton, Avedon, Penn, Eisenstaedt, Strand, Halsman, Arbus, Mann, Soth, Goldin, and Weston.