Week after week, we state that "photography has the power of lightening up our daily lives,"; and what a wonderful way of kick-starting our frantic routines by diving into some beautiful images in the comfort of our seats!
Here is our weekly wrap-up – you'll find finely curated photos from the general chit-chat blended with some creative shots from Tersha's 645th challenge on Abstracts Using Intentional Camera Movement! And as you might have guessed by now, some worth-seeing shots from the Feedback Forum as well!
Photo Of The Week – June 5th, 2023
This time POTW goes to @patography and her poetic flower shot.
ICM photos are particularly challenging because they usually don't work well if they show only random movement. The subject, the background, and the colors have to come together in a certain way so that the movement looks visually pleasing.
Pat's photo is the perfect example of beautifully done ICM with soft dreamy colors.
Congrats, @patography.
What Are Our Members Up To?
Pour some coffee or tea and enjoy our cherry-picked abstractions for this week!
There is something in the composition that seems to be a chair in motion, so this could easily work as a cinematic expression.
Seascape from a sunny road trip!
Speed by Subaru
There is something really Viking sprouting from this magnificent abstract shot!
Fascinating indeed…
The dizziness felt through this image quality is absolutely intriguing!
Nice looking ferns, almost like dancing with the wind or with the rain.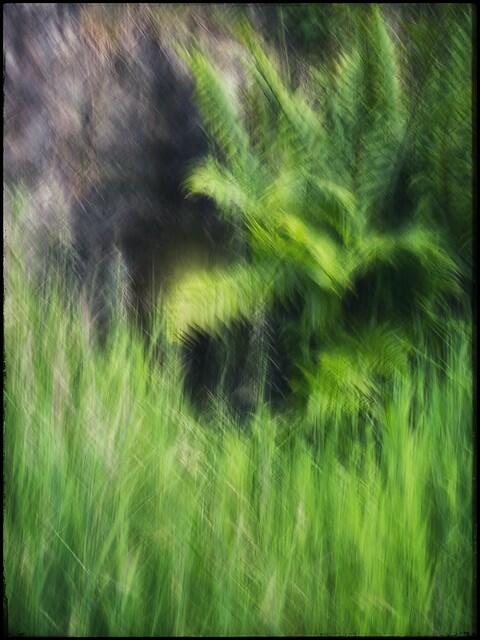 Beautiful strokes, almost like a painting
Against the current
Surprisingly enough, photographs can actually transmit – not only light – but also movement and wind!
What You Shouldn't Be Missing From The Light Stalking Community
Following her creative sprint, Beth shared some other arrangements this week. Lighting in these setups is simply gorgeous!
Dave got a bee closeup of a furry fella climbing out of the bird bath.
Patrick had to stop for a shot; although he isn't sure of the name, he does think this is a true native breed of Irish cow. He's also sure they have a breeding program going to get them established once again. A great documentary project here, indeed!
And got some reading too:
Steve shared some beautiful landscape shots with rich tones:
The Mobile Monday Challenge is open for sharing some shots! And if you want to see more shots, take a look at the Members Picks, a place where our community shares their favorite photographs from our forums every week.
We'd Love To Hear Your Thoughts
Also, our Feedback Forum got some nice pictures, and it is clear that some of you have started building a solid photography style. This is the right place for all those people that want to grow fast as photographers.
Here, you'll get your work critiqued by plenty of well-intended people, but you'll also have the chance of critiquing your peers. We truly believe in the power of criticism and feedback. Here are some of the most interesting shots shared during the last week:
The Shark Tank is a great place to learn and discuss, so please read the instructions in order to get a better critique experience. Share your comments, opinions, and doubts on any or all of the images above. We also will be delighted to see some of your own images. Don't be shy, critiques are given to photographs and not photographers.
Also, don't forget to participate in our 646th challenge!