We hope you have been putting your cameras to good use and creating great images. If you are looking to take your photography up a notch and create better photographs, we have brought you some amazing deals on photography education, accessories and software presets. There are some really cool freebies too. Grab them quick!
Photography Education
Kent DuFault's book will help you improve your photography in just a few short hours, by teaching you the core concepts of composition. You'll discover how to simplify your image for a dynamic composition, and how to use light as an element of composition. You will also learn about avoiding distracting elements, how to determine the flow of a scene, and how to create balance. Also included are case-studies and assignments so you can learn by doing.
Price – $40 $29 (27% off)
Portrait and Beauty Retouching with Adobe Photoshop
This course on Udemy by photographer Ben Wise offers you a complete range of tutorials on portrait retouching with Photoshop. Covering everything from what tools to use to basic and advanced beauty touch-ups, the techniques can completely change the way your portrait images look. A complete end-to-end demo, included in the course, will show you how to streamline your workflow process. A special discount of 75% to Light Stalking readers.
Price – $19 $5 (75% off)
Photography Gear/ Accessories
How much ever weather-proof your photography gear is, giving it a bit of extra protection doesn't hurt. It becomes all the more necessary for the non-weather-proof gear. Moisture is one of those things it really needs protection from. Grab a pack of Silica gel packets and put a couple of them inside your camera bag to keep your stuff safe from moisture.
Price – $12.90
Viewsonic 8-inch Digital Photo Frame
This is an 8-inch digital photo frame with lots of cool features. It's 800×600 resolution renders crisp images and can read directly from a memory card to play a slideshow of images. Easy to setup, it features a sleek design that would look cool in any living room.
Price – $90 $39.99 (55% off)
Software Presets and Actions
Enhancing Natural Light – Lightroom Presets
A set of 12 stunning Lightroom presets, they can instantly improve the natural light in your photographs with one single click. These presets are subtle yet powerful in their work. Not too flashy or glitzy, they can beautifully transform your nature or landscape images into extraordinary.
Price – $30 $17 (43% off)
131 Jaw-Dropping Photoshop Actions
How would you like to change the way your photographs look to something like a well-drawn sketch? Or maybe make it look like a vintage photo, perhaps? This is just the tip of the iceberg. With these 131 Photoshop actions, there's much more that you can achieve. Convert your photos to black and white or choose from a myriad of effects to apply to your images.
Price – $251 $19 (92% off)
Freebies
How to Take Stunning Food Photos eBook
If you like food photography, this eBook will prove to be a valuable resource for you. From lighting considerations to composition suggestions, a lot has been covered in this book to get you started. According to the book, there are essentially two things that make a stunning food photo – appropriate exposure and a thoughtful composition. For more tips, download the eBook!
Short Guide to Travel Photography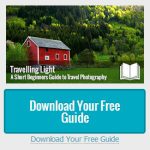 Looking for some quick photography tips for your next trip? With this guide, you will learn how to find great subjects in a new place, what to know before you go on a trip and how to photograph people during your travels. There's many more tips too.
In this free course at Udemy, Jeremy Shuback will teach you how to edit photos in Pixelmator, an image editing program that costs $15. As an alternative to the pricey Photoshop, Pixelmator contains many of the features available in Photoshop and can be used to perform intense photo editing. The only downside: it's only available for Mac OS.
How to Liven Up a Dull Image in Lightroom – Video + Presets
In this free video tutorial, photographer Jason Row explains how to use Adobe Lightroom to add life to a dull image. Also included are two presets (plus how to create them) for a Graduated Sky and Corrected Curves.