Photography wouldn't be what it is nowadays if it wasn't for family imagery. Everyone has at least once related to the human act of depicting images of ourselves. Most certainly, we all need memorable, affectionate photos that will endure the tests of time and be there for us to remember.
But despite being a classic, long gone are the days in which we had to pose steadily-still for seconds or even minutes! Now, we endure family photoshoots with a fresh and dynamic attitude.
American pop culture might have something to do with the fact that we relate "family photoshoot" with something chaotic, energy-draining and even exhausting. But this can't be farther from the truth. A family photoshoot doesn't have to be a cookie-moulded thing, especially if you ain't looking for formal portraits with perfect lighting and toothbrush-paste-ad smiling faces.
Now, without further delay, we wanted to share some of the best tips and tricks for domestic imagery. Here we've included a varied list of indoor and outdoor, including children and outfit suggestions for you all!
Family Photos Outfit Ideas
Clothes are the most basic prop you could think of for picture day! And no, don't worry, I won't be talking about matching clothes 😴 Visual coordination can also be achieved with the aid of complementary colours. For example, you can ask the people to stick to earthy tones and cold or warm palettes.
Avoid patterns, especially those which can produce nasty moire effects. Also, bold stamped images may be misleading to the viewing eye. Remember, the focus should be on people and their personalities, not flashy or distracting clothes. Shoot location should be well-coordinated as well, especially if you are depending on a specific vibe you want to achieve with your subjects' wardrobe.
With those 2 basic pieces of advice, you'll get quickly away from the average photographer doing family photo-shoots around your home town.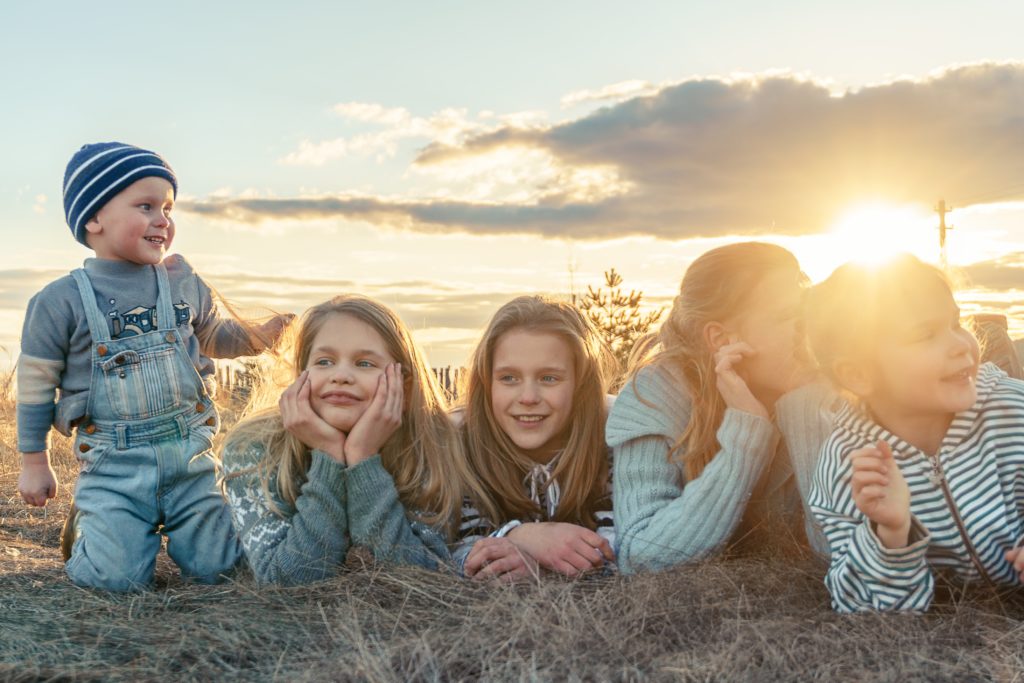 List Of Creative Family Photoshoot Ideas Depending On The Location
Indoors or outdoors, you may fear not. The following family photoshoot ideas include locations, props, and poses.
Outdoor Family Photo Ideas
Personally, I prefer outdoor sessions because it's easy to move around and shoot from various perspectives. You can't control fully lighting, which is a creative outlet for sure. Here are some suggestions for outdoor family photos:
Fun Family Photos: Use Water
When summer arrives, free time in the backyard can serve you well for achieving genuine shots thanks to the flexible approach of documentary photography. And as we all know, summer means playing with water; perfect for unique moments to be captured with your fast camera! Don't forget to capture poses and use props like water guns or water hoses to tell a better story with your photographs.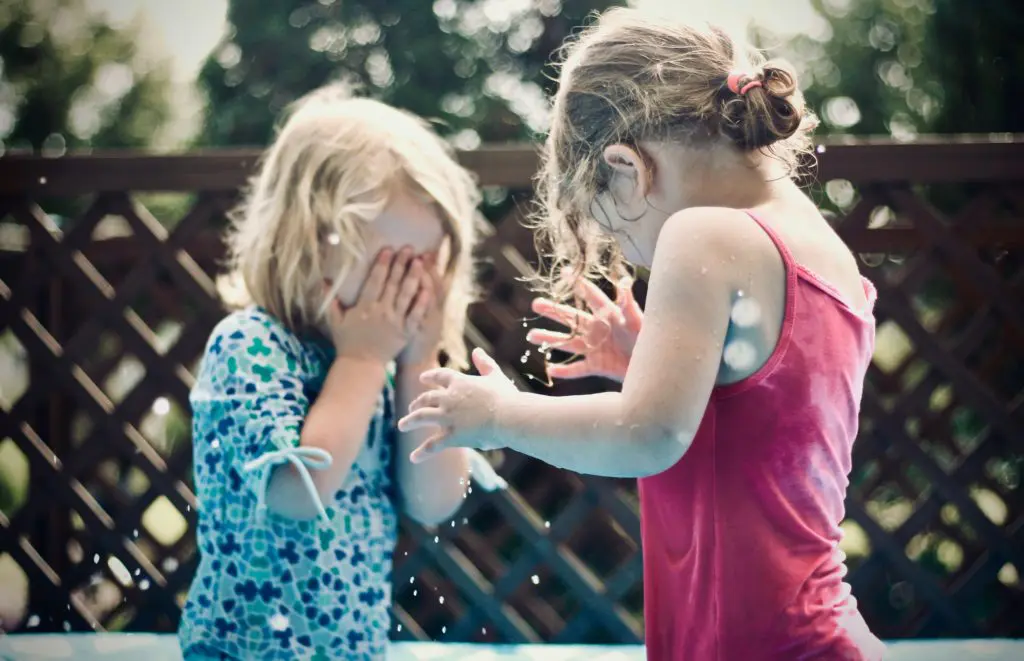 Take A Walk And Capture Family Photos
Taking a walk with your family is perfect for capturing spontaneous shots. Simply head towards a local park, forest, or a nice urban area that isn't too crowded so you avoid editing random strangers from your frames. Endless possibilities there are in the woods when it comes to light and composition. Maybe you can even try some golden or blue hour shots, why not? Another favourite on the season list is fall, colours and atmosphere are just magical for any family photo session. When doing so, take good care of outfits as well, try combining warm tones with more neutral colours for a glamorous vibe!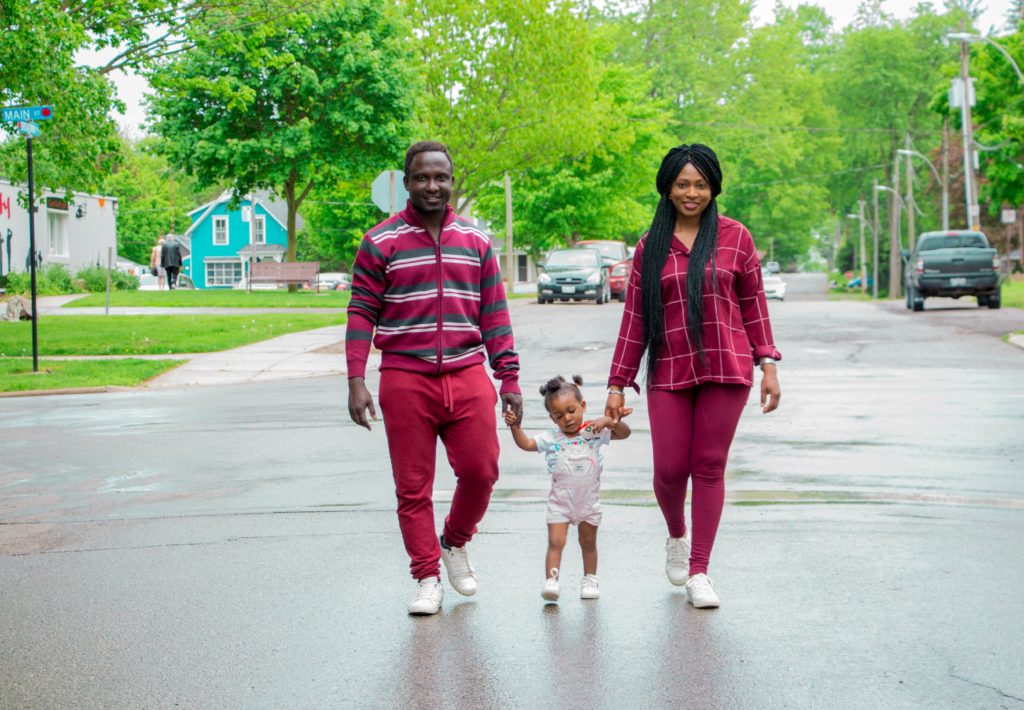 Bold Architecture Will Complement Your Family Pictures
Everyone enjoys nature, but how about having some cool architecture in your family photo shoot as well? A rather unusual approach for sure which will make your shots stand out from the crowd. And if you live in a city with timeless architecture, this is certainly a good option. You can also go for minimal compositions with your family which include modernist architecture and subtle colour schemes.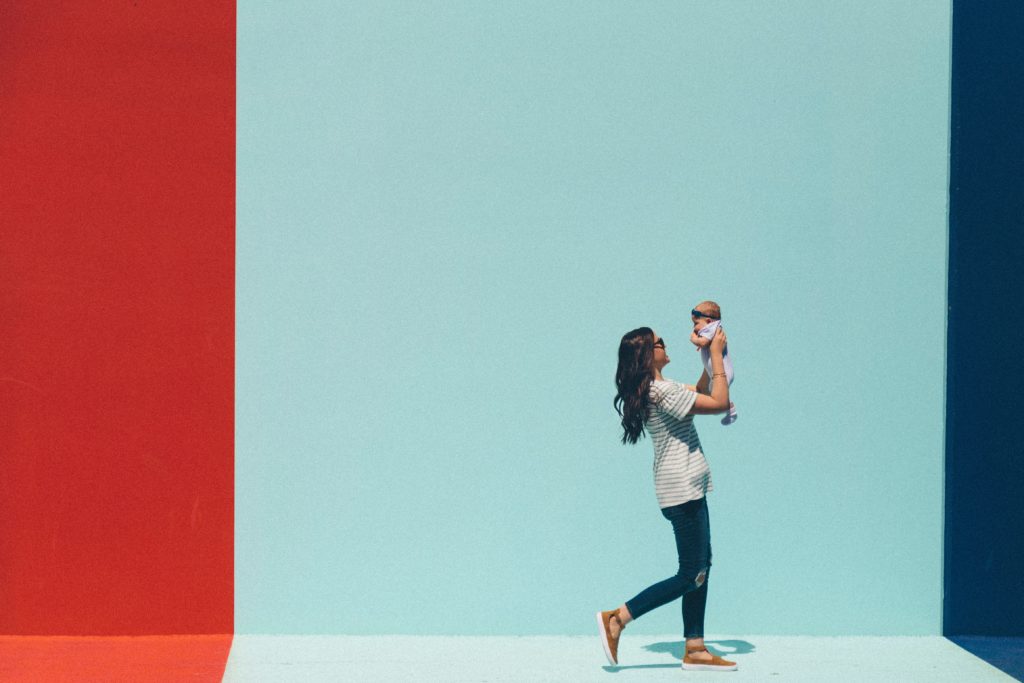 Indoor Family Photoshoot Ideas
If you don't like the idea of shooting outdoors and your kids are troublesome when taking photos outdoors, don't worry! Indoor settings also offer good-looking context for family photos escaping from looking too formal and boring. Try some of our simple photoshoot ideas that will turn your indoor session into a relaxing and enjoyable experience.
Relaxed Family Photoshoot Idea: Bedtime
There's nothing more relaxing than asking everyone to wear their PJs and pose in bed! To ensure kids are engaged, you can read a storybook to them. Also, you can include some drinks like tea or milk for additionally cosy vibes!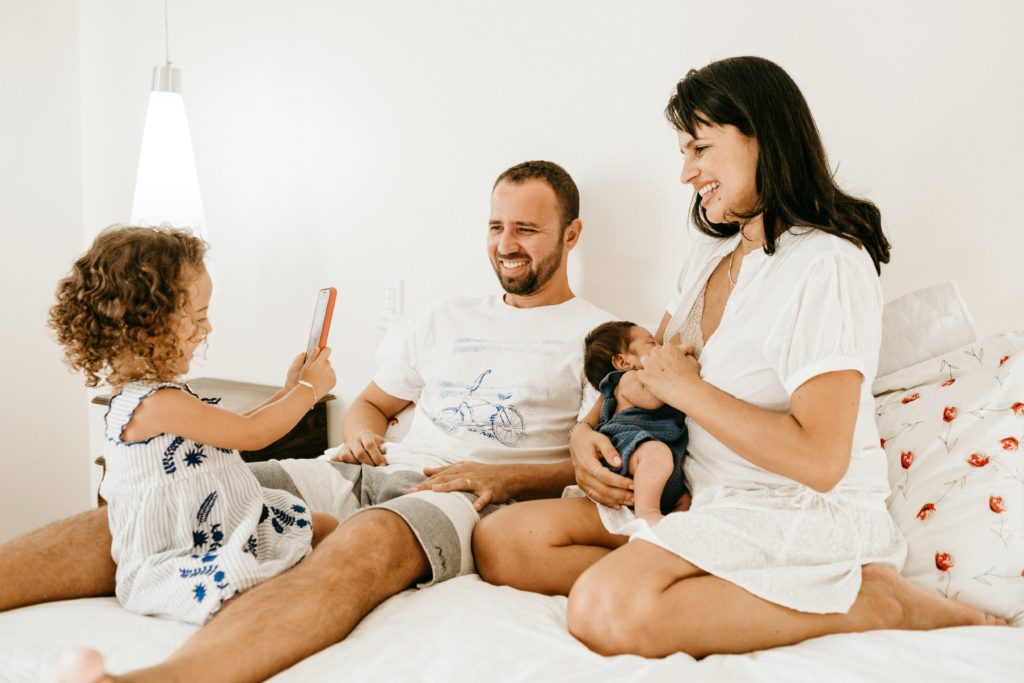 Candid Family Photo: Chatting On The Couch
A slightly different version of a cosy and informal indoor shoot but equally effective for conveying a unique story! Sit all on a sofa and just chat, have snacks or play with your pets. This is a wonderful opportunity to capture those daily moments that are actually sweet and affectionate.
Use Natural Light For Family Photos: Shoot Near A Window
If you like soft, forever-looking portraits, ask your family members to gather near a window for a beautiful session with subtle natural light. Make sure you're positioned near a large window with lots of light coming in. Also, wearing light clothes is a a wise call since everything is so clearly lit; and don't forget including some indoor plants as props!
Family Portraits During The Holiday Season
Holiday season is just synonym with photography! Sit as a family by the Xmas tree and expect the most memorable portraits ever. Everything becomes more iconic when gathering around the ultimate symbol of the western holidays, but from all the possible moments there are during this time of the year, the gift opening ceremony is my favourite from them all.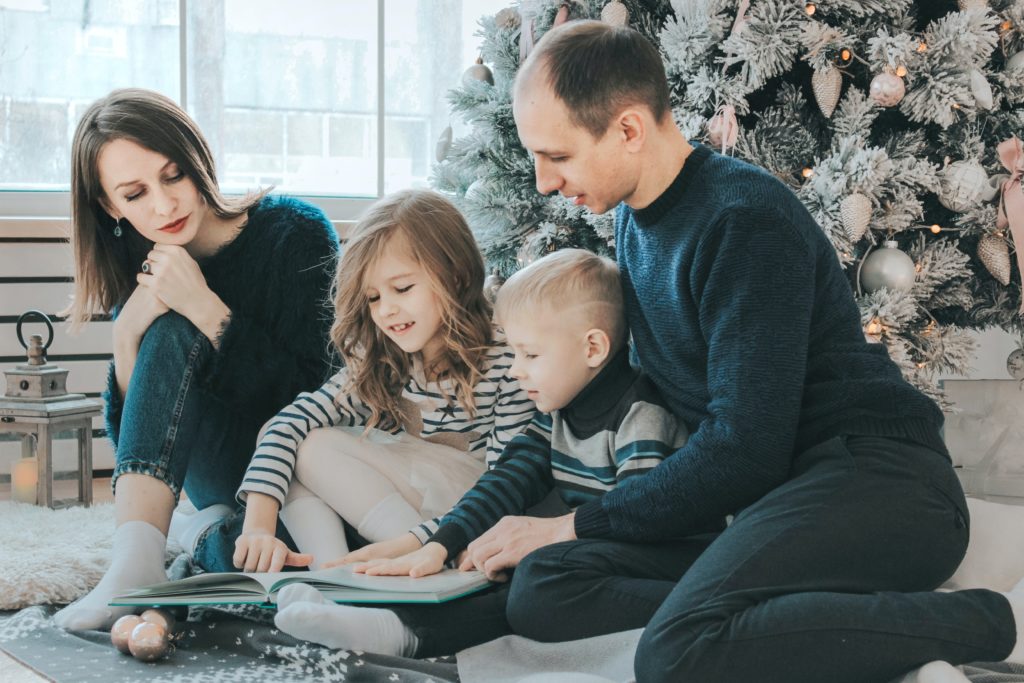 Family Photo Ideas With Babies And Toddlers
Family Shoot Should Include Props
Posing babies and toddlers is almost an impossible task for sure, but trust me when I say that props make everything easier during family photo-shoots. Babies simply look adorable wrapped around colourful blankets or wearing silly cute hats. And for the more grown-ups, include their favourite toys in the scene!
Don't Always Stick To Conventional Portrait Photography
A perfect family portrait is much more than a posed formal shot and direct portraits end up looking like mug shots sometimes. Avoid the straight-into-the-camera approach and aim for something more vivid and candid.
Family Photoshoot Ideas With Younger School Kids
Entire Family Can Engage In An Activity
School kids are easier to cooperate with than toddlers. Indeed, they get bored quickly, but the best way to entertain them is to engage them in some activity. For example, they can play sports while you photograph them or they can help you with some gardening or cooking activities; just like Jamie Oliver did so many years ago! Even older members of your family can participate in some of these activities, which is a perfect recipe for a dynamic family portrait.
Let Your Kids Take Charge During The Family Photoshoot
Have you run out of creative family picture ideas? Don't worry, I'm positive your kids have some brilliant ideas that can result in fun, unexpected photos. Ask them what kind of photos they would like, you can even ask them for references from social media or the broader Internet!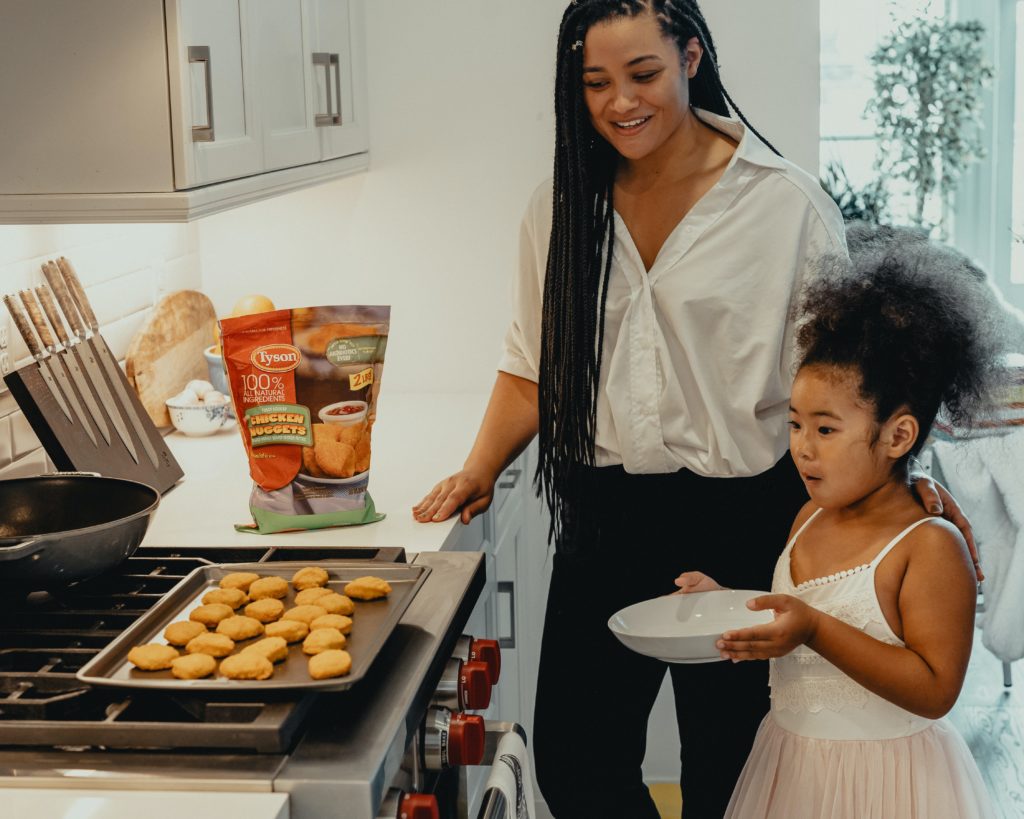 Family Photo Ideas With Teenagers
Be Creative: Appeal To Your Children's Interests
Teens tend to be disobedient, and is definielty hard to convince them to cooperate for a family portrait. Nonetheless, you can use some tricks to make the photoshoot more appealing to them. For example, if your teen plays an instrument or loves cycling, suggest that they pose for a portrait with a guitar or a bicycle. This might not work every time, but it's worth trying.
Family Vacation
Everyone feels comfortable during vacation, meaning that even your troublesome teenagers might be more willing to participate. Try capturing some family photos by the sea or in a local restaurant. Perhaps even in the downtown area of a beautiful old city! Your creativity should be the only thing stopping you from achieving gorgeous photographs.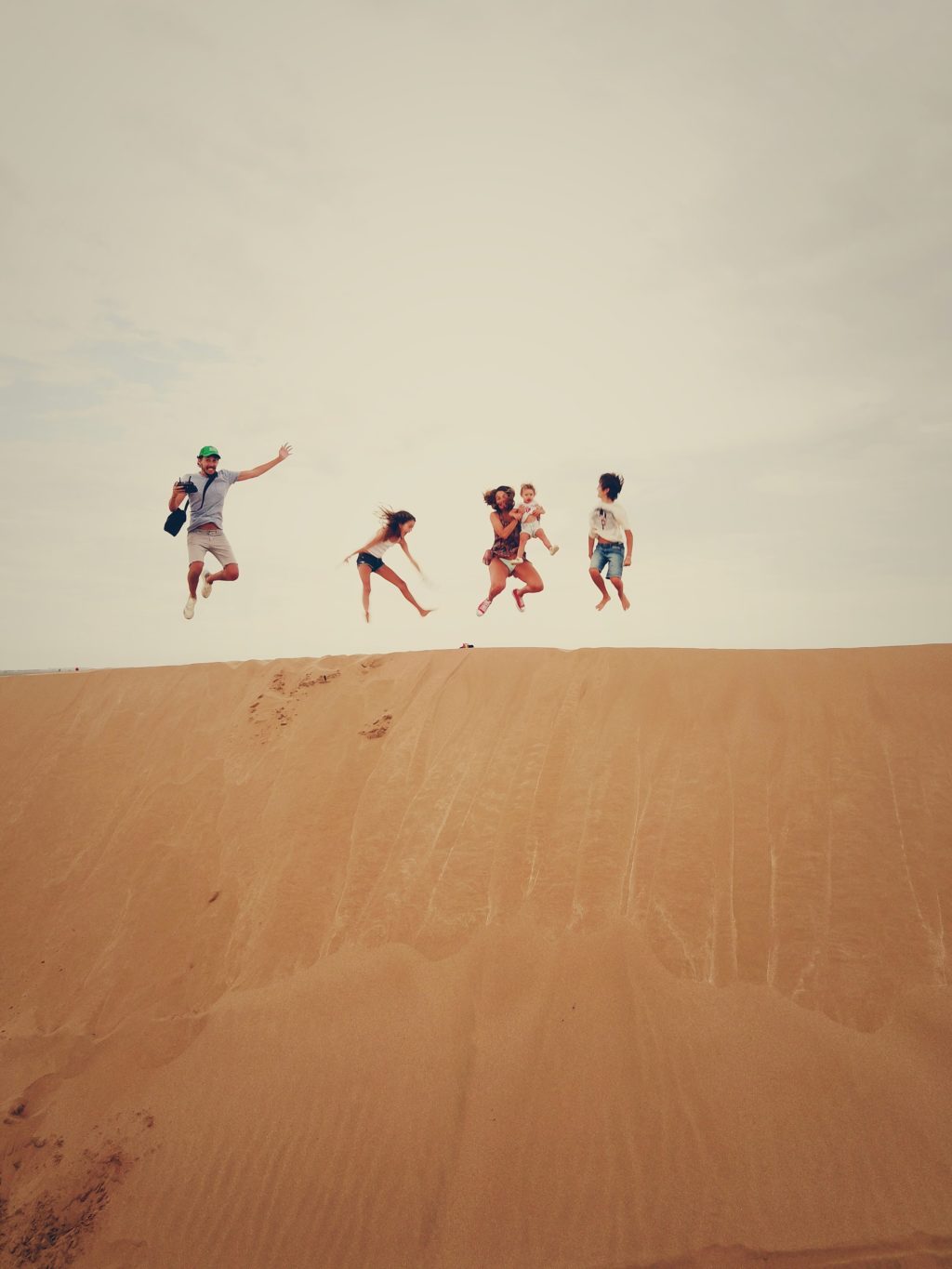 Family Photo Ideas With College Students
The Spirit Of The College: Color Schemes
In Western culture, entering college is one of the few highly celebrated milestones in one's life. This important time for any freshman and their families offers great photographic opportunities, and the same goes for graduation, of course. To celebrate this event, the entire family can wear school colours or use certain props that are related to college life. This type of photoshoot can look humorous and sweet, especially if everyone strikes a funny pose.
Shooting Outdoors: Visit The Campus
For a more relaxed and natural shoot with your fully grown kids, college students now, you can do an outdoor session at the campus. Take a walk around and find the most timeless spots for creative family portrait ideas.
Family Photo Ideas With The Entire Family: Sweet Memories
Get Creative With Composition And Perspective
Portraits including extended family members are very challenging to shoot. You have to be 100% sure that everyone looks good in the photo, and that they are all properly arranged and dressed. And please take extra care for any elbow covering grandma's face! It happens, trust me.
Speaking of which, when dealing with older family members, consider some will need a chair or some other aid. Also, instead of asking everyone to stand in a single line, think in terms of "layers" in which taller members stand in the back, while shorter ones and children can sit in front. You can also be creative and shoot them while they are seated at a table and engaged in some activity, it's all totally up to you and your family members!
Fun Activities, Maybe A Group Hug
In case you want to capture something extraordinary, do an outdoor shoot with your extended family and include fun props like bicycles, maybe even a car, and bring along your pets too. And if you want to create an affectionate, sweet atmosphere, you can capture a group hug! It doesn't have to look perfectly posed, humorous details and funny faces are priceless!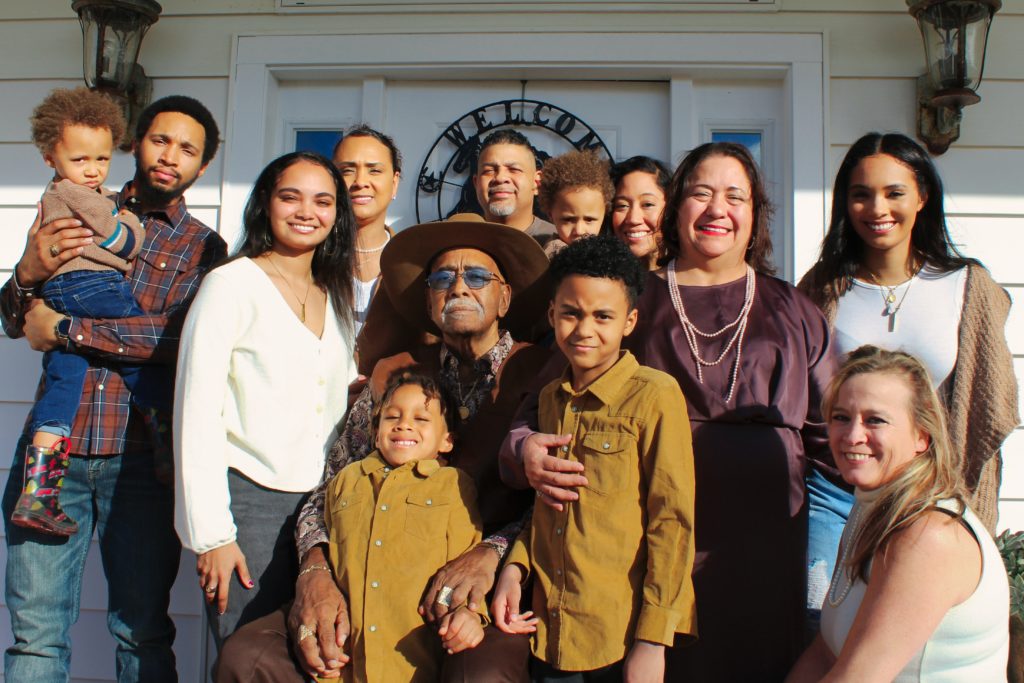 Capturing Memories: Fun Family Photo Ideas
A great family photoshoot shouldn't be that hard to organise if you manage to apply some of the tips and tricks we mentioned. Try our family picture ideas for your next photo session and we guarantee your shots will be engaging and fun instead of plain and boring.
We wish you a creative and enjoyable family photoshoot!
Further Reading: