I bet everyone needs some great family photoshoot ideas!
---
A fantastic way to skyrocket your natural light photography skills is to practice with your Phone Camera. This week, if you grab iPhone Photo Academy at a huge discount, we will also send your our "Natural Light Buddy Notes" absolutely free. Secure the offer here.
---
Family photo ideas are highly sought after because everyone needs memorable, affectionate photos that will be a joy to look at many years and decades later.
A family photoshoot might sound like a chaotic, energy-draining experience, but it actually doesn't have to be like that at all, especially if you're not looking for formal portraits with perfect lighting and obligatory smiling faces.
We suggest that you try to transform these obligatory photo commitments into something much more fun and light-hearted!
Check out our list of family photoshoot tips and tricks! We have tried to cover various scenarios – indoors and outdoors, including children of different ages, and we have also given precious suggestions on outfits for family members.
Read on to learn how to step up your family photoshoot game!
Family Photos Outfit Ideas
The clothes are very important in portrait photography, even more so when you have more than just one model. These are our tips regarding wardrobe choices:
You don't have to stick to matching clothes! By this, I mean that your family members don't have to wear the same clothes or the same colors. Coordination looks better than simple matching. For instance, you can ask the people to stick to earthy tones and cold or warm palettes. For a bolder look, you can even experiment with complementary colors.
Avoid aggressive, eye-catching patterns! Patterns are usually not a good idea in portraiture unless you're shooting a fashion editorial. The focus should be on people and their personalities, not flashy and distracting clothes.
Family's outfits and shoot location should be well-coordinated too. The same is true for weather and the season of the year. Winter family picture ideas should feature different colors from autumn or summer family photography.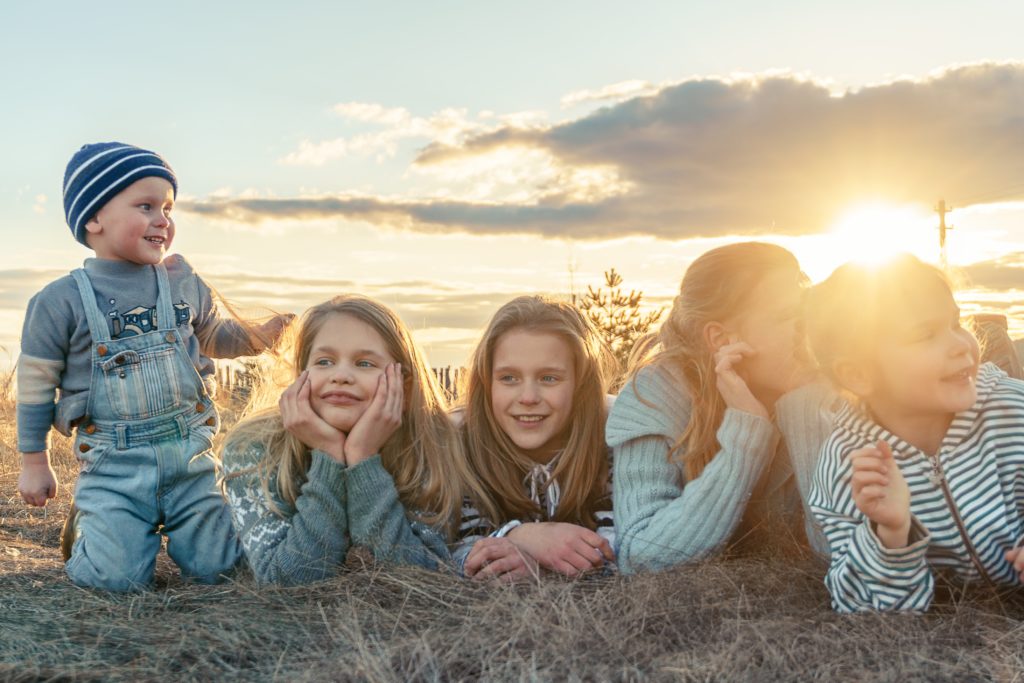 List Of Creative Family Photoshoot Ideas Depending On The Location
No matter whether you plan to shoot indoors or outdoors, we've got you covered.
The following family photoshoot ideas include various locations, props, and poses.
Outdoor Family Photo Ideas
Personally, I prefer outdoor sessions because it's easy to move around and shoot from various perspectives. You can't control lighting fully, but that can be pretty playful. Here are a couple of suggestions for outdoor family photos.
Fun Family Photos: Use Water
If it's summertime and you're enjoying free time with your family in the backyard, it's a perfect occasion to play with water and create some outstanding, truly memorable shots.
You can let your kids splash water on each other and run around. Feel free to join them for fun family photoshoots!
Make sure to capture different poses and use props like water guns or water hoses.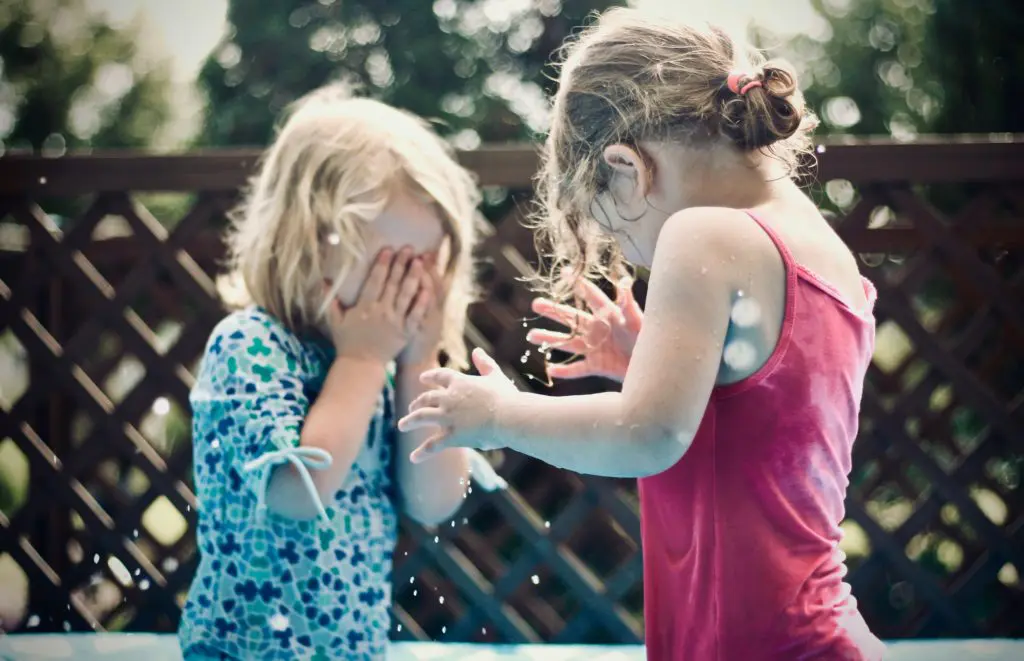 Take A Walk And Capture Family Photos
Taking a walk with your family is a perfect occasion for capturing spontaneous shots.
You can go to a local park, forest, or a nice urban area that isn't too crowded.
The possibilities are endless in terms of lighting and composition. The shots will most probably look better during the golden or blue hour.
Fall family pictures can be another great idea that you can incorporate in your photo shoot outdoors because the colours and atmosphere are magical for a family photo session. When capturing fall family photos, give importance to the family photo outfits, by choosing colours that go well with the fall theme.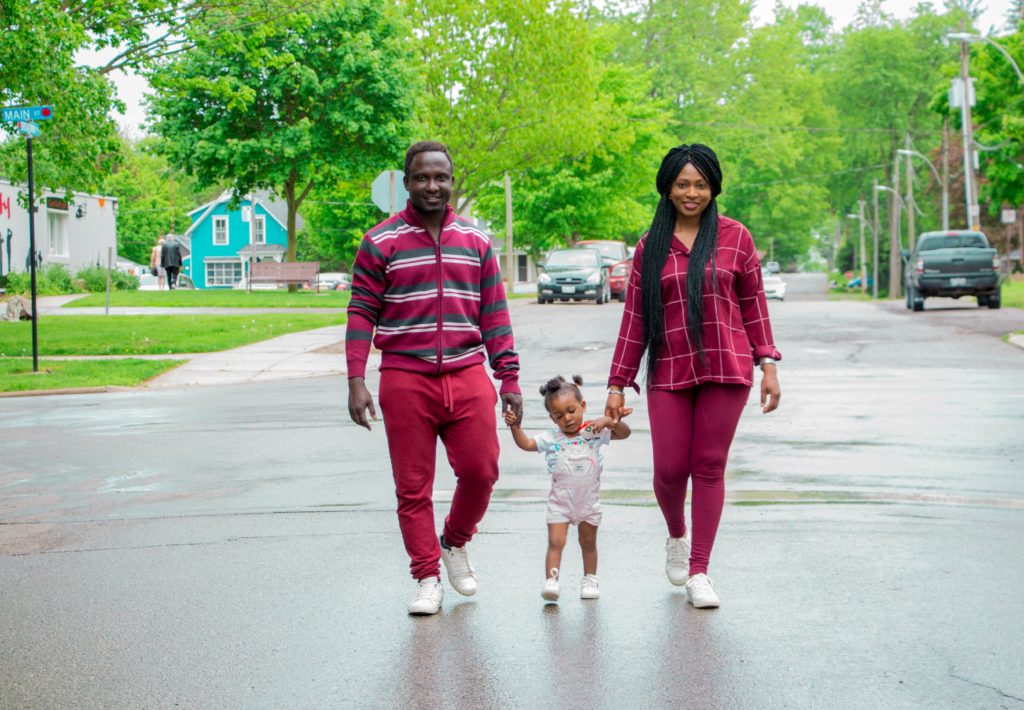 Bold Architecture Will Complement Your Family Pictures
Everyone enjoys nature, but how about including some cool architecture in your family photo shoot? This is a more unusual approach that will surely make your shots stand out.
If you live in a city with bold and beautiful old architecture, this is certainly a good option. But you can also go for minimal compositions with your family which include modernist architecture and subtle color schemes.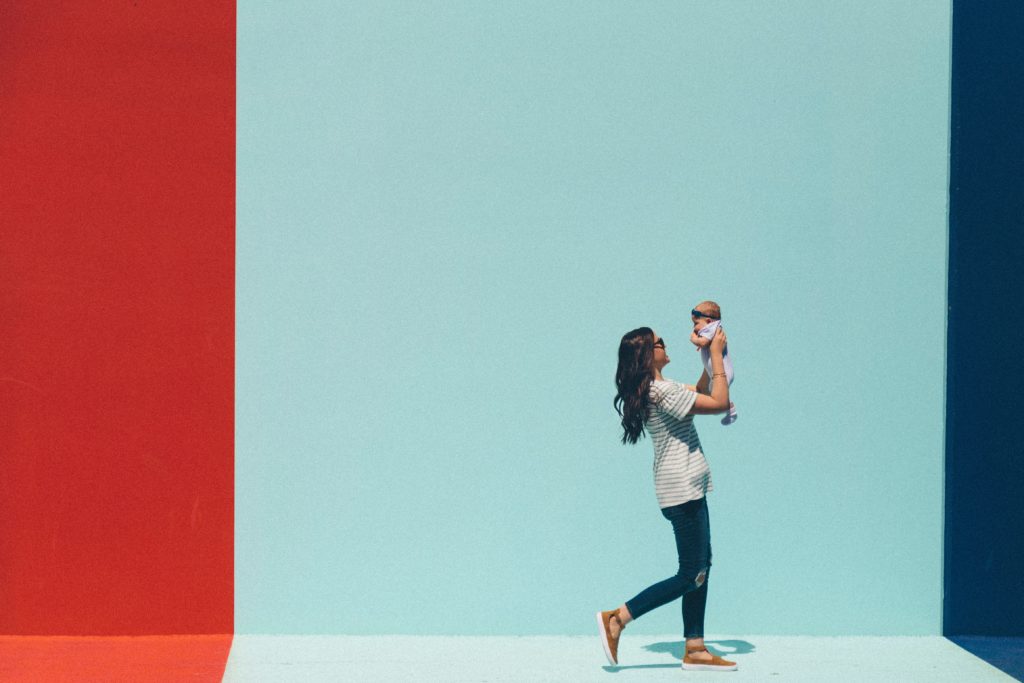 Indoor Family Photoshoot Ideas
If you don't like the idea of shooting outdoors and your kids are too wild and hard to manage when taking photos outdoors, don't worry! Even an indoor setting can be a good solution for family photos that don't look too formal and boring.
You can try some of our simple photoshoot ideas that will turn your indoor session into a relaxing and enjoyable photoshoot.
Relaxed Family Photoshoot Idea: Bedtime
What's more relaxing than asking everyone to wear their PJs and pose in the bed!
To make sure that the kids are engaged, you can read a storybook to them. You can also include some drinks like tea or milk for additionally cozy vibes.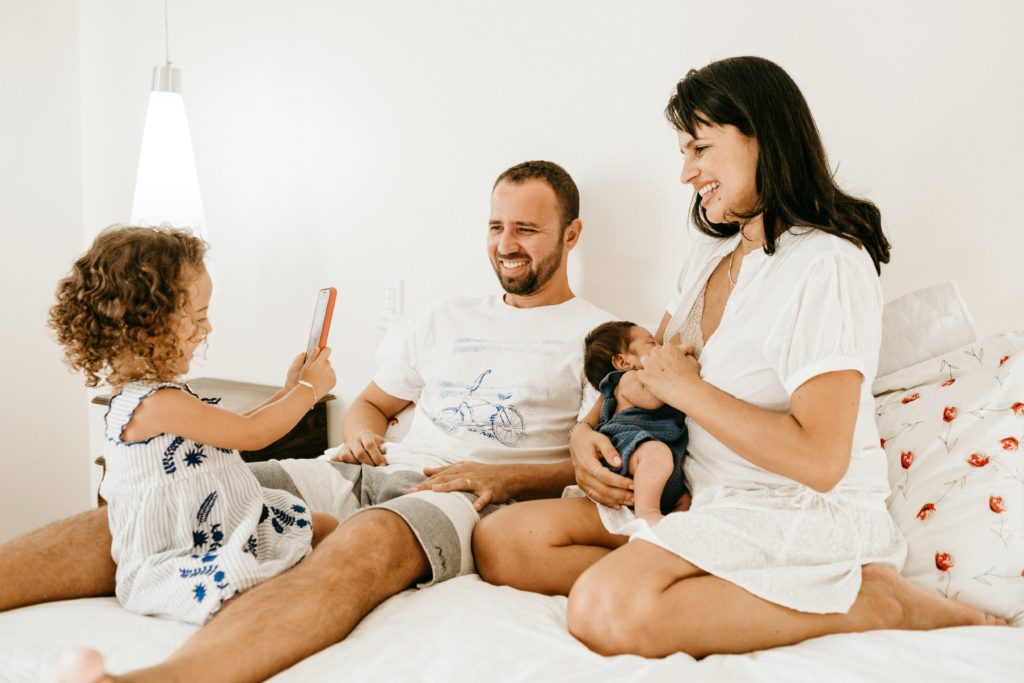 Candid Family Photo: Chatting On The Couch
This is another version of a cozy and informal indoor shoot with your family.
You can sit on the sofa together and chat, have snacks or play with your pets. This is a wonderful opportunity to capture those daily moments that are actually sweet and affectionate.
---
A fantastic way to skyrocket your natural light photography skills is to practice with your Phone Camera. This week, if you grab iPhone Photo Academy at a huge discount, we will also send your our "Natural Light Buddy Notes" absolutely free. Secure the offer here.
---
Use Natural Light For Family Photos: Shoot Near A Window
If you like soft, aethereal-looking portraits, ask your family members to gather near a window for a beautiful session with soft natural light.
Make sure that you're positioned near a large window with lots of light coming in. You can wear light clothes for this kind of shoot and perhaps include some indoor plants as props.
Family Portraits During The Holiday Season
Holiday season is another great time for taking family pictures. You can sit as a family by the Christmas tree for capturing memorable family portraiture.
With the whole family gathered at home during the holiday season, and there will be great ideas that can be used to capture a few pictures of all the members of the family. Wearing the family dress, sitting by the family tree, opening presents of hanging out can lead to fun filled candid shots of the entire family and the excitement of the young kids can also be beautifully captured.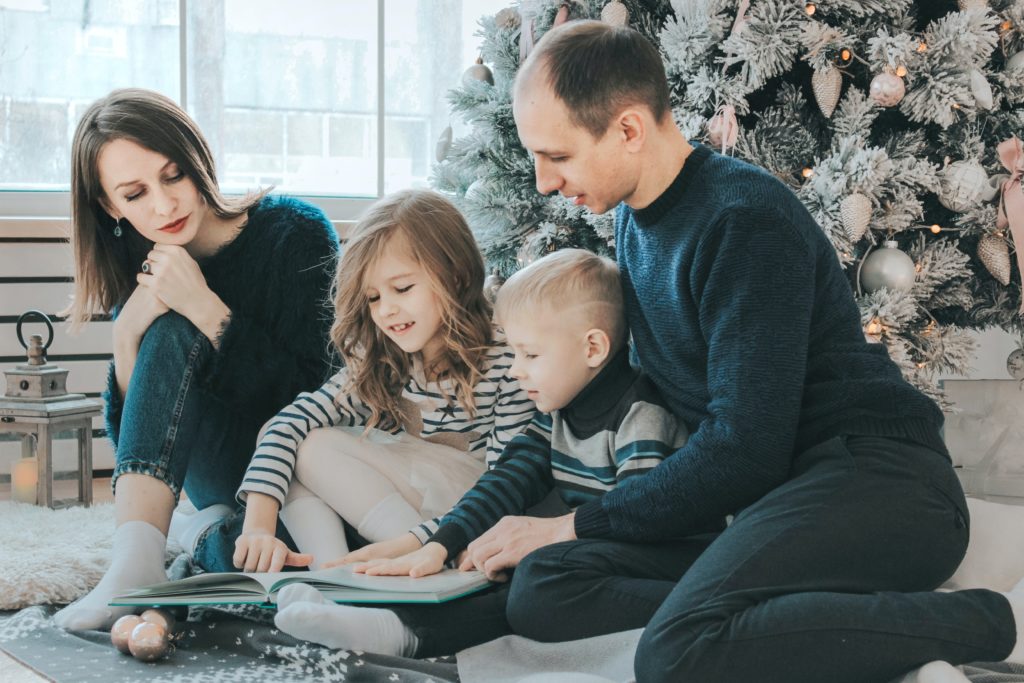 Family Photo Ideas With Babies And Toddlers
Family Shoot Should Include Props
It's not easy to pose babies and toddlers, but one thing that can certainly make your photoshoot easier is using props.
Babies will look adorable with colorful blankets or cute hats, and for toddlers, you can include their favorite toys.
Don't Always Stick To Conventional Portrait Photography
Capturing conventional portraits of your children, with them looking straight into the camera, shouldn't be your only goal.
The best way to have a satisfying and fun photo session with young children is to take one formal portrait at the very beginning, while they are disciplined and ready to follow your instructions.
After you managed to get that one formal shot, focus on candid moments. Don't be surprised if some candid, slightly silly photos end up being your dearest, best ones. A perfect family portrait is much more than a posed formal shot.
Family Photoshoot Ideas With Younger School Kids
Entire Family Can Engage In An Activity
School kids are certainly easier to cooperate with than toddlers. It's true that they can easily get bored, but the best way to entertain them is to engage them in some activity. For instance, they can play sports while you photograph them or they can help you with gardening or cooking. Even older members of your family can participate in some of these activities, which is a perfect recipe for a dynamic family portrait.
Let Your Kids Take Charge During The Family Photoshoot
Have you run out of creative family picture ideas? Fear not – I bet your kids have some brilliant ideas that can result in fun, unexpected photos.
Ask your children what kind of photos they like – they can even show you some examples on the Internet. Kids are very creative and you just need to make sure that their ideas are safe enough – you don't want to ruin the entire house for the sake of a crazy photoshoot!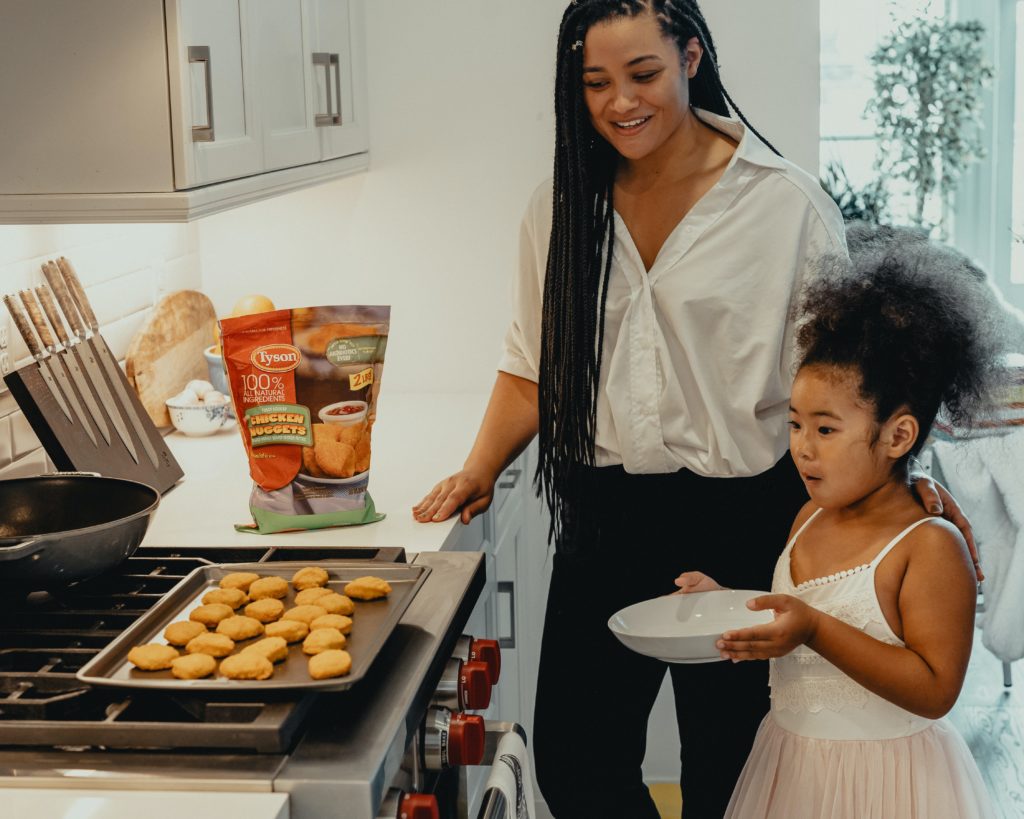 Family Photo Ideas With Teenagers
Be Creative: Appeal To Your Children's Interests
Teens tend to be rebellious and it might be hard to convince them to pose for a family portrait, but you can surely use some tricks to make the photoshoot more appealing to them. For instance, if your teen plays an instrument or loves cycling, suggest that they pose for a portrait with a guitar or a bicycle. This might not work every time, but it's worth trying.
Family Vacation
Everyone feels relaxed during vacation, which means that even your teen kids might be more likely to get in the mood for taking photos and posing.
You can capture picturesque family photos by the sea, in a local restaurant, or perhaps in the downtown area of a beautiful old city. It's totally up to you!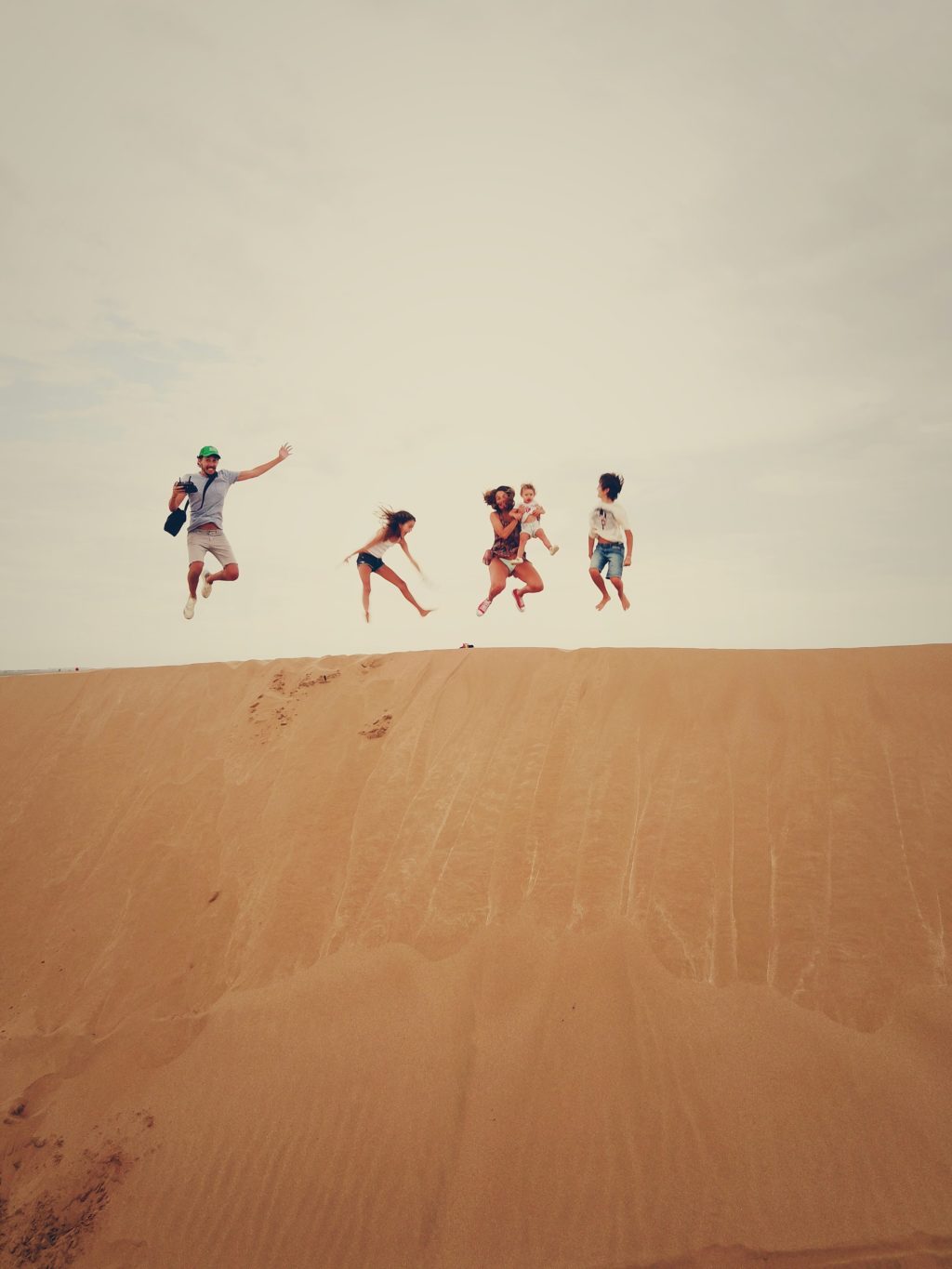 Family Photo Ideas With College Students
The Spirit Of The College: Color Schemes
Entering college is such an important time for a freshman and their families. The same goes for graduation, of course.
In order to celebrate this event, the entire family can wear school colors or use certain props that are related to college life, such as books. This type of photoshoot can look humorous and sweet, especially if everyone strikes a funny pose.
Shooting Outdoors: Visit The Campus
For a more relaxed and less posed shoot with your fully grown kids who are now college students, you can do an outdoor session at the campus. Take a walk around the campus and find the most photogenic spots for creative family portrait ideas.
Family Photo Ideas With The Entire Family: Sweet Memories
Get Creative With Composition And Perspective
The portraits that include extended family members are particularly challenging to shoot. You have to make sure that everyone looks good in the photo, and that they are all properly positioned and dressed.
If you plan to shoot older family members, don't forget that they will most probably need a chair.
Instead of asking everyone to stand in a single line, think in terms of "layers" – taller people can stand, while shorter ones and children can sit in front of them.
You can also be creative and shoot them while they are seated at a table and engaged in some activity. It's totally up to you and your family members.
Fun Activities, Maybe A Group Hug
In case you want to capture something really extraordinary, do an outdoor shoot with your extended family and include fun props like bicycles, maybe even a car, and bring along your pets too.
If you want to create an affectionate, sweet atmosphere, you can capture a group hug. It doesn't have to look perfectly posed – humorous details and funny faces are priceless!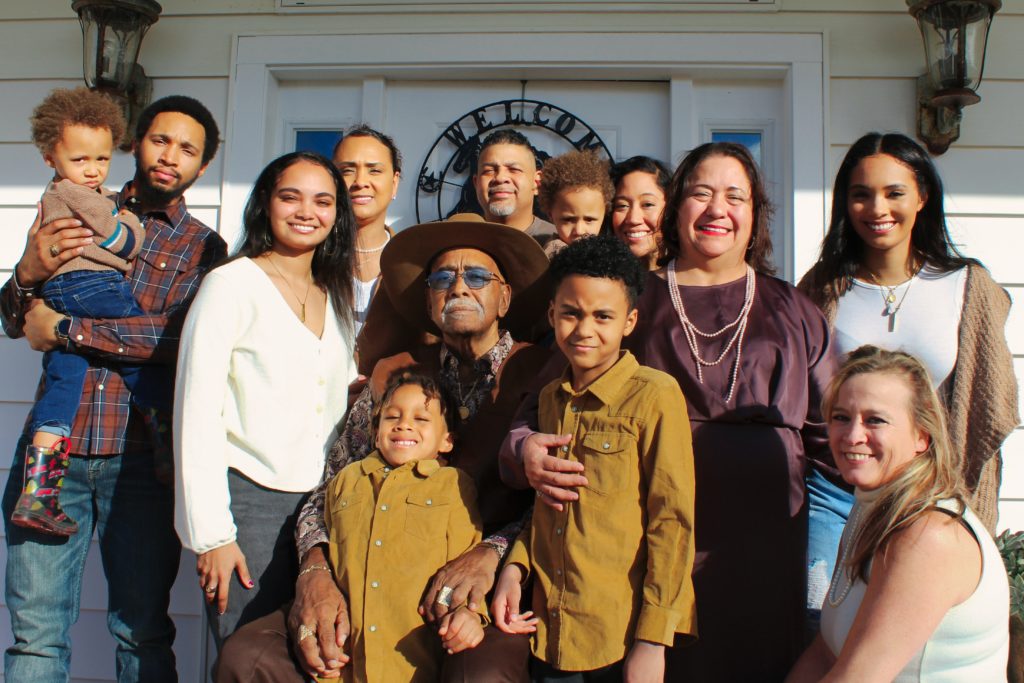 Capturing Memories: Fun Family Photo Ideas
A great family photoshoot shouldn't be that hard to organize if you manage to apply some of the tips and tricks we mentioned. Try our family picture ideas for your next photo session and we guarantee your shots will be engaging and fun instead of plain and boring.
---
A fantastic way to skyrocket your natural light photography skills is to practice with your Phone Camera. This week, if you grab iPhone Photo Academy at a huge discount, we will also send your our "Natural Light Buddy Notes" absolutely free. Secure the offer here.
---
We wish you a creative and enjoyable family photoshoot!
Further Reading: