In recent years the online dating game has changed, no longer do you have to fill out countless forms of detailed personal information, or go through some laborious process to find potential matches, all thanks to an app called Tinder, you may have heard of it? What Tinder does is streamline the dating process into a few simple categories, making it far easier to get on with meeting up with someone or to begin a conversation…but what if this kind of app was created for models and photographers? Well this is precisely what the folks over at Fstop have done.
Fstop is a matchmaking app much akin to Tinder, however instead of setting up matches between potential soul-mates, Fstop sets out to match up photographers, models, make-up artists, retouchers and stylists. The sign up process is very alike to most modern dating sites, with a few additional extras, the user can enter such information as: sex, height, weight, age, rate, body features and whether or not they have tattoos, and more. Fstop even allows the user to confirm their identity. The search process is very much the same, with each option able to be filtered out so you can find the right person for your job preference
.
Much like Tinder one can press a little red 'X' to say that they do not want to work with that person and likewise they can press a little blue '✓' to say that they do want to work with person, extremely straightforward. Once matched you can begin conversing with that person and potentially work with them on future projects.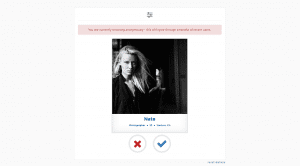 As Fstop is working within an industry, one in which money is changing hands, they have a built-in payment service for members who wish to work together, a sort of middleman if you will. Once you have completed the work with the person of your choosing you can them pay them through the platform (this is optional however) and leave a review.
Why We Like The Fstop App
Fstop may not necessarily be anything original, however what Fstop is doing is taking something which before was a very convoluted drawn-out process and streamlining it, making it simple and quick, especially with its integrated payment system (which uses a service called Stripe, which is very secure) and large variety of description filters, so that you can find exactly the person you're looking for. It is also mobile friendly, which a great bonus for those who are on the move and wish to find work quickly in a new location.
Of course Fstop is in its infancy and has yet to gain a large following, however for those working within any of its offered industries you may benefit from getting a head-start and creating your profile now. For those who live in larger more vibrant cities, Fstop may already have a large pool of users for you to begin conversing with and potentially meeting, however, for those who live in smaller, less say…cosmopolitan areas Fstop may not be all it can be, due to its small amount of active users within your area, however, if you're willing to travel you can set Fstop's location finder to 100 miles plus.
The Possible Downside to Fstop?
There are however minor worries in terms of those who pray on people, due to the fact Fstop is an app specifically designed for beautiful people to advertise their talent, their may be a few people who abuse this knowledge, however due to Fstop's identity confirmation this can be avoided.
There's many clear reasons why Fstop differs from its competitors, sites such as ModelMayhem for instance: It's ridiculously simple, meaning one can find a possible match quicker than ever before. A vast amount of safeguards in place: Easily report suspicious profiles, approve photos, approve profiles, review approvals, phone and email verification, ID verification and more. One can easily tag NSFW profiles. Real time chat, a mentor program, P2P (in-house) payments and a showcase blog. Fstop's clear focus is to make the task of finding the right person, within the right niche quicker and easier than ever before, and I believe it achieves its goal.
Fstop clearly needs a little time to breath and from some user reviews a fair amount of time to debug their app, however the app isn't broken. I also feel that Fstop needs to make a clear statement about their identity confirmation policy and how they intend to stop those with malicious intent, however this may be merely a non-issue (comments welcome on that).
So, other than a few minor hitches, that are relatively the norm for any up-and-coming/in-development app, so what one should be doing is focusing on what Fstop is bringing to the table, nothing relatively new per-say, what it is doing though is taking previous ideas and streamlining them, making them accessible, easy to use and comfortable for any user, including users who are on -the-go, making this the perfect app for any photographer looking for inspiring models, or for models looking for original work, or for -, well, you get the gist.
If you're new to the world of photographing models, then you might want to also check out Photzy's course on portrait photography to get you up to speed. 
Check out Fstop here: https://www.fstop.fm/