Instagram, its that place with the garish filters and poorly composed smartphone images of your dinner, cat or partner doing silly things, isn't it? If, like me, that is what you thought, you may well be wrong. When people like the renowned photographer and Adobe expert Scott Kelby tell you you need to be on Instagram, you need to listen. I did and today I am going to give you a brief guide about easing yourself into the Instagram world.
Before we go too far, let's explode one giant myth. Instagram is a platform solely for smartphone photos right? Technically yes, and until last year they restricted you to a square format meaning even the best images you took on your latest device needed to be cropped. In fact if you visit instagram.com on a computer, you will see little other than links to the Apple App Store and Google Play.
Instagram is social media site for mobile platforms. However if you look at the images on the Instagram app, you will soon start to question whether all of these shots are shot on smart phones. The fact is, a lot of them are not, that they are uploaded from smartphones does not preclude that they were produced on smartphones. We will look a little at how to upload your own images a little later in the article but for now..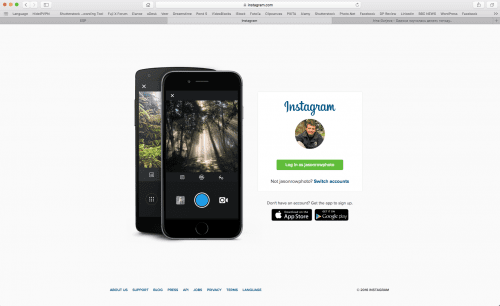 What is Instagram?
Put simply, it is a social media site built solely around sharing photographs on smartphones. By September 2015 it had 400 million active users. That's quite a potential audience. Instagram has tried to remain a simple to use platform, and in essence, you follow people, like and comment on their photos, post your own and share them to other social media accounts. Like Twitter, the unwritten rule is if you follow someone, they should follow you back. Also like Twitter, when you sign up, you create a online name that begins with @yourname. My web address is https://www.instagram.com/jasonrowphoto/ but other than amending my profile there is very little I can do on a PC. The real action takes place on your phone.
Using Instagram
The first step, obviously is to download the relevant app from Apple or Google. In IOS world, Instagram is only available as a iPhone app. It will work on iPads but you need to download the iPhone version. This may be the same on Android too. Create your profile using a suitable user name then add a short, 150 character bio and your website address. You can also add a profile picture if you wish.
At the bottom of the Instagram app you will see five icons. The first, on the left is the home button and will show you a feed of the best images from the people that you follow. The second, the magnifying glass allows you to search for images and people that might interest you. This is based around hashtags that they embed to their photos. We will look at the importance of these hashtags in a moment.
The middle button is the Photo upload button and we will look at this in the next section. The heart icon shows you activity either on your own account or those of the people that you follow. The last icon shows your photo stream and allows you to edit your profile.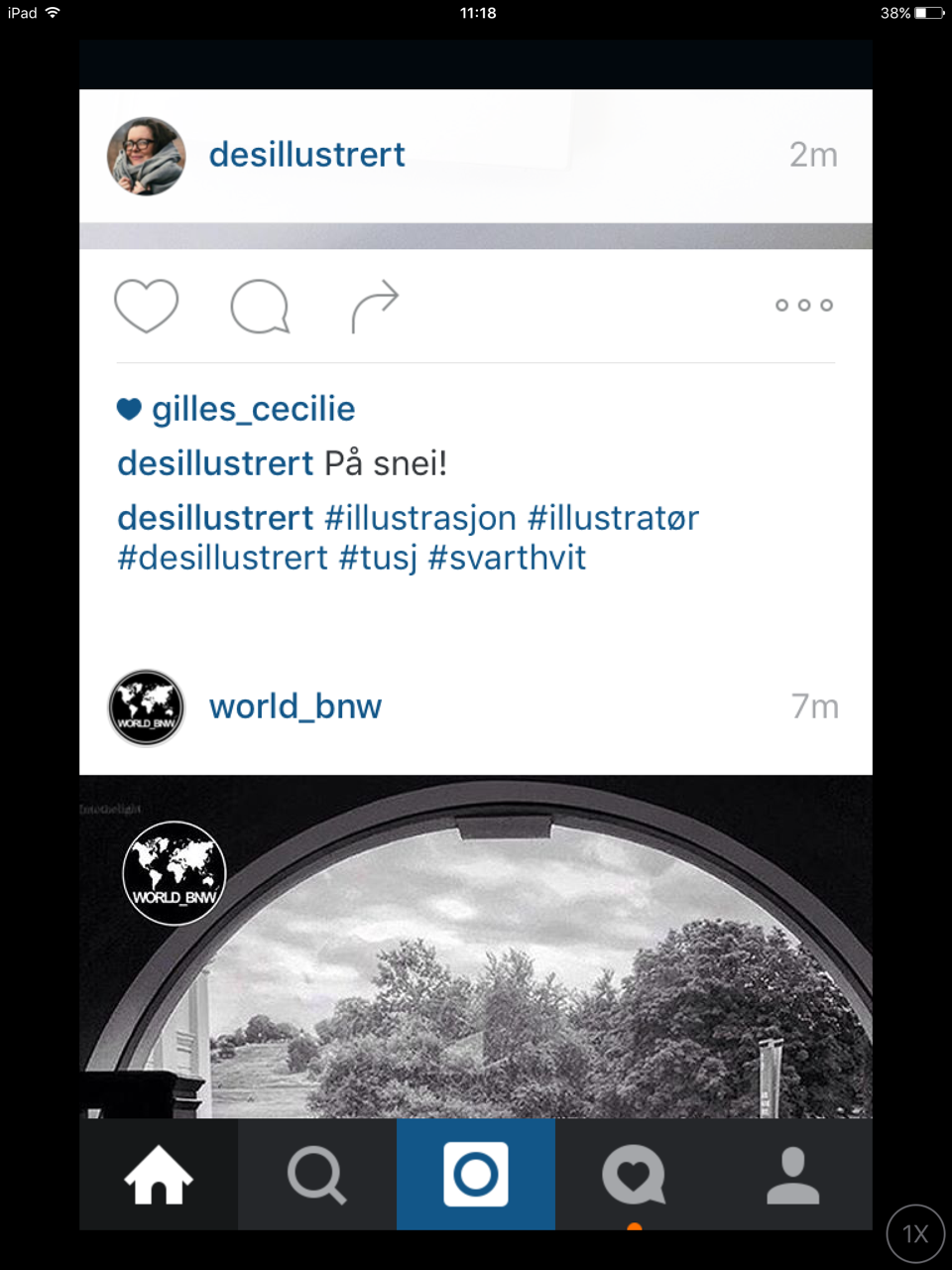 Uploading a Picture to Instagram
The beauty of Instagram is that it uploads images from the default photo app on your smartphone. Most of you will be aware that your smartphones Photo app, not only stores images from your inbuilt camera but can also accept uploaded images from your main cameras via your computer. My own workflow is very simple. I use Lightroom and Lightroom Mobile to get my images to my iPad. By placing the relevant shots in a Lightroom Smart Folder and syncing it to Lightroom Mobile, I can bring it easily to my iPad. From Lightroom Mobile I use the Share option and save to Apple Photos.
Now when I press the Instagram Upload icon, I see my saved Lightroom shots in my Camera Roll.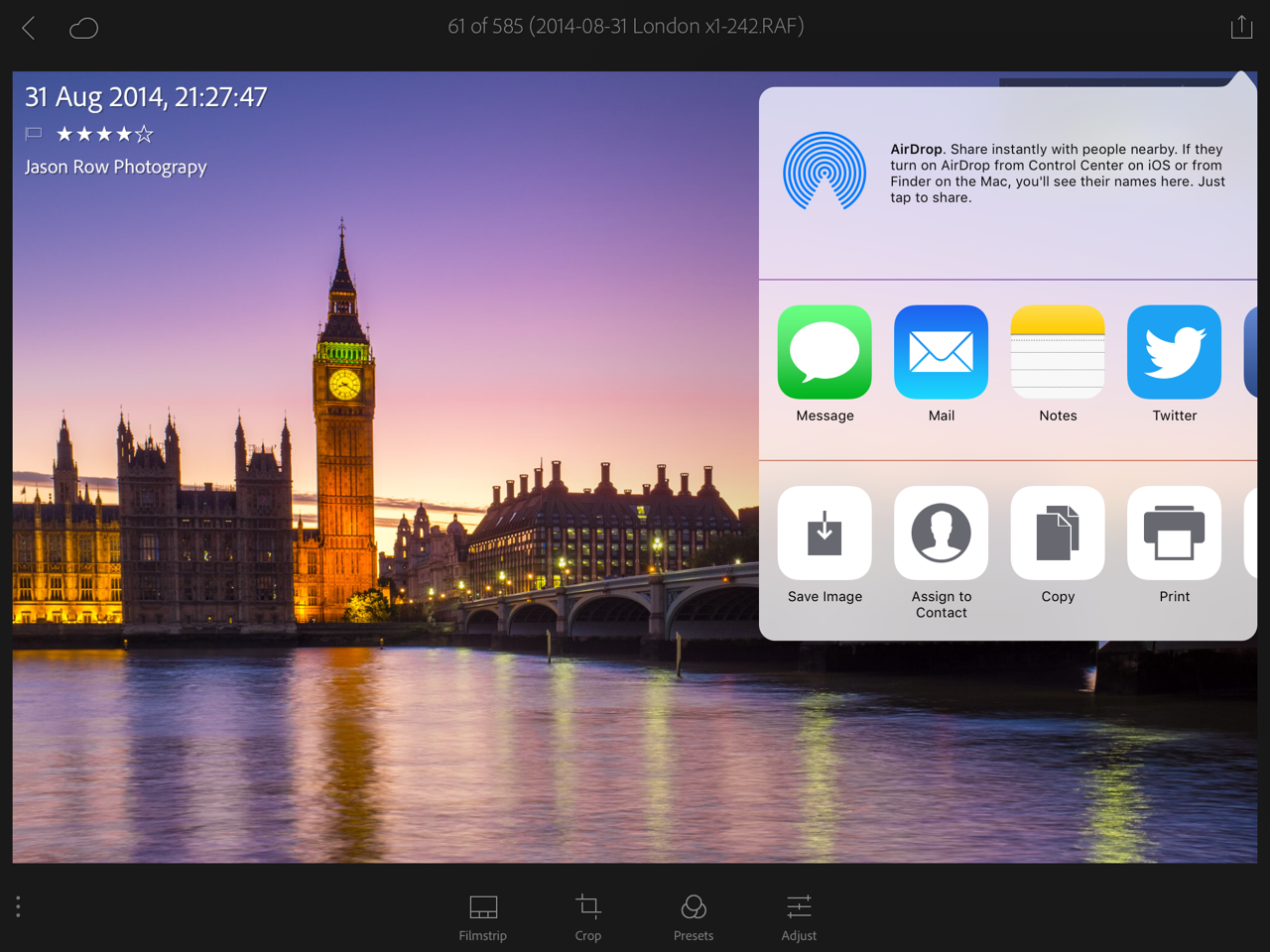 To upload, I select the image I want to use and it will be displayed in square format. To the bottom left of the image is a crop icon. Pressing this will return the image to it's original landscape or portrait format. Clicking Next on the top right will bring you to the in app editing tools. If you have already post processed your shots, you needn't touch these, however you can make some minor adjustments to exposure and sharpness if required.
Pressing Next again brings us to perhaps the most important screen in Instagram. The Share To screen. At the top write a brief descriptive caption but leave plenty of characters for hashtagging. After the caption add your hashtags. For example in this image of Westminster in London, I have used, #London #Parliament #Democracy #Thames #Sunset. These hashtags will increase the chances of people with any of those interests seeing your image. With the Tag People button, you can tag specific followers to see your image. Adding a location is another important element in getting the shot seen.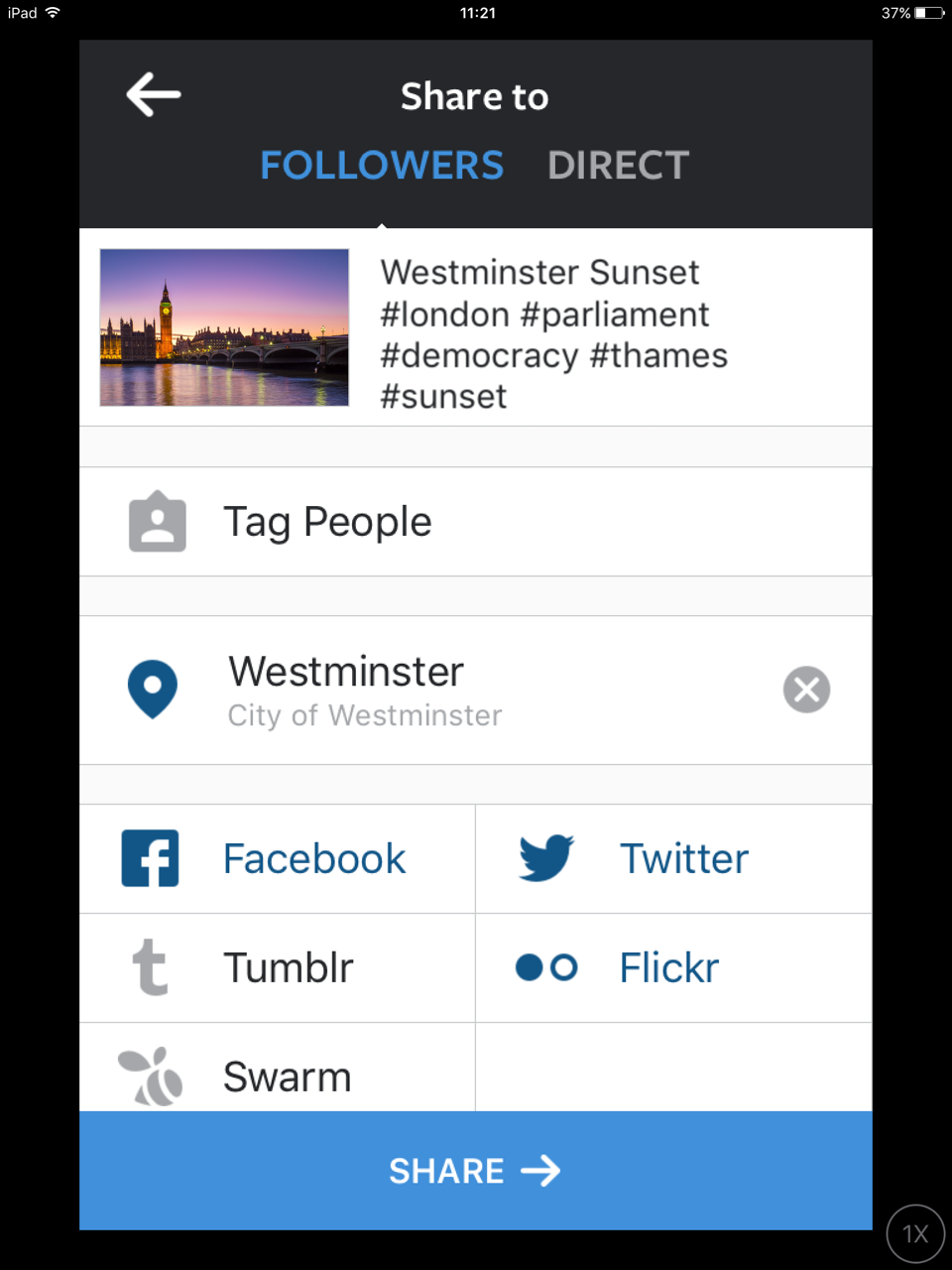 Lastly, before posting share, the image to as many other social media platforms as required, then press Share.
You image will now be live on Instagram and given an interesting image with well thought out hashtags you should soon start to get some likes, follows and maybe even comments.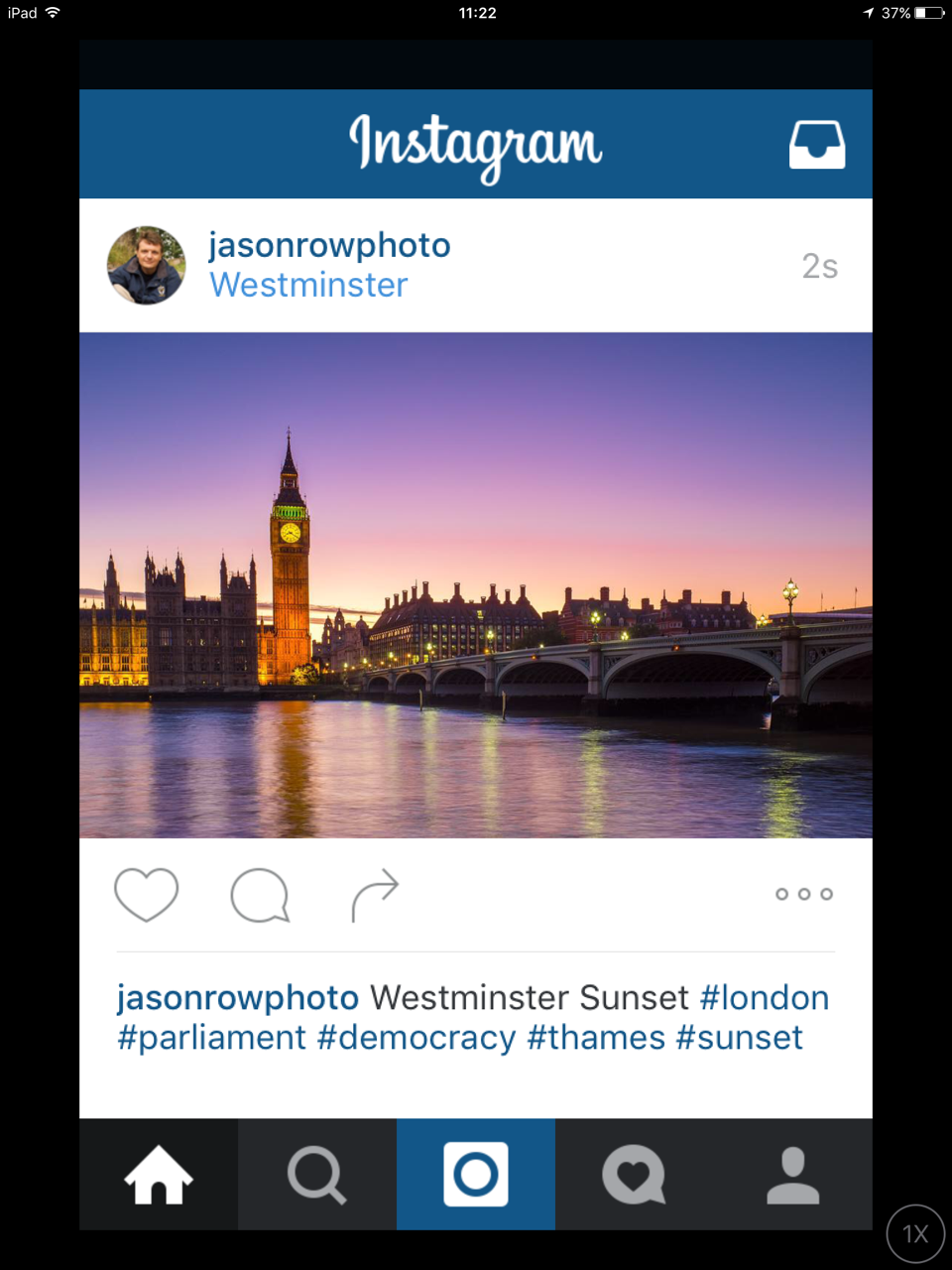 Of all the social media platforms I have found Instagram the most, fun and more importantly, the fastest to grow a following. It is also one of the most most simple to use.
If you want to give me a follow on Instagram you will find me at @jasonrowphoto. I will give you a follow back.