The Iceland landscape is famous for its gorgeous waterfalls, mountains, glaciers, icebergs and if you are lucky you can capture the Northern Lights too. Iceland is certainly one of the most amazing countries for landscape photography.
It's useful to know that the Northern Lights appear from September until April – but February to March, and September to October are the best months to enjoy them.
The following 15 images are all great examples of Iceland landscape photos and we're going to explain what's so powerful about them so that you can capture similar images on your own once you decide to visit Iceland!
We also provided some further reading to really hone your skills so you are ready for your own Iceland landscape adventure.
1. Kirkjufell
Kirkjufell is a mountain on the north coast of Iceland and it's one of the most photographed mountains in the country because of its beautiful symmetric shape.
This image of Kirkjufell looks magical because of the Northern Lights that curve and twist as if the sky is dancing! The reflection in the water enhances the beauty of aurora and the human figure on the right side creates a sense of scale in the photo.
Further Reading:
2. Hvitserkur
Hvitserkur is a 15m high basalt stack in northwest Iceland. This amazing rock has two holes at the base, which give it the appearance of an abstract sculpture.
Because of its distinct shape, Hvitserkur (and similar rock formations!) are ideal subjects for minimalist photography. The austere simplicity of this image is reinforced by the black and white conversion and by long exposure which gives a silky look to the sky and water.
Further Reading:
3. Vestrahorn Mountain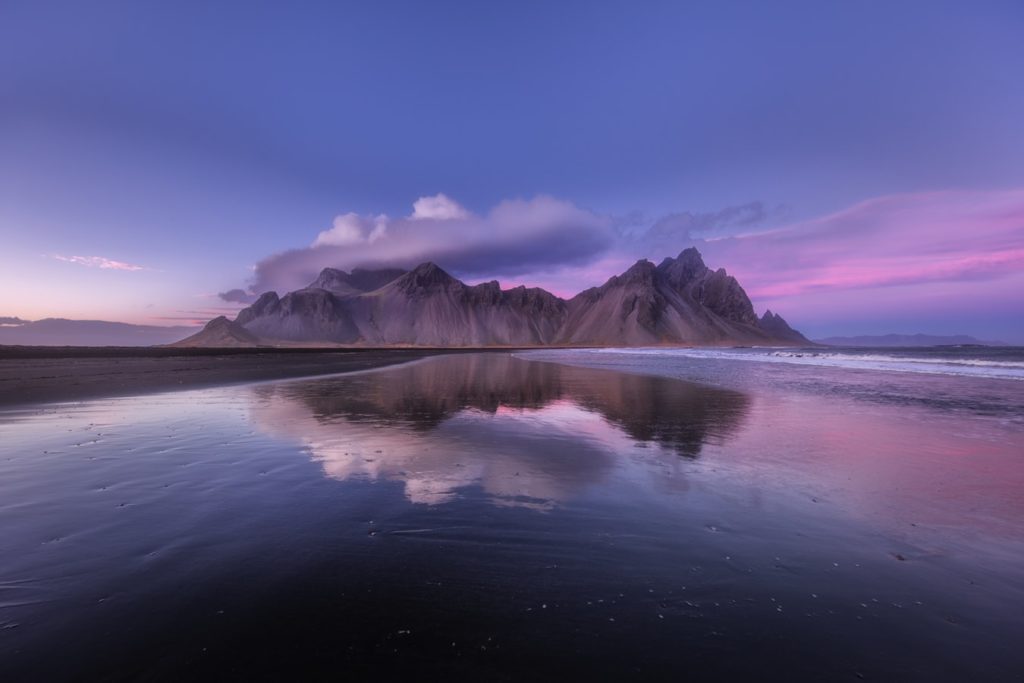 Vestrahorn is a mountain on the southeast coast of Iceland, surrounded by awe-inspiring black sand dunes. These dark dunes give the mountain that rough yet beautiful feeling of the cold north!
This image looks gorgeous because of its perfectly symmetrical composition and otherworldly soft bluish tones which enhance the sense of calm and serenity.
Further Reading:
4. Vatnajokull National Park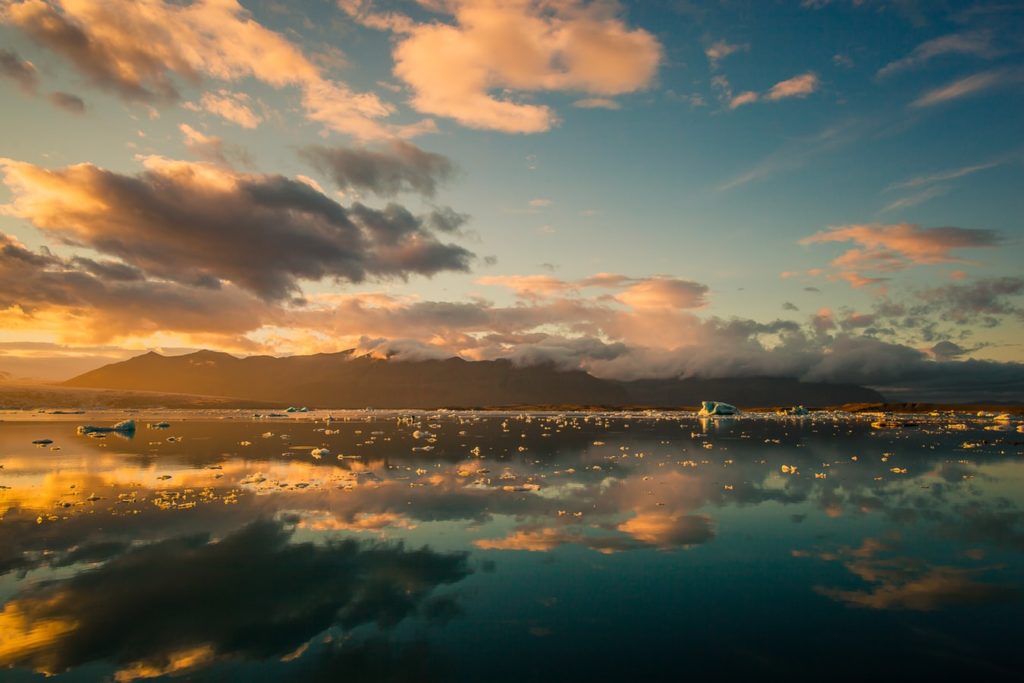 Vatnajokull National Park is a protected wilderness area in south Iceland centred around Vatnajokull glacier. This area is well-known for its massive glaciers, ice caves, active geothermal areas and rivers.
The image above, which looks like a golden hour landscape, was actually shot at 11:30 pm. Because of the almost polar location of Iceland, sunlight can illuminate the landscape for up to 23 hours a day, with the sun barely crossing the horizon. This creates a surreal atmosphere that you should definitely photograph!
Further Reading:
5. Vik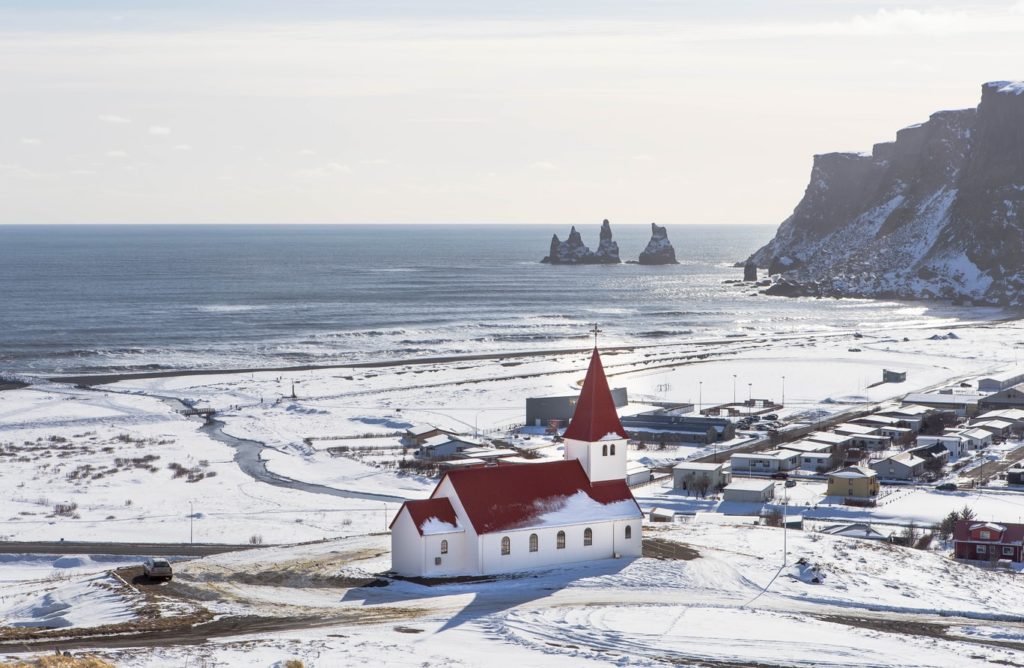 Vik is a remote seafront village in south Iceland. It sits in the shadow of Myrdalsjokull glacier, which covers the Katla volcano.
The church in the photo is called Reyniskirkja and it was built in 1929. It's a great subject for photographs because of its bright red roof which stands out in the snow, ice and cloudy skies. Since the majority of photos taken in Iceland include only nature, it might be refreshing to capture some architectural elements too.
Further Reading:
6. Skogafoss Falls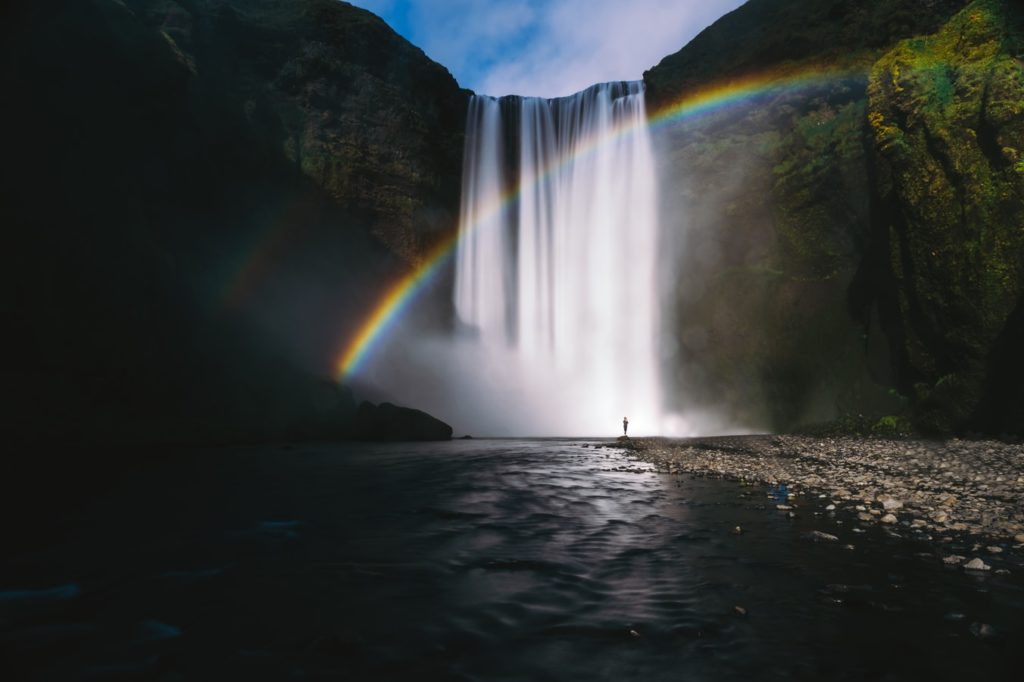 Skogafoss is a waterfall situated on the Skoga river in the south of Iceland at the cliffs of the former coastline. It's a very popular spot for taking photos, but if you want your images of this waterfall to be extraordinary, you should come up with a creative approach.
The image above is a great example of such approach – it is truly dramatic because of the strong tonal contrast and the rainbow which looks rather fragile surrounded by those large dark rocks. The human figure close to the waterfall enhances the sense of grandeur.
Further Reading:
7. Thingvellir National Park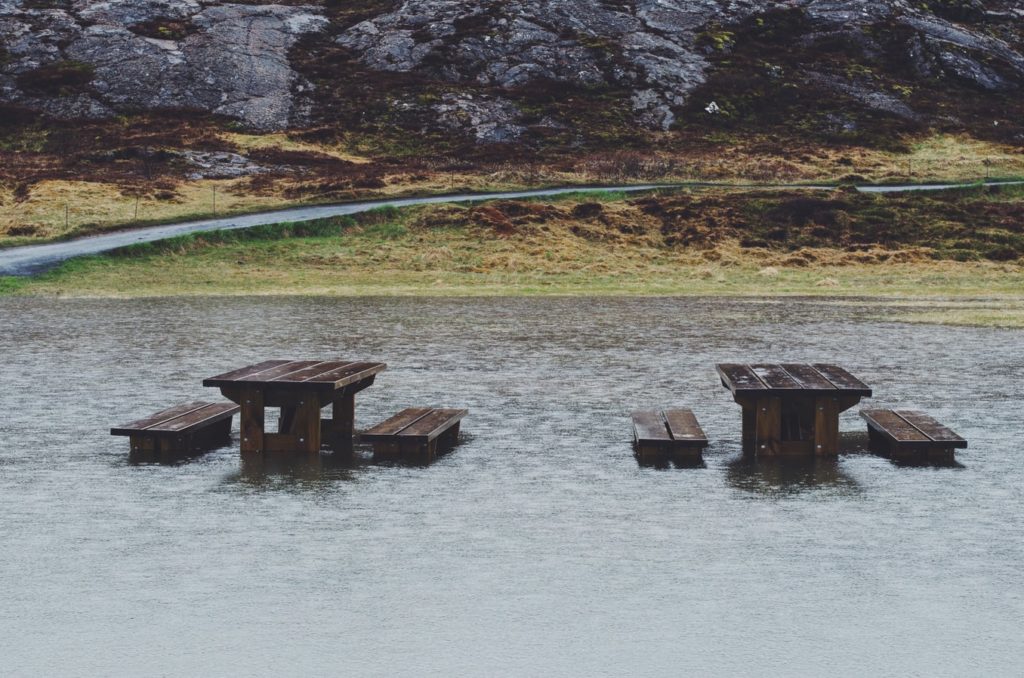 Thingvellir is a historic site and national park in Iceland, east of Reykjavik. It's also known for the Althing, the site of Iceland's parliament.
Sometimes, you may want to point at something unusual or bizarre instead of shooting a regular landscape. This photo is quite successful and memorable because the photographer has captured a very particular flood scene that isn't available all year round.
Further Reading:
8. Langjokull
Langjokull is Iceland's second-largest glacier and it looks very intimidating! Its ice cap is up to 580m thick and the highest point of the ice cap is about 1,450m above sea level.
This image looks stunning because of the powerful mix of abstract patterns and human figures. It emphasizes the fact that when man and nature cooperate they create a unique work of art. Also, it's always good to see a bold vertical landscape – they aren't very common!
Further Reading:
9. Stakkholtsgja Canyon
Stakkholtsgja is a canyon located in the south of Iceland and it has risen in popularity after appearing in Game of Thrones. The music video for Game of Thrones theme song was filmed there.
The image above looks very captivating because both the lighting and composition are impeccable. The human figure in the middle enhances the sense of symmetry! However, it might be hard to obtain this kind of image because you need to have a very powerful artificial source of light.
Further Reading:
10. Jokulsarlon Lagoon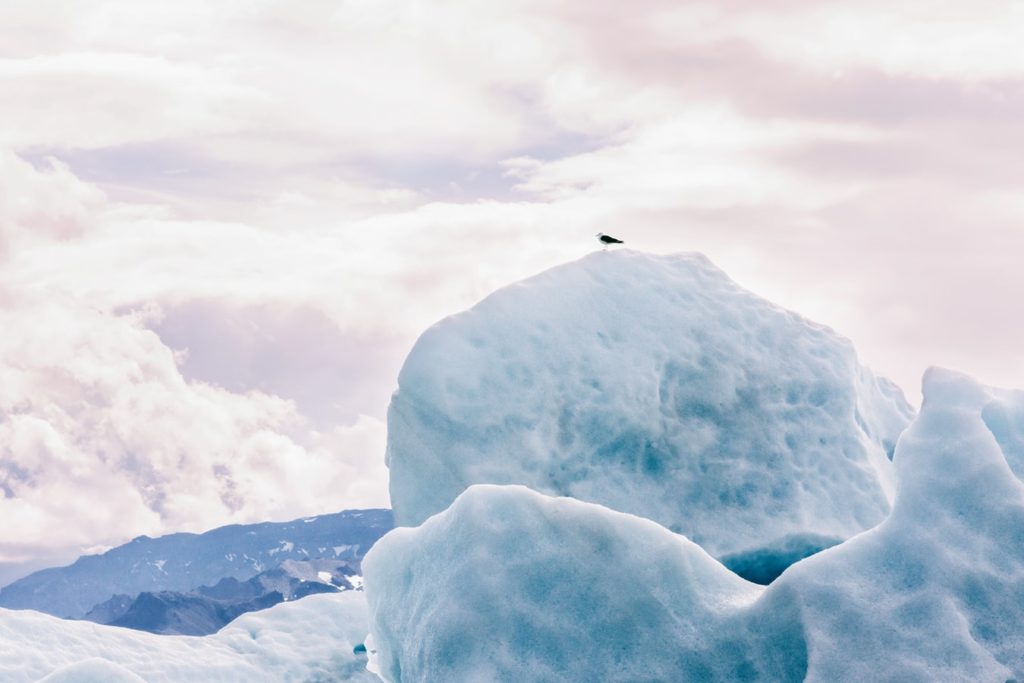 Jokulsarlon is a glacial lagoon, bordering Vatnajokull National Park in southeastern Iceland. Its still blue waters are dotted with many amazing icebergs.
This image shows that icebergs can have a gentle kind of beauty too – just looks at the curved, almost round ice cap of this iceberg! Pale blue and pinkish tones make the atmosphere even more delicate, while the bird standing on the ice cap provides a sense of scale.
Further Reading:
11. Icelandic Horses
The Icelandic horse is a breed of horse famous for its heavy winter coat. These horses still play an important part in Icelandic life, despite increasing mechanization and road improvements.
The photo of these horses nuzzling on a cold morning looks very affectionate because of the tight crop. Since the horses fill the frame, we can focus on their beautiful thick coats and their peaceful demeanour.
Further Reading:
12. Blue Lagoon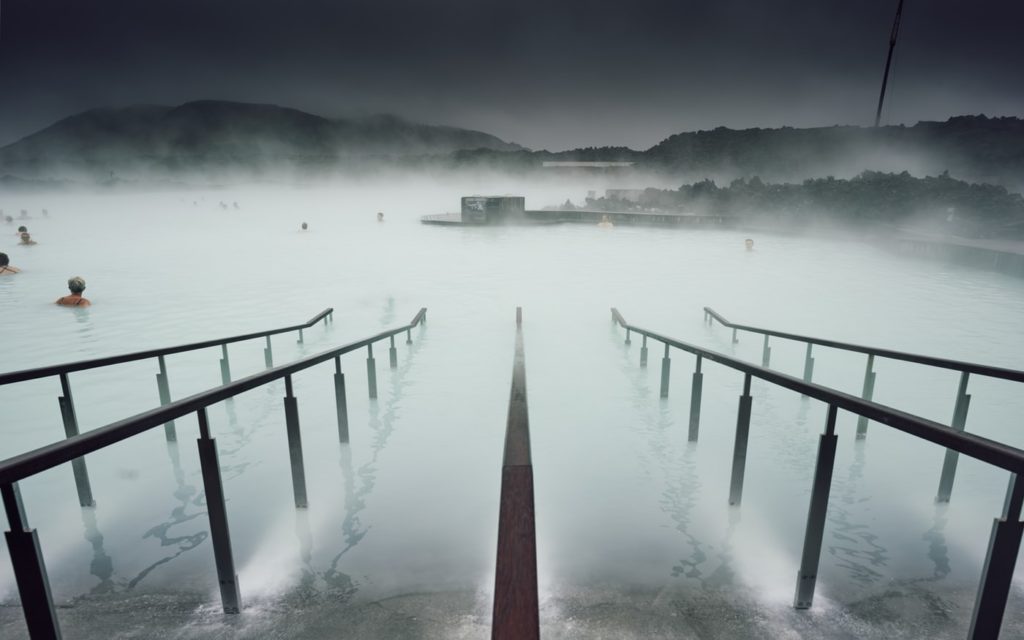 The Blue Lagoon is a famous geothermal spa in southwestern Iceland and because of its enormous popularity, it can be challenging to capture really good photos there.
The image above is eye-catching because of its contrasting elements – horizontal and vertical bars that look very stark and white mist that looks dreamy and romantic. Desaturated colours make this scene even more cinematic.
Further Reading:
13. Harpa Concert Hall, Reykjavik
Harpa is a concert hall and conference centre in Reykjavik and it's famous for its distinctive coloured glass facade inspired by the basalt landscape of Iceland.
The high-key image above emphasizes the beauty of the hall's windows in a marvellous way! Thanks to the clever choice of camera settings and skilful editing, all the distracting elements are removed and we can enjoy the simple yet powerful beauty of this amazing building.
Further Reading:
14. Thorsmork
Thorsmork is a mountain ridge that was named after the Norse god Thor and it's situated in the south of Iceland. It is quite popular amongst hikers and many different tours are possible, from hiking on the glaciers to trekking.
The image above is a prime example of using leading lines in composition – our eyes are immediately drawn to the dark curved lines which look like a giant crack in an otherwise perfectly peaceful winter scene. This is one to hang on your wall.
Further Reading:
15. Hveradalir
Hveradalir (the valley of hot springs) is one of the largest and most fascinating geothermal and hot spring areas in Iceland. It has many hiking trails, boiling mud pools and clouds of steam!
The image above makes the beauty of rust-coloured mountains and steaming vents even more surreal because of the careful composition – leading lines and curved shapes are pleasing to the eye while the vertical orientation of this landscape introduces the element of surprise.
We hope that you enjoyed these 15 amazing images of Iceland and that you'll use some of the tips and tricks we mentioned the next time you embark on a photo adventure.
To learn more about landscape photography, check out the following links!
Further Reading:
Further Resources:
We here at Light Stalking have gathered together a fantastic resource page just on Landscape Photography. We think all these resources in one place will ensure you to become a great landscape photographer. So take a look!
Further Learning:
We've highlighted this guide before but you are looking to cement your landscape photography skills, then check out Kent DuFault's The Complete Landscape Photography Guide.
It is a comprehensive guide with illustrations that give you the visuals to help you grasp the concepts of great landscape photography. Also, there are assignments that will help you put your learnings into practice. We think it is great