Infrared photography is cherished for its surreal vibe – it can make trees radiant pink or white and skies dark or with unusual color casts. This otherworldly quality can turn your landscapes into beautiful dreamscapes – infrared photography is definitely worth the effort!
---
A fantastic way to skyrocket your natural light photography skills is to practice with your Phone Camera. This week, if you grab iPhone Photo Academy at a huge discount, we will also send your our "Natural Light Buddy Notes" absolutely free. Secure the offer here.
---
This type of photography captures the spectrum of light humans can't detect with their eyes. This light range is between 700 – 1200 nanometers, requiring either an image sensor that is sensitive to infrared light or infrared filters.
In this article, we will cover a little bit about its history and how to shoot and process dreamy images captured by infrared photography. If you've always thought this could only be done using an expensive full-time dedicated infrared camera, read on to find the real answer.
The amazing thing is that by simply attaching an IR filter to your camera, you can magically capture images surreal in nature that appear to emerge from an alternate dimension. In this article, the infrared light spectrum will be referred to as "IR," which is the spectrum of light just beyond the range the human eye can detect.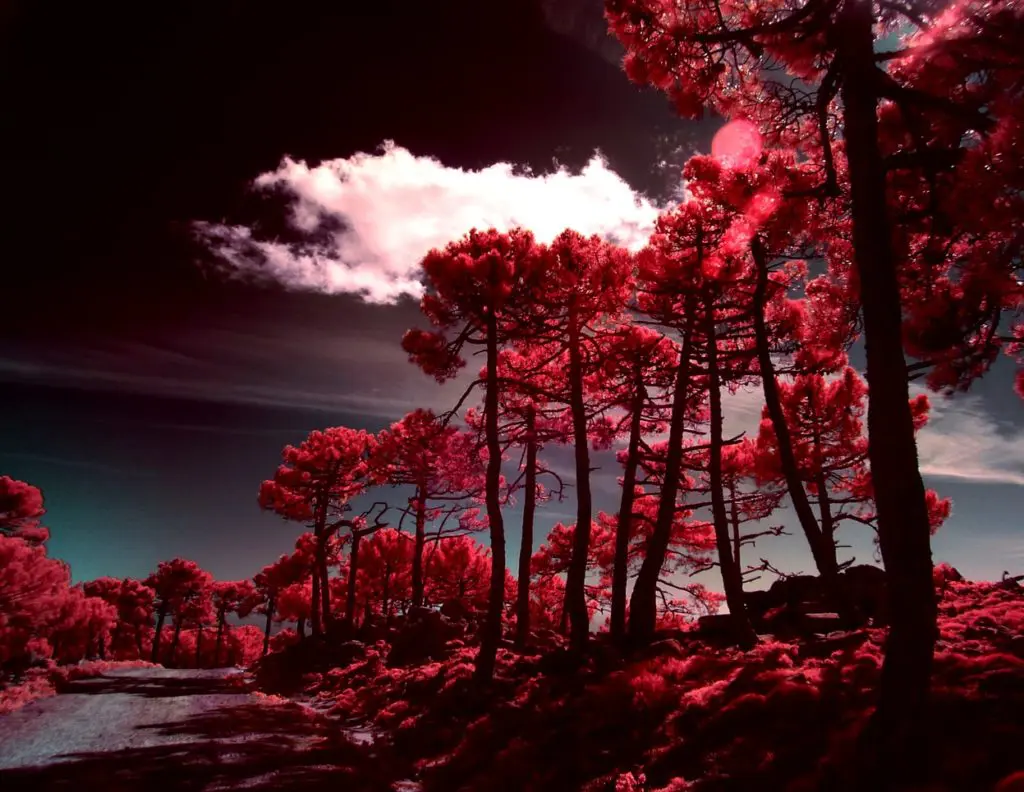 A Brief History Of Infrared Photography
Infrared photography dates back to the early 20th century. During WWI, such photos were precious because they weren't affected as much by atmospheric haze as normal photos, and they could show distinctions between vegetation and buildings. This was useful for identifying potential enemy targets.
During the 1930s, infrared photography started to attract various filmmakers and photographers. This culminated in the 1960s when essential musicians of the day, such as the Grateful Dead, Frank Zappa, and Jimmy Hendrix, popularized its use via their trippy album covers.
With the arrival of the digital camera in the 1990s, infrared photography became more available to both amateur and professional photographers. It also became important among law enforcement officials because they started to rely on infrared photography to find forensic evidence not available through human eyesight.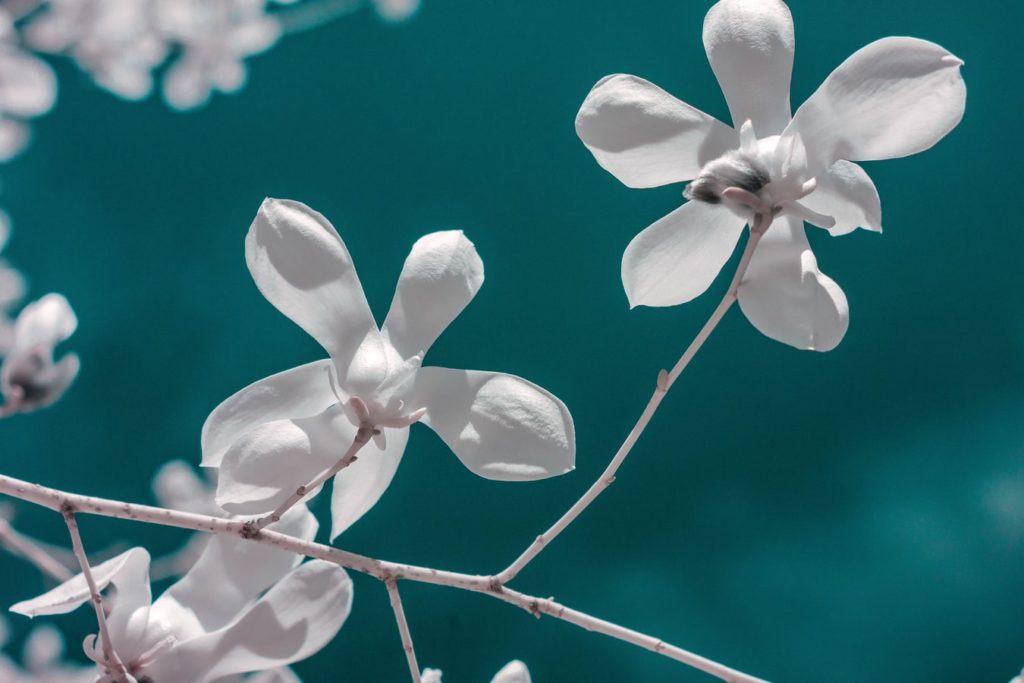 Infrared Photography Options
Test Your Camera
Before you go out and buy an IR filter, make sure your camera is sensitive to infrared light. Try this simple test to see if your camera will yield good results. Using a TV or DVD player remote control, point it at your camera, and while you're looking through your camera, press any button on the remote. If you can see a light beam emitting from the remote, your camera is IR-sensitive.
Equipment You May Already Have
If your camera passes the sensitivity test, you'll need a tripod that will help you take a sharply focused shot, as your exposure times will be quite long.
Because most cameras top out at a shutter speed of 30 seconds, you might need a remote shutter release. Set your camera to bulb mode and set your remote shutter release for the desired shutter speed.
Camera Conversion
Modern digital cameras have infrared filters on the sensor, and these filters block out the infrared information. If you want to shoot infrared photos with a regular digital camera, you may have to remove this filter. Still, in turn, the camera will lose the ability to capture normal images. This option is not recommended, but if you have a few camera bodies and want to get into IR photography, you can do this type of camera conversion.
It can be somewhat expensive to get your camera converted because it has to be sent to a specialty lab – you can't convert it on your own! The most important name in infrared conversion is Kolari Vision.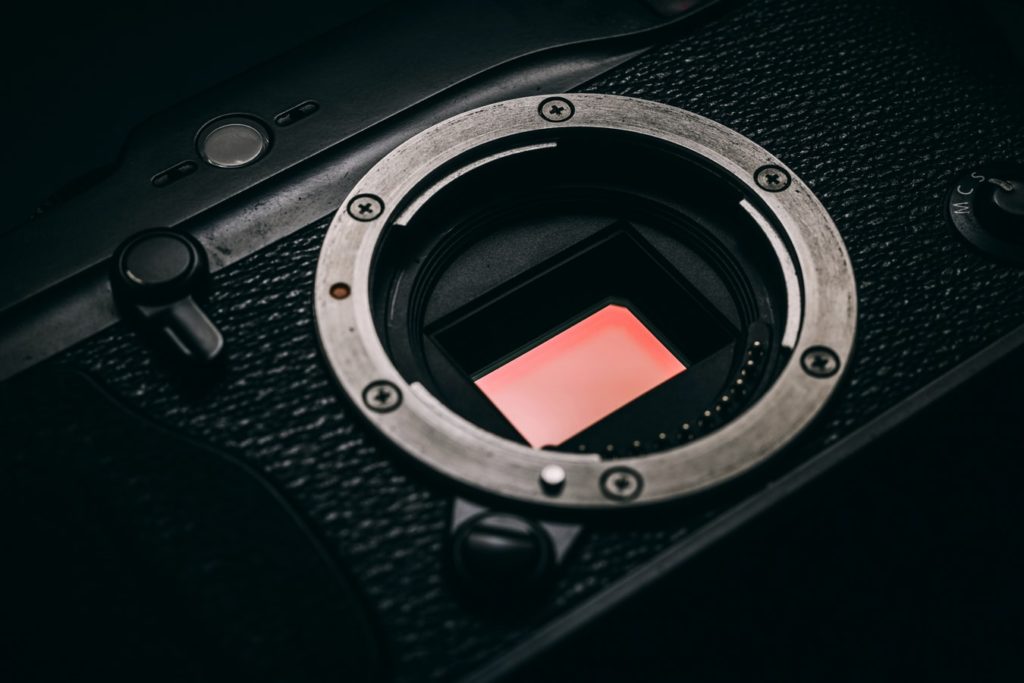 Infrared Filter
Using infrared filters is the cheapest and simplest route to infrared photography. These filters are just like any other screw-on filters, easy to put on and remove. However, they won't work on cameras with a built-in infrared filter that blocks all infrared light from reaching the sensor. In such a case, camera conversion would be necessary.
The second drawback of using infrared filters is that every image is a long exposure, which affects creative freedom a lot. This happens because infrared filters block out all visible light and only let infrared light in – the process takes some time! Typically, you can expect exposure times of 30 to 120 seconds.
The most popular infrared filter is the Hoya R72.
Picking The Right IR Filter
If you choose to, you can choose your choice of filter based on what you like about IR pictures. Just determine what attracts you when you look at IR pictures.
Is it the false colors – the white foliage with a bluish sky, or do you prefer those striking black-and-white images?
A Deep B&W filter will produce pure black and white images and will generate the darkest skies and brightest foliage.
A Standard IR filter is a good compromise between creating false colors and black-and-white photos.
An Enhanced IR filter produces more color information and is your best choice if you like pictures with an IR blue sky effect.
A Super/Ultra Color IR filter retains the highest color and is your best choice if you like false color images.
A Super/Ultra Blue filter allows some blue light to pass through to get an infrared blue sky effect straight out of the camera.
Consider buying at least two or three different filters. If you do, the filters should be spaced far enough apart (in terms of their respective cut-off points) to allow you to experiment with different lighting conditions.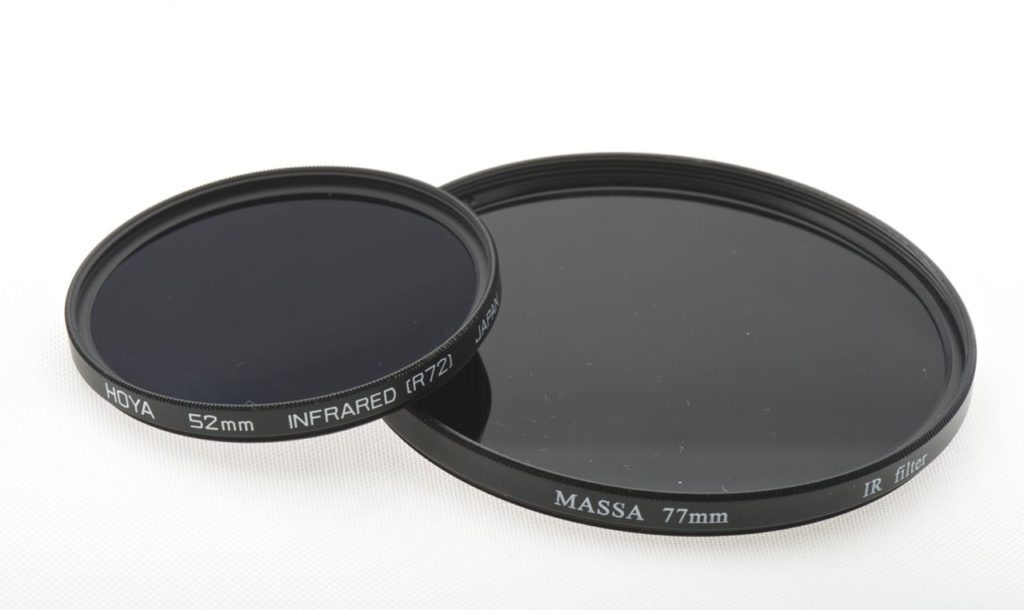 Choose IR Lenses That Do Not Create An IR Hot Spot
Lens flare and IR photography do not mix. When choosing a lens, you must be sure that hotspots and flares are kept to a minimum since you can't remove hotspots in the post-processing. Infrared hotshots often appear as a series of stop sign-shaped artifacts marching toward the center of the camera's sensor.
Shooting Infrared Photography
It's not that complicated to shoot infrared photography – there are just a few things you should be careful about.
---
A fantastic way to skyrocket your natural light photography skills is to practice with your Phone Camera. This week, if you grab iPhone Photo Academy at a huge discount, we will also send your our "Natural Light Buddy Notes" absolutely free. Secure the offer here.
---
You should set your camera to shoot RAW because the amount of editing required for infrared photographs calls for RAW. It's also essential to find the proper subject – vegetation reflects infrared light while the sky turns quite dark, so landscape photography is the best choice. Seascape photography can also look very compelling since any body of water will turn very dark in infrared photography.
After you have chosen the proper subject and composed the scene, make sure to cover your viewfinder while shooting. Infrared leakage can occur through the viewfinder, and it can look quite bad.
Suggested Camera Settings For Beginners
Because IR filters block out most visible light, your exposures will be quite long, requiring setting up your camera on a tripod and using a remote shutter release.
Set your ISO between 200 and 400.
Set your long exposure noise reduction to ON.
Set your camera aperture to f/8.
Set your white balance to Auto.
Set your camera to shoot in RAW mode, which will allow you to adjust your images in post-production.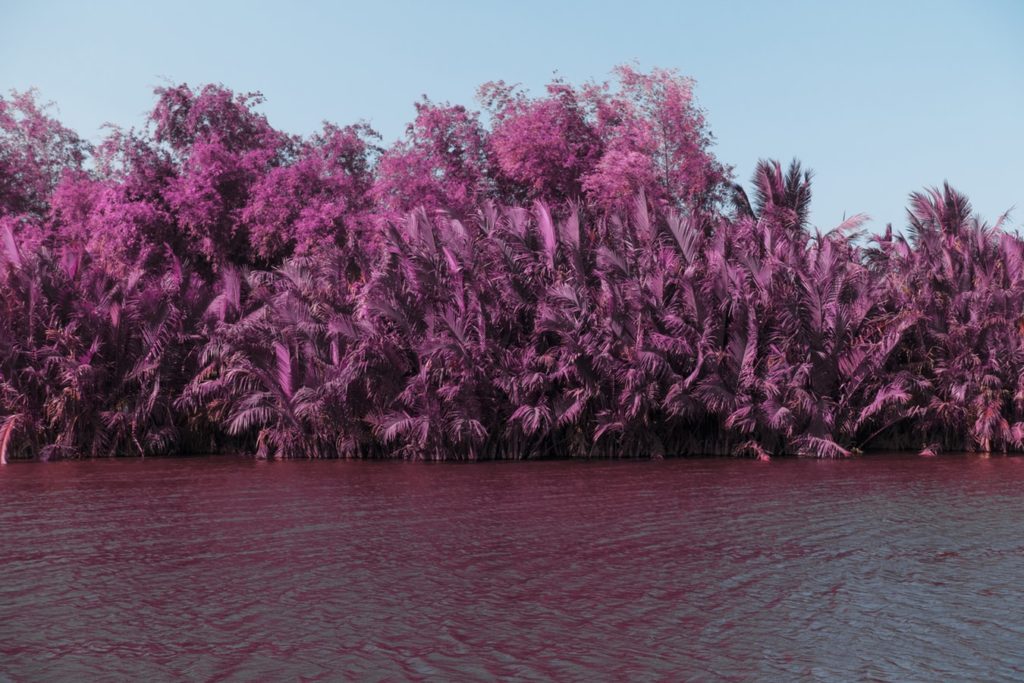 Shoot When There's Lots Of Sunshine
Overcast days and dark winter days can be absent of anything that reflects, but clouds can add interesting elements.
Cover Your Viewfinder When Ready To Activate The Shutter
After you have chosen the proper subject and composed the scene, make sure to cover your viewfinder while shooting. IR leakage can occur through the viewfinder and can look quite bad on your finished image.
Focusing Is Important
Due to the longer wavelength of IR light, focusing is critical to achieve sharp results. Since the IR filter is very dark, you will have to focus on the image before attaching the IR filter to your lens. It is also important to not bump the focus ring while trying to screw on a filter.
As a beginner, you can also choose your subjects so that you're always focused at infinity and using a small aperture. Everything will come out sharp when focused at infinity and around f/8 – f/11.
Once you know how your camera reacts to IR light, you will be surprised by the images that you will be able to produce.
Understand The Basic Differences Between Visible Light And Infrared
These two wavelengths focus light in slightly different places, and for this reason, many IR photographers choose a wide-angle lens with a small aperture to create a depth of field to cover the loss of critical focus.
Choose Carefully What To Shoot To Get Good Pictures
A simple rule is that alive things will reflect more infrared light than inanimate objects. Mountains, rocks, water, and sky absorb IR light and will appear as darker objects in your image.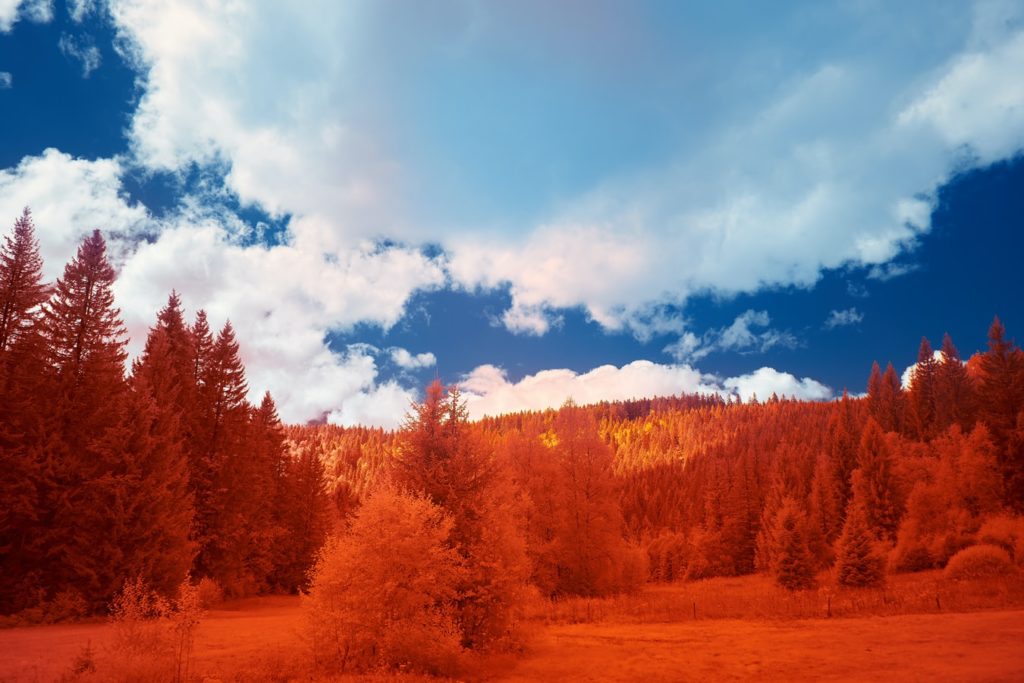 Post-Processing Infrared Photos
This type of photography usually requires a lot of post-processing, and it can be somewhat demanding if you're not proficient in editing.
The first thing you have to do is to adjust the white balance. If you didn't set the custom white balance while shooting, you should spend some time with the white balance slider in Lightroom and use the eyedropper tool to pinpoint where that custom white balance would have been.
Once you're happy with your white balance, you can import the image into Photoshop and swap the red and blue channels. To do this, go to Image>Adjustments>Channel Mixer and swap the channels to get a blue, red, or purple sky and white or light pink foliage. In the red output channel, you should change the red slider from +100 to 0, and the blue slider from 0 to +100. After that, you should change the output channel drop-down to blue, and make the blue slider +100 and the red slider 0.
The final step in editing infrared images would be to increase the contrast since these images tend to be pretty low contrast. You can also alter saturation and vibrance.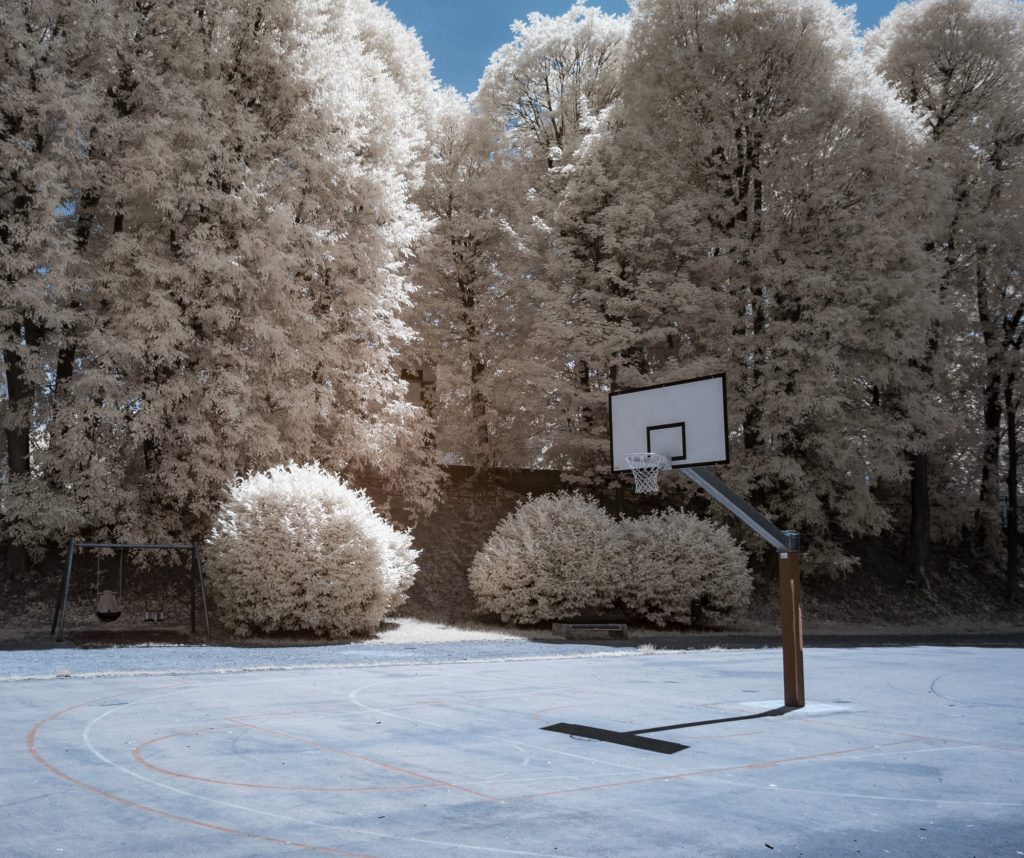 Bear in my that all digital IR images will need a little bit of a tweak in editing software to get an effective result. More detailed information can be found at this link:
Bonus tip . . . It's possible to make real IR photos using your smartphone. Check out this well-written article!
In conclusion, just remember that infrared photography is as much an experimental process as it is an art form. You never quite know what you'll get when you press the shutter release because you will be forever experimenting, trying to get that perfect image.
As always, have fun and happy infrared shooting!
---
A fantastic way to skyrocket your natural light photography skills is to practice with your Phone Camera. This week, if you grab iPhone Photo Academy at a huge discount, we will also send your our "Natural Light Buddy Notes" absolutely free. Secure the offer here.
---
To learn more about infrared photography, check out the following links.
Further Reading: