If you need travel inspiration or you simply enjoy checking out amazing travel photographs, there are a few Instagram photographers you should definitely follow. These people provide a snapshot into their lives with their daily uploads of photos of various places, animals, and people across the globe.
The following 12 Instagram travel photographers regularly share amazing digital postcards from various far-flung corners of the world!
Brendan van Son is a Canadian photographer and YouTuber who has been living the nomadic life for 9 years. He has visited more than 100 countries and his work has been featured by important publications such as The Guardian, The BBC, The Toronto Star, Nat Geo Traveler, and so on.
Brendan shoots mainly landscapes and you can see his current and next travel destination on his Instagram.
Kirsten Alana is a New York-based multimedia creative who excels in telling exciting travel stories through the lens of her camera. In addition to shooting amazing travel photos, Kirsten also writes mini blog posts full of useful facts about the places she's visiting.
She has worked with famous brands such as Four Seasons, Ted Baker and Travel + Leisure.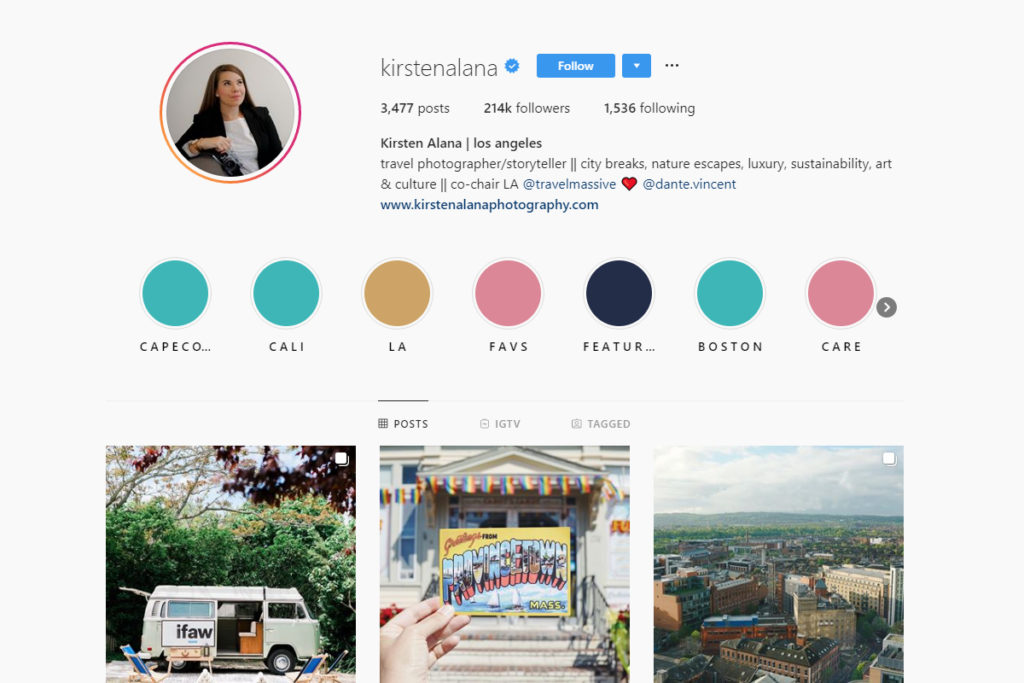 Daniel Kordan is a landscape photographer known for his popular Instagram account (with over million followers!) and for his photography workshops at Lofoten Islands in Norway and in Tuscany in Italy.
He has won many awards for his amazing work and he has publications in magazines such as Digital SLR Magazine, Photography Master Class, National Geographic and Discovery.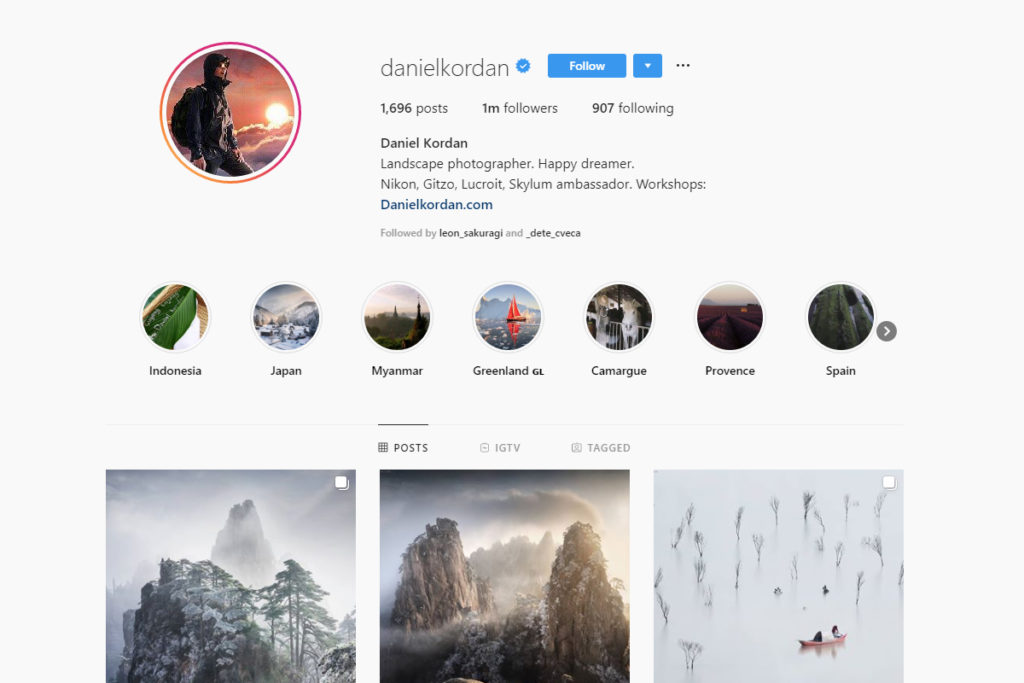 Chelsea Kauai is a Hawaii-based creative who travels the world as an athlete, model, writer, and photographer. Her adventurous outdoor lifestyle has earned her more than 700k Instagram followers. She also regularly updates her personal blog, The Adventurers Collective.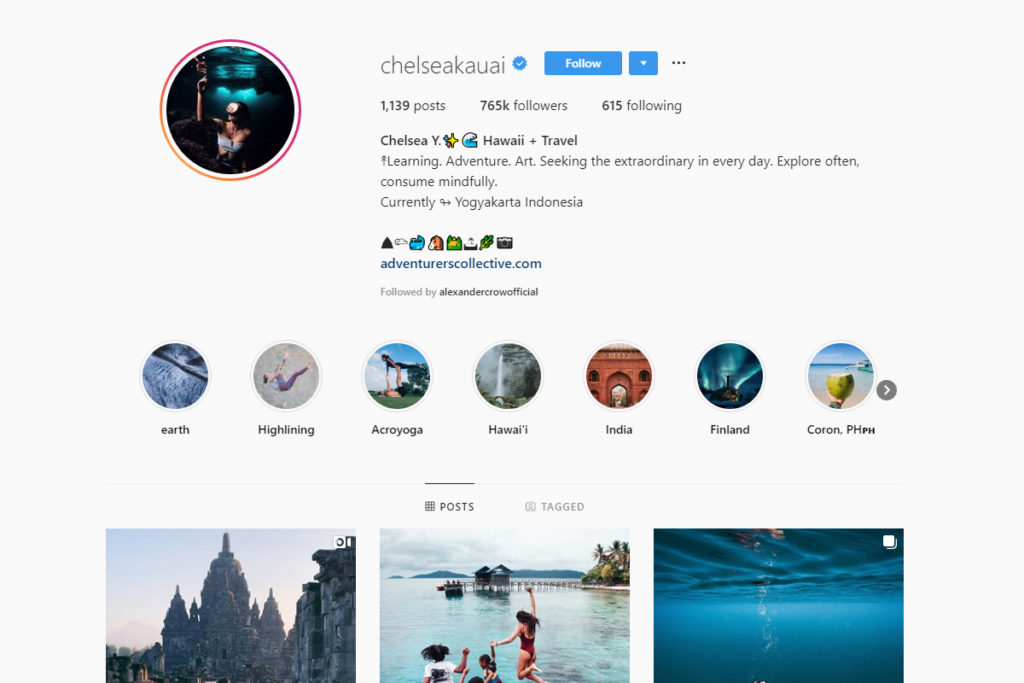 Chris Burkard is an American photographer based in California. He is famous for his landscape, lifestyle and travel photography and he has more than 3 million Instagram followers.
He has worked on global campaigns with Fortune 500 clients, spoken on the TED stage, designed various product lines and published collections of travel books.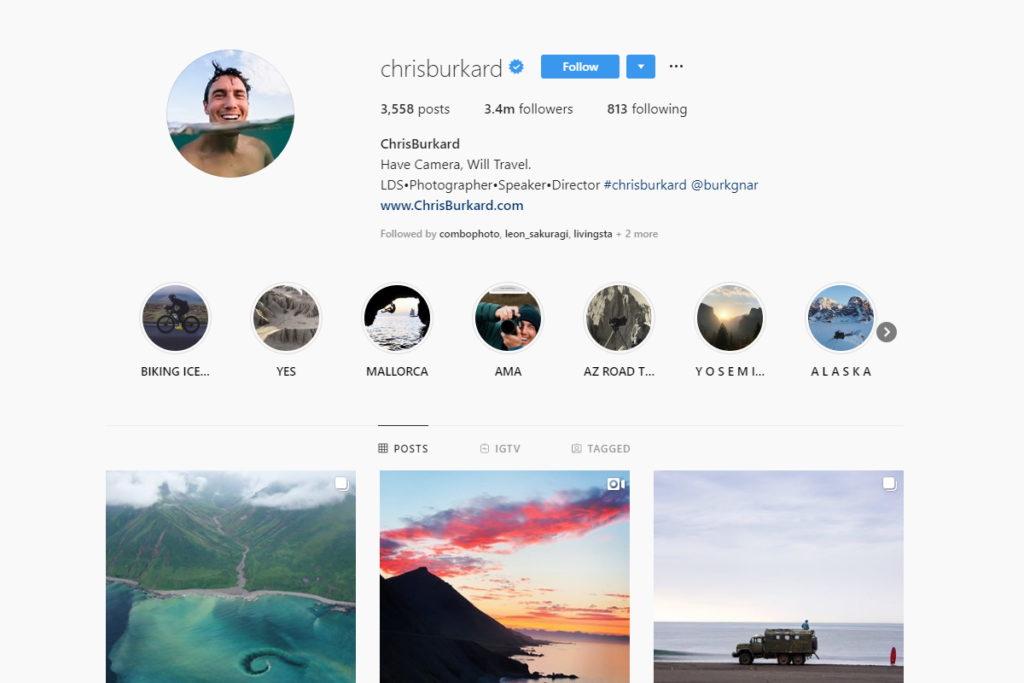 Lauren Bath is known as Australia's first professional Instagrammer. She has worked with many impressive clients, such as Tourism Australia, Switzerland Tourism, Tourism South Africa, Tourism New Zealand and Canadian Tourism Commission.
In 2015 she was a finalist in the Gold Coast Women in Business Awards in the "Women for Change" category. Lauren has a dedicated audience of close to half a million Instagram followers.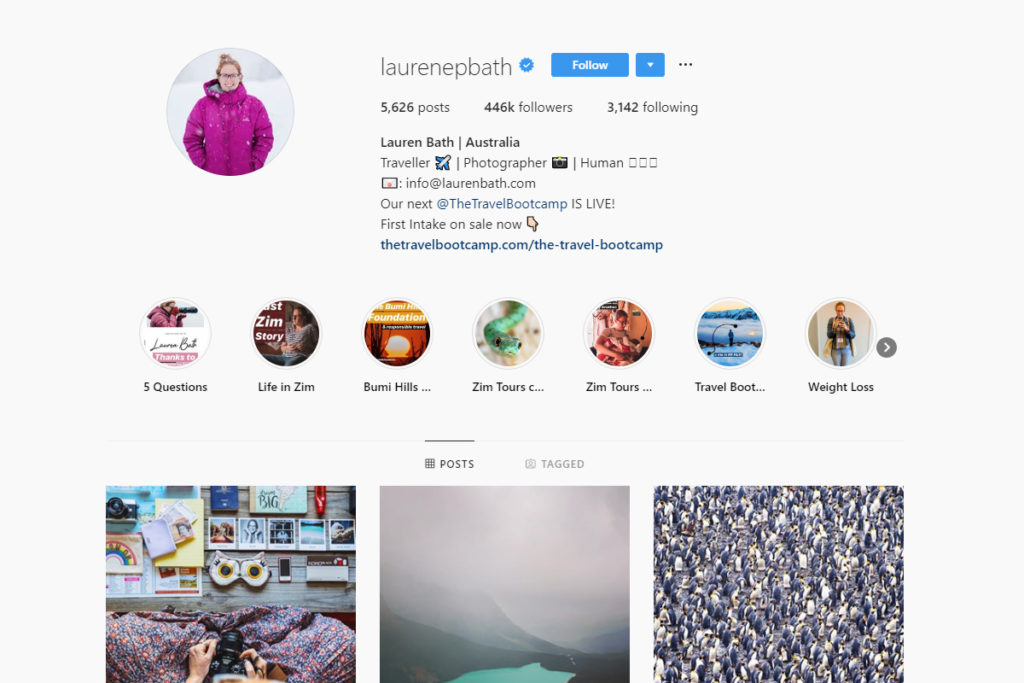 The Planet D are husband & wife team Dave Bouskill and Debra Corbeil, who launched their website in 2007 when they took part in the Tour d'Afrique cycling adventure from Cairo to Capetown.
Today, they have a fully-fledged media company and they partner with important clients such as American Express and Cathay Pacific. These two Canadians are included in the Forbes Top 10 Travel Influencers List.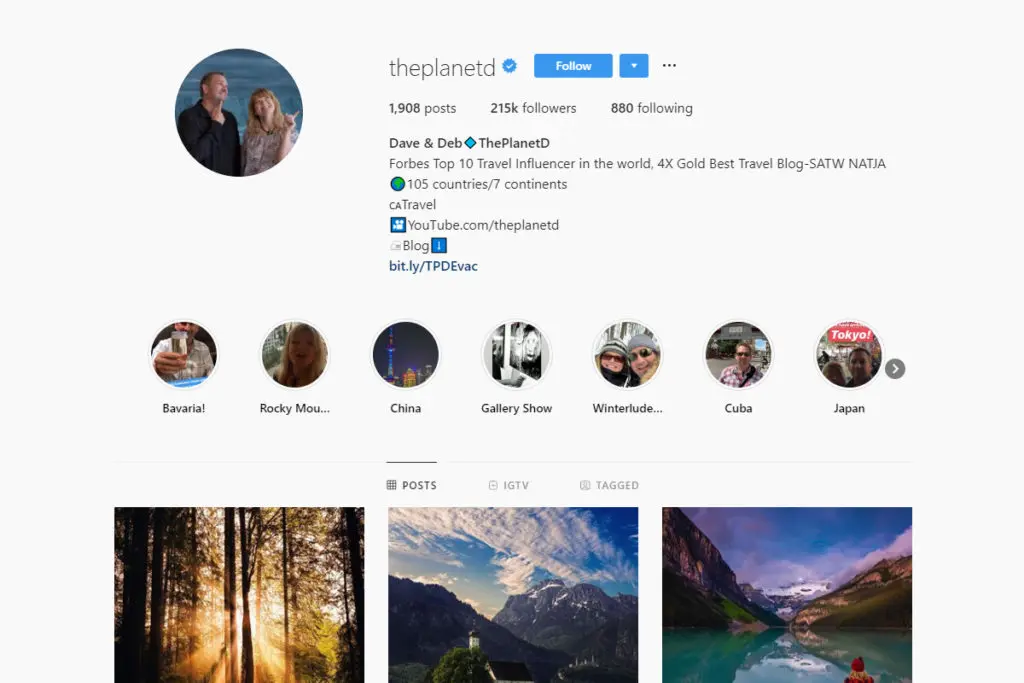 John Cole, better known by his online alias FunForLouis, is an English vlogger and YouTube personality. He's also a great photographer and his shots are rather spontaneous, fun and adventurous. He's not too much into landscapes – he prefers to pose with his friends.
Discovery signed Cole to its Digital Seeker Network in 2015 and he has been named a top travel influencer.
Alex Strohl is a French photographer best known for his gorgeous travel photographs and extremely influential Instagram account with more than 2 million followers. His photography has been featured in prestigious publications such as Forbes, Vanity Fair, and Gentleman's Journal.
Alex spends most of his time on the road with his partner Andrea – they often travel to the most remote parts of the world.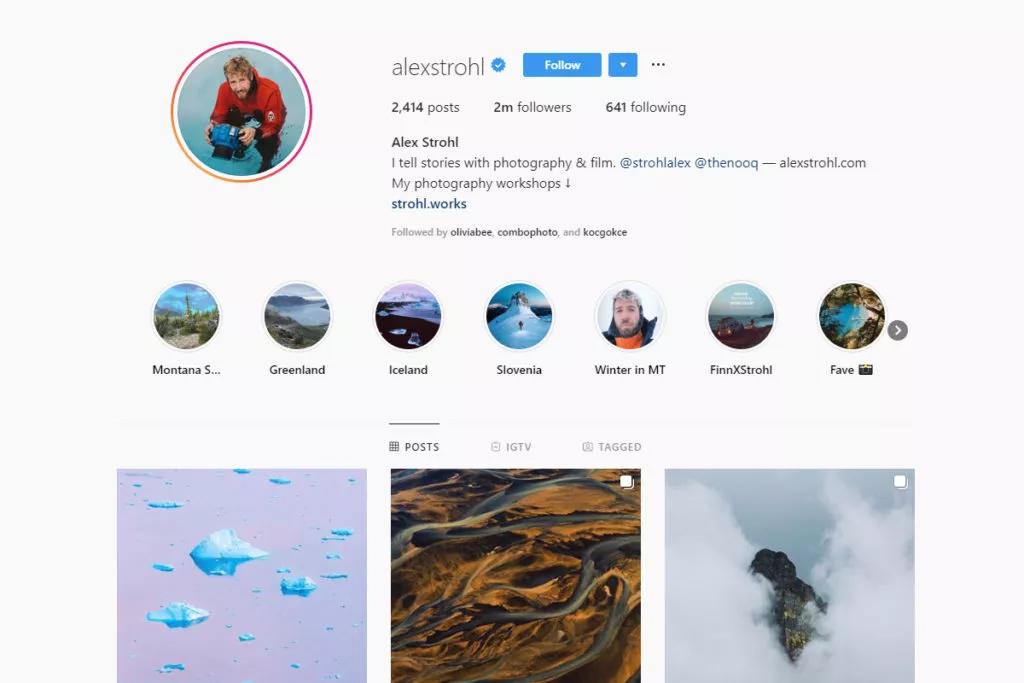 Melissa Hie is an Instagrammer known by her online alias GirlEatWorld. As the name of her blog suggests, she loves eating and traveling the world.
Melissa has visited 36 countries so far and has tried even the most daring local dishes.
If you want to learn more about travel photography, feel free to check out the following links!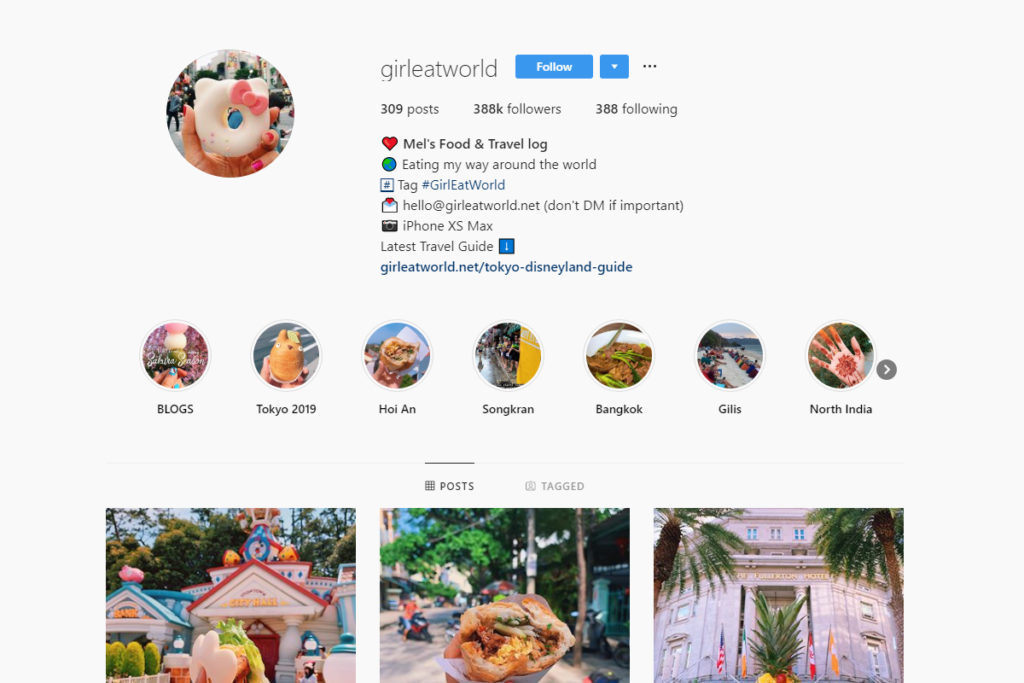 11. Loki The Wolfdog – @loki
This is a perfect profile for adventurous folks who are also dog lovers. Loki is a beautiful husky/arctic wolf/malamute mix and this profile is dedicated to Loki's exploration of the world.
This adorable dog is up to anything – swimming in the ocean or hiking the most difficult trails with his owner Kelly Lund. Kelly grew up in the Redwood forest on the northern coast of California and she brought Loki home during a blizzard in 2012.
Loki's profile has 2 million Instagram followers, and over 100,000 likes on his most popular photos, which makes him a real IG star.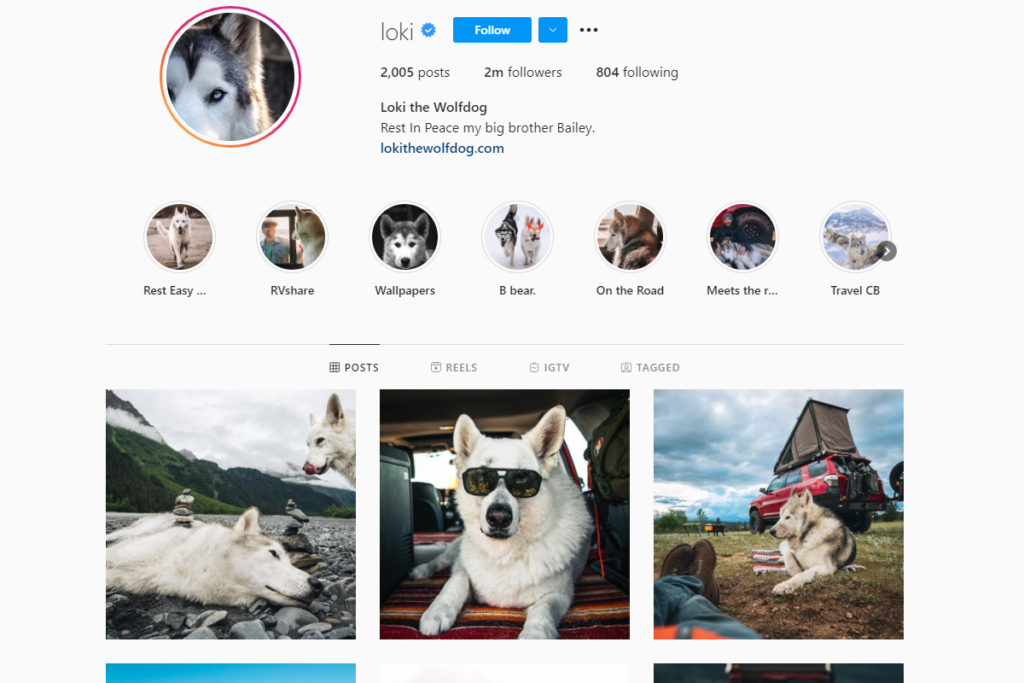 Another super popular Instagram profile on travel photography belongs to an Italian couple, Tommaso and Francesca.
Their photos are a stunning combination of magnificent wide-angle views and cute shots of animals, flowers, and various interesting details of city life. If you enjoy romantic scenes from European countries, you should definitely follow this account. They often travel to France, Greece, Turkey, and Scandinavian countries.
Tommaso and Francesca encourage their followers to use the hashtag #travellingthroughtheworld in their travel photos to inspire more user-generated content.
Further Resources: