Mars is starting to get downright crowded with rovers now as Perseverance has completed some two days on the surface of our near neighbor.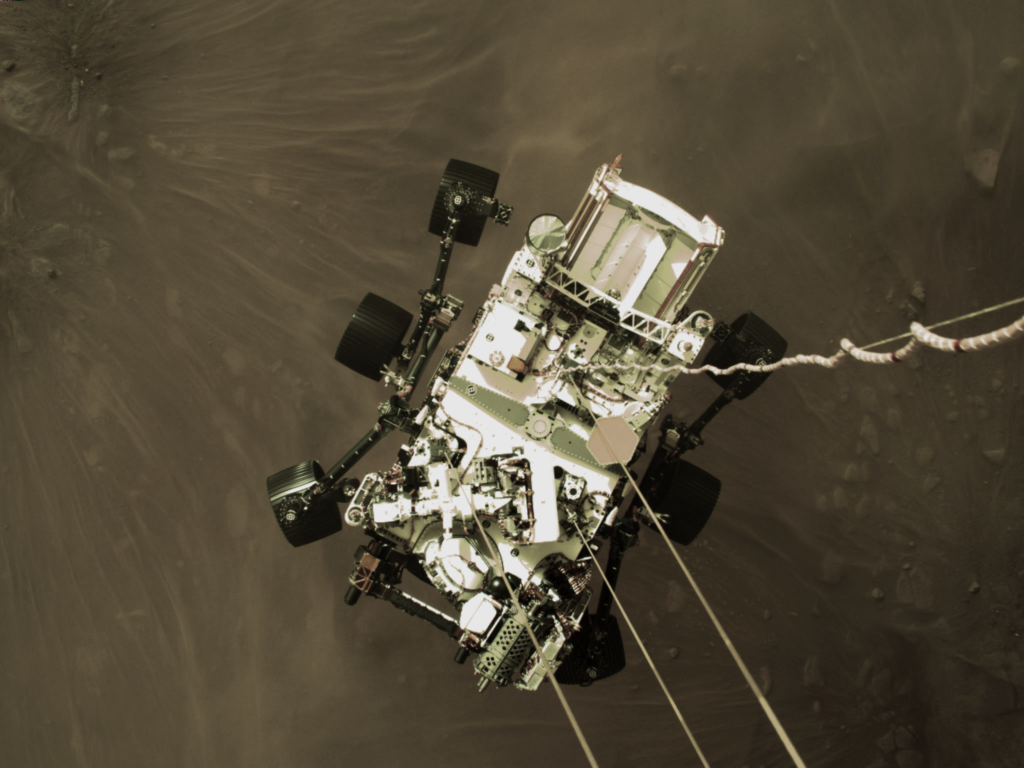 And while the first two black-and-white photos sent back were pretty interesting, they're not nearly as spectacular as the latest from Perseverance.
In addition to a now de rigueur surface photo, we also got a mid-air pic of the rover as it descended via parachute.
One of the major differences between Perseverance and other rovers in the past is that most of its cams are able to capture images in full color.
NASA writes on their Mars blog:
"Unlike with past rovers, the majority of Perseverance's cameras capture images in color. After landing, two of the Hazard Cameras (Hazcams) captured views from the front and rear of the rover, showing one of its wheels in the Martian dirt. Perseverance got a close-up from NASA's eye in the sky, as well: NASA's Mars Reconnaissance. Orbiter, which used a special high-resolution camera to capture the spacecraft sailing into Jezero Crater, with its parachute trailing behind. The High Resolution Camera Experiment (HiRISE) camera did the same for Curiosity in 2012. JPL leads the orbiter's mission, while the HiRISE instrument is led by the University of Arizona."
This won't be all from Perseverance, either, as the rover was expected to begin panorama shooting of the surface on February 20, three days ago. When those images come through we will be sure to update you.
Have you followed NASA's Perseverance? Let us know your thoughts on the first few photos in the comments below.
And don't miss our other photography news on Light Stalking at this link right here.
[NASA]