This Kickstarter project that wants to bring a popular Iron Curtain camera manufacturer's iconic model back to the market is now moving forward with plans to offer variants on the model in an effort to get the project funded and provide backers (and future customers) with a wide variety options.
As it currently stands the project is halfway funded.
When we talked about the new Ihagee ELBAFLEX resurrection project on Kickstarter, we focused on the camera's storied history and the project's objectives. Now the campaign is launching a new marketing offensive to lure in backers (and photographers) to support the project.
The new Ihagee ELBAFLEX will come in two models with two mounts available. A $USD 299 pledge will get photographers the most basic version of the new Ihagee, named the ELBAFLEX Base, with the fully-tricked-out variant wearing the ELBAFLEX Prime moniker, and sporting a price tag of $USD 529, reports the Phoblographer.
Options for the Base version include adding wood grips or a leather covering instead of a leatherette covering.
The ELBAFLEX Base will come with a two-year warranty while the Prime model will have a five-year warranty attached to it. Repair service will be based in Germany at Ihagee's Global Repair Center.
As initially planned, the two models will have Nikon F-mount and M42-mount compatibility.
As initially reported, this project is the result of a collaboration between German and Ukrainian engineers that wanted to resurrect East Germany's iconic camera.
"The ELBAFLEX is a joint effort between German and Ukrainian engineers. For both – the Base and the Premium version – the camera internals have been improved by carefully re-engineering a number of key components, especially some critical mechanical elements. These parts include elements of the mechanical shutter, the usage of updating sealing materials of the highest quality and a new, soft mirror brake."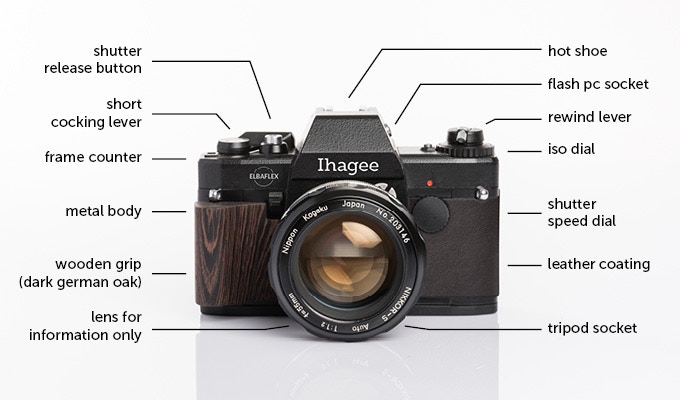 What We Recommend to Improve Your Photography Fast
It's possible to get some pretty large improvements in your photography skills very fast be learning some fundamentals. Consider this the 80:20 rule of photography where 80% of the improvements will come from 20% of the learnable skills. Those fundamentals include camera craft, composition, understanding light and mastering post-production. Here are the premium guides we recommend.