Get Your Photography Organized…Without Getting Flustered
Hey photographers, does this situation fit you?
You've been trying to organize your next photo shoot, excellent but there are way too many variables in play and you desperately need some help? Well, to be honest, you'll either need to hire an assistant (or two), or turn to your smart devices for some help.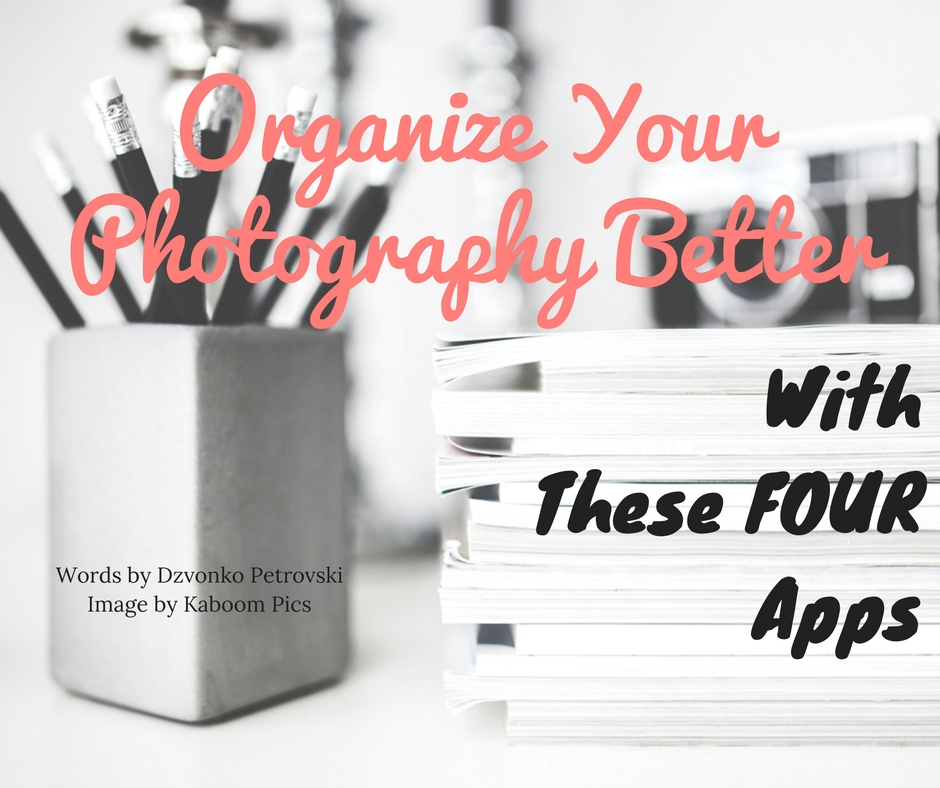 App developers nowadays have created applications for anything you can think of, but which ones will help make your photography life better? We shall explore some favorites of mine here:
1. The Photographer's Ephemeris
"The Photographer's Ephemeris (TPE) is a tool to help you plan outdoor photography in natural light, especially landscape and urban scenes. It's a map-centric sun and moon calculator: see how the light will fall on the land, day or night, for any location on earth." – (from photoephemeris.com/).
So, the app helps you plan your outdoor photography using everything physics and geography have to offer when paired with computers. The Photographer's Ephemeris is free if you use it on PC/Mac Desktops.
However, if you want the app to be with you on your smart device it will set you back around $5 for Android, and $8.50 for iOS. It is really a small price to pay for all the possibilities it offers, and if you are meticulous enough you can easily do with just the desktop version.
2. Evernote
Having a decent note keeper and organizer app is really crucial as a photographer. Whether it is an idea you think of and you need to write down so you don't forget, or you need to create a checklist of things to do, Evernote will serve you well.
Evernote lets you use pictures, as notes and text, lets you create reminders, checklists and so forth. The cool part is that it's free (of course, there are some premium items which you can totally survive without).
To add to this, you can install it on iOS, PC and Android and everything will be synced nicely, so if you're adding a quick note on-the-go, you can review/tidy up and edit later if you want at your computer. Neat.
3. Geosetter + MyTracks / Geotagr
Having geolocation embedded into your photographs is neat, but not all DSLR's have GPS inside, and even when they do, it can drain the battery quite fast. Therefore, use your smartphone to have the photos geotagged.
For the Android bunch, you'll need to install My Tracks by Google and use that to record your movement while you photograph, then use the Geosetter desktop app to add the geotags using the exported track from Google tracks.
It's a bit of a time-consuming process, as is the iOS one, but if you really want it you'll have to endure it.
For the iOS bunch, Geotagr has 2 apps, one for the iPhone which records the movement, and one for the iPad which adds the geolocation to the images from the number of sources where your images are stored.
4. Hyperfocal Pro / Bokeh Simulator
Both apps help you in one general area, planning your depth of field.
While HyperFocal Pro can help you calculate the hyperfocal distance you'll need to focus your lens on in order to achieve optimal focus for best results, Bokeh Simulator helps you plan which lens and settings you'll need before the shoot by visually showing you what happens if you use certain focal length at certain distance with certain F-stop.
Both apps are free and very intuitive to use with a load of settings you can choose from. Both are Android apps, while Bokeh Simulator has a browser version (which has slightly more features), as well.
Technically you can use Bokeh Simulator instead of Hyperfocal Pro, but Bokeh Simulator is tad resource-heavy and can overwhelm average smartphones easily, while Hyperfocal Pro is a minimalistic text app.
Summary
Despite not wishing to rely on smart devices to do my job, I often find myself doing it anyway. Lol. It is not by choice, rather by necessity.
Nowadays it's expected of you to make the full use of your smartphone and tablet in order to speed up your workflow and to be available as much as possible, so we don't really have much choice and we have to embrace technology and make the most out of it – i.e. use it to our advantage as photographers!
---
Organize Your Photography – Top Takeaways
Particularly where some of these apps are FREE, it's an excellent idea to have a play around with them and see if they have any of the particular features you'd want.
From there you can decide whether or not you'd go further to purchase any premium features (if they would prove valuable)
The idea of apps for both smartphones and tablets is so it makes our lives easier as photographers, use technology (beyond "camera gear") to your advantage!
Further Resources
Further Learning
There are some fantastic apps for getting those stunning Sunset shots, from sunset times to direction of the sun, golden and blue hours…plus a load more.
Well, this course with Brent Mail Photography allows you to get a real understanding of exactly what it takes to capture Amazing Sunsets.
With all these tools…you're unstoppable!