There is a weird paradox in good photography.
You can spend years becoming a technically proficient photographer. Decades even.
The photos you produce improve. Perhaps you even start getting good feedback from professionals or winning a few photo club competitions.
Highly Commended. 3rd Place. Etc. It's a nice feeling.
But here's the thing that's weird. You find that as you're improving, your (non-professional) audience's reaction to your images becomes a little muted. They're not as excited as they once might have been.
Dare I say, a few of them… well, they get bored with your images.
Good images. Dull response.
Learning the technical "rules" and conventions of photography can often lead to somewhat stale photographs – at least until you have mastered them. Many of us go through that period. I know I did.
Hell, I have a few shots that professionals like. They nod their heads saying, "Yeah, you nailed this one." Yet my friends and family walk past them on the wall without so much as slowing down to look.
But it doesn't have to be that way.
Learning photographic conventions doesn't have to produce boring, staid images.
In fact, it is perfectly possible to learn how far you can push your camera and your own skills AND make images that stop people in their tracks.
Take a look at this shot:
This is done with a technique that falls under the umbrella of "light painting" and it's something that makes people pause and look.
The kicker is that intermediate and even beginner photographers can get shots like that, all the while really learning how to push their own skills. Finding out what their cameras can do.
And the results entertain!
People stop. People ask you how you did it. They become engaged with your work. Even as a beginner, and even more so when you become experienced with it.
And it's a great motivator that keeps you engaged to learn more. To perfect your light painting and your wider photographic skills.
And hell, just to produce kick ass shots.
But what is the technique to do this? Where do you start learning light painting?
Obviously, there are plenty of resources online. The thing to remember though is there are multiple ways to achieve results like this. Many things to learn to master everything under the umbrella of "light painting."
That is why we have brought it all together in a pack – The Secrets of Light Painting.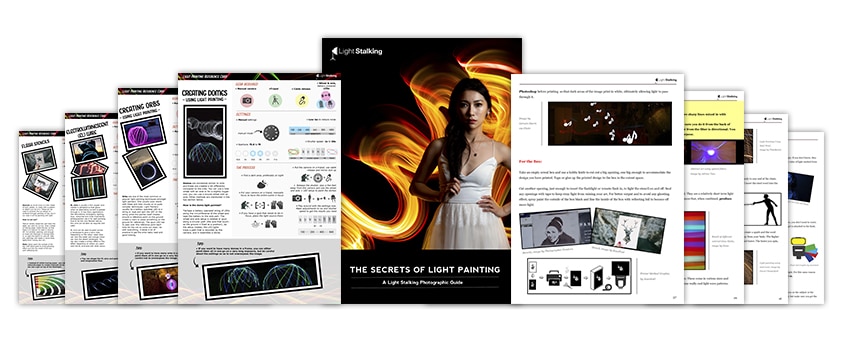 Our pack contains a full-length 56-page guide that carefully explains each of the stunning techniques associated with light painting.
The pack also includes 18 printable sheets with a specific technique and a practical way to apply it.
This is our attempt to help you produce these amazing images asap, even if you're still learning to master photography.
In fact, it's a great way to keep your motivation up to learn.
In the pack you will learn:
Writing text with light
Steel wool spheres
The printer method
Photographing sparklers
Physiograms
Painting perfect light circles
12 More Amazing techniques
Each of the printable cheat sheets covers:
Three inspirational examples of the technique
Exact gear needed for the technique
Optimal camera settings for the technique
Step by step description of the process of shooting the image
Special tips to optimize your results
We have purposely released this product early in December so you can take advantage of this technique at the best time of year to shoot amazing light painting images – Christmas!
There will be a LOT of opportunities to apply your knowledge this month, so get on it now while the launch discount is live.