If you've spent any time on Periscope you know, with its 10 million users to date, it's becoming a fire hose of people to follow. While that pales in comparison to the massive numbers of the other social media sites, it's still a lot to go through.
Getting Periscope setup was the easy part. Now the question is, who do you follow?
Not to worry, I'm here to help you out. From fashion to portraiture, from weddings to commercial, here's a list of 13 photographers to follow and interact with. Some are well known and it's not a surprise they're on Periscope. Others aren't as well known outside of their photographic specialty.
Check them out. Periscope is a great place for discovery.
And the 13 Are…
Rosh Sillars – @RoshSillars
Author of four books, Rosh Sillars specializes in people, food and interiors as well as teaches photography. Rosh shares scopes on creative marketing, social media and photography on his Periscope channel.
Chase Jarvis – @chasejarvis
Chase Jarvis, whose Periscope bio describes him as a "Maniac Photographer Director," is also the author of three books. Chase is also an instructor and co-founder of creativeLIVE, a website devoted to free creative education. His scopes cover camera gear, the photography business and photo technique.
Cole Rise – @colerise
Cole Rise is, depending on which social media profile you catch him on, a New York, Los Angeles or a San Francisco based travel and landscape photographer. He also is a developer of Lightroom presets and an Instagram filter creator.
Dan Rubin – @danrubin
Dan Rubin is a photographer, designer, and creative director of the Photographic Journal. Based in London. He is one of the most followed non-celebrity mobile photographers, with more than half a million followers on Instagram.
Amanda Stevens Photography – @FireTheCanon
Amanda Stevens specializes in concerts and event photography. Her scopes will take you to many of the gigs she covers. She is currently running Print 365 on Periscope where she prints a photo a day for sale and silent auction.
Holly Parker – HollyParkerPhoto – @HollyParkerr
Holly Parker is a swimwear, fashion, and lifestyle photographer and model currently in Miami Beach, Florida. Scopes include Q&A, behind the scenes at her shoots and interviews with other photographers.
Jeremy Cowart – @jeremycowart
Celebrity Photographer Jeremy Cowart is a photographer from Nashville, Tennessee. Known for his photography of celebrities and musicians, his scopes include behind the scenes at his shoots, Q&A and interviews. He also touches on gear and general photo business topics.
Joe McNally – @JoeMcNallyPhoto
Photographer, teacher and public speaker, Joe McNally was one of the last staffers for LIFE magazine. He has been an assignment photographer for National Geographic for 25 years. Billing himself as a general assignment photographer due to the range of his work, Joe is also a popular instructor.
Scott Kelby – @ScottKelby
Scott Kelby is a photographer, publisher, and author. He is using Periscope to stream live when on a shoot so people can see how he does what he does and get behind the scenes with him. He also uses it as a teaching tool and to record segments of his workshops.
Trey Ratcliff – @TreyRatcliff
Trey Ratcliff is a writer, public speaker, artist and photographer. The self-described "old-school gentleman" answers questions, shows his photowalks, talks about photography and other random subjects from his travels on his scopes.
Frank Doorhof – @frankdoorhof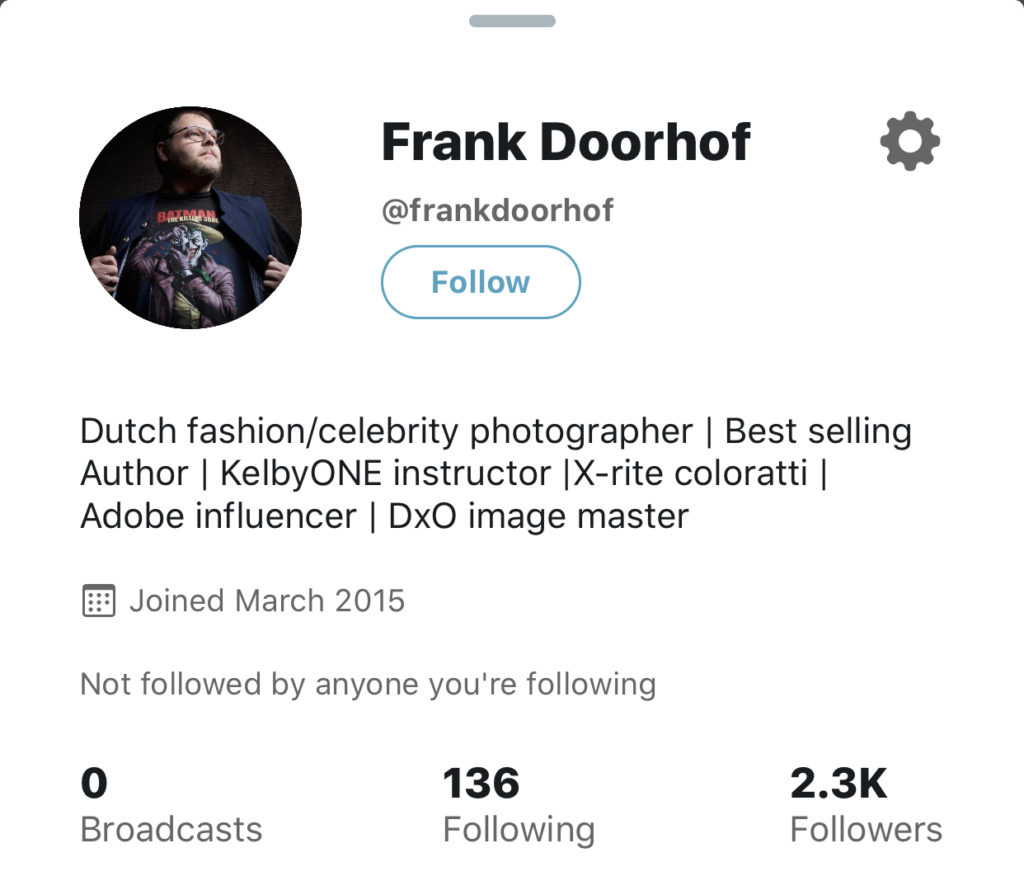 A fashion photographer from the Netherlands, Frank specializes in workshops and photo education. His scopes include his gallery showings, behind the scenes on photo shoots and live workshops, photographic equipment and photography Q&A.
Glyn Dewis – @GlynDewis
Glyn Dewis is a professional photographer, retoucher, and trainer based in England. His scopes include interviews, equipment discussions, behind the scenes at his Photoshop workshops and trade shows.
Michael Cinquino – @michaelcinquino
A photographer, speaker and coach, Michael discusses the photography business, photography and video tips, and gear as well as behind the scenes at his gigs. His on line coaching includes daily Periscope videos.
It's Time to Start Following
There you have it. Get that smartphone out and fire up Periscope.
It's time to conquer the fire hose.
Start with the 13 above to follow the photographers you like and discover a few new ones. Have fun interacting and sharing with your favorites. Prepare for some eye-opening and surprising scopes as these broadcasters start to find their footing in their live streams.
It will be a good time for all.