At first glance, these photographs will have you wondering about the unusual yet striking subject they capture. They may come across as intriguing structures made of merging color splatters that might look essentially the same with each progressing photo. However, that's not the complete truth. Each image has quite a unique and fascinating origin. What you see in the photographs is an attempt by a photographer to answer the question "What does music look like?"
Martin Klimas is a German photographer who has worked on many interesting projects that include the acclaimed series on high speed captures of breaking porcelain figurines. This project is equally unique and impressive. Klimas begins by splattering paint of different colors on a pre-stretched canvas over the diaphragm of a speaker. Putting the music on maximum volume, he then lets the sound do the talking. The vibration of the speaker sends the paint aloft in fascinating patterns that are revealed in the high-speed captures through his Hasselblad.
Aptly titled Sonic Sculptures, the music, form and color intermingle to produce a visual display that delights you as much as it makes you wonder. Each image originates from a different piece of music – typically something dynamic and percussive, like Kraftwerk, Carl Orff, or Daft Punk. These absorbing photographs are probably going to leave you synaesthetic. Sit back, relax and 'see' the music, or 'listen' to these photographs, perhaps.
If you are wondering how the setup looks like, here are a few behind-the-scenes shots to give you an idea.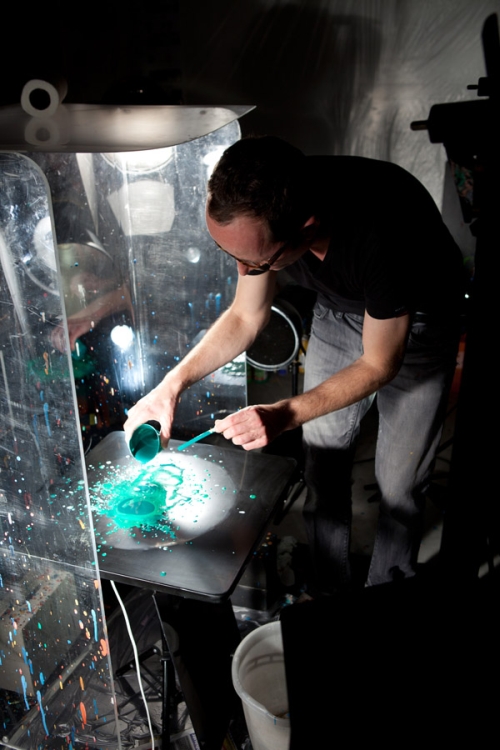 You can see more of Klimas' work on his website.
(All images © Martin Klimas)