CrashPlan for Home – the popular consumer online backup service offered by Code42 – is being discontinued. As of Tuesday, Code42 announced that it will no longer offer CrashPlan for home subscriptions, as it is moving its focus to small business and enterprise customers.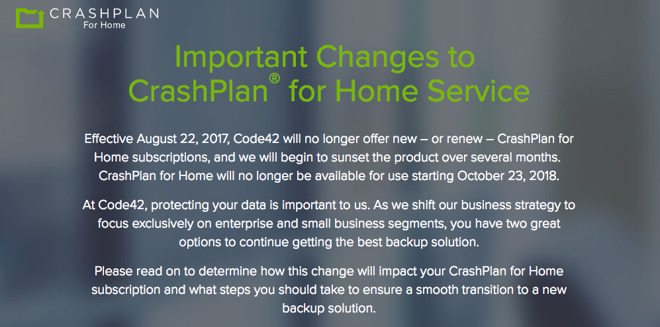 What This Means For Photographers
Many photographers rely on an online backup service as part of their workflow. CrashPlan for Home was a popular service that easily and conveniently backed up data without too much ongoing thought – allowing you to get on with capturing your images!
CrashPlan May No Longer Be a Cost Effective Option for Many Photographers
The sad thing is that the CrashPlan for Home option was probably one of the better online backup options for photographers. The demise of the plan means less competition which is usually a bad state of affairs for consumers. While the business plan still exists on CrashPlan, it is significantly more expensive than the CrashPlan for Home plan.
Photographers on CrashPlan for Home Need to Make Other Arrangements
Users have until October 2018 to move to another backup service. Code42 are providing discounted options including transferring to CrashPlan for Small Business or taking up a discounted subscription with Carbonite, though there are several other options on the market that you may want to take a look at (see below).
Big CrashPlan for Home Users Might Have Problems
Over on Reddit a few of the photographers in the community who were heavy CrashPlan users and were above 5 terabytes of backups are reporting a few problems in moving their files. If you fall into that category, you might want to contact the company directly prior to making other arrangements.
Also, depending on the size of your backup, sending it all up the pipes to a new service might take you quite a while.
Other Online Backup Services
Depending on your level of technical know-how, there are various options on the market for backing up your files. Here are a few of the most popular ones.
Carbonite – The folks at CrashPlan are pushing these guys as an alternative. However, they do charge extra to back up external drives.
Arq + Amazon Glacier – This is actually 2 services. The very cheap storage at Amazon AWS (Glacier) in combination with a desktop app to manage your backups called, Arqbackup. Just remember that while this is cheap for storage, getting it back in the event of a crash of your system can be expensive (this is where Amazon pings you).
BackBlaze – Seems to be the most popular alternative to CrashPlan, but file retention is only 30 days meaning you need to make sure all of your local files are connected to BB every 30 days or you can lose them.
What Backup System Do You Use? Tell us in the comments!