You Can Definitely Benefit Your Photography With Instagram – Here's What To Consider
Before we even start, I realize many photographers feel a straight-up dislike towards Instagram, and I must admit I was one of them.
Ok, so let's begin by dropping the misconceptions about what Instagram is and more importantly, what it can do! I too came to realize that the "don't judge a book by its cover" adage also applies to Instagram.
So really, it's very cool – not just for young photographers…it's for everyone! Yup, you too.
Photography With Instagram
Yes, it is a form of social network (that has been somewhat) abused by teenagers who seem a little obsessed about photographing everything they eat (and themselves of course) – however, nobody is forcing you to follow them, right?
Since it's an asymmetric network (doesn't require "friendship" as Facebook does) you can tailor it to your needs. As everybody is doing right now.
On the other hand, since everything is squared, you are forced to use a square frame of the picture (yes, you can do portrait and landscape now as well, but that's not the point).
This is not necessarily a bad thing because it forces you to think more about framing the shot (or, when you actually crop your DSLR picture, but hey, nobody's judging).
When using Instagram (i.e. from a smartphone, rather than uploading your images from another camera) think of it as another prime lens – you gotta move your feet!
The Image Quality
Since the size of the photos nowadays is 1024 pixels on the longer edge, you can't expect pictures which you would be able to view in pristine quality on a 4K tablet.
For normal sized displays, this resolution seems sufficient, at least so far. On the photographing side, since we are talking about photographers right now, I'd advise you to use your DSLR for the Instagram photos, and make sure that they are of top quality (in terms of composition, light, post process etc.)
Even though Instagram (perhaps) makes you think of dirty vintage & grunge effects which look awful, you can post process your images in any way that suits your style and needs.
Top Tip!
The important to consider consistency in post processing.
What I mean is, you need to represent your style right away and not deviate from it.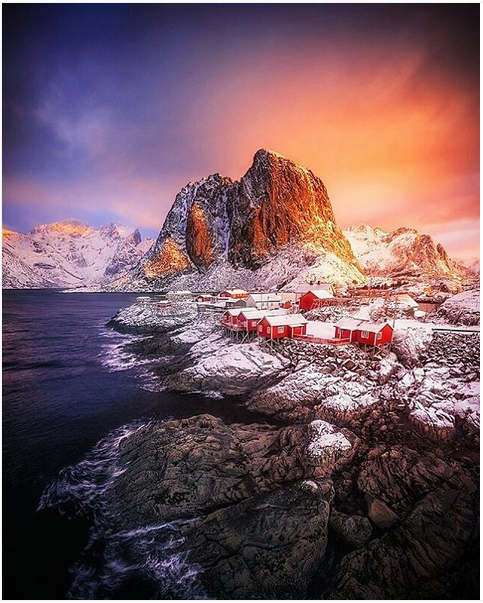 Some Added Benefits Of Instagram: Trends, Features, and Tags
You need to put your work out there, that's a fact for most photographers, I'm right hey?
However, Instagram houses over 500 million active users monthly, and over 80 million photos are being uploaded on the service per day. Your job is to stand out in that crowd of active users (bear in mind that 'active users' are people that use Instagram on an almost daily basis – the number of total accounts is quite higher).
Even if you are the best photographer in the world (I personally don't like quantifications like that) you need to be able to make your work visible.
This can be done through synergy between three things:
Proper tags,
Following trends, and
Features.
Tagging your photos properly means that when people search for a certain thing they wanna see (let's say nature, the tag would be #nature) your photo will be among those tagged accordingly, sorted by chronological order. A pretty simple concept.
This effect is amplified by following trends (or "trending tags" if you will) since those will be searched more often than other tags.
"Features" on the other hand are accounts made by people or agencies which feature photographers and tag their profiles along with the pictures. If you are featured, they will use one of your photos and they will tag you, thus you'll gain a massive audience – instantly.
Featuring accounts are usually those with a large number of followers, and usually organic (i.e. they aren't fake, or dead accounts made to raise numbers), so you can see the enormous benefits of becoming featured! More so, if it comes from a known magazine or camera brand manufacturer.
Create A Beautiful Story With Your Instagram Account
As mentioned before, being consistent with post processing is really important, however, consistency between pictures is of greater importance. Having a proper story going on in the profile will keep your followers following you.
If your pictures are all over the place, i.e. they have little flow, chances are you'll lose some of your audience.
I especially noticed that myself – so I've got some firsthand experience: I started with landscapes, consistent post process and so on, and then I posted the profile of a person… suddenly it didn't go so well as the other photos did, probably because the audience didn't expect a portrait.
So pick a subject which defines you as a photographer and a person, and select images that fit the subject perfectly. You can deviate from it from time to time, but don't do it so often that your profile looks like a mess.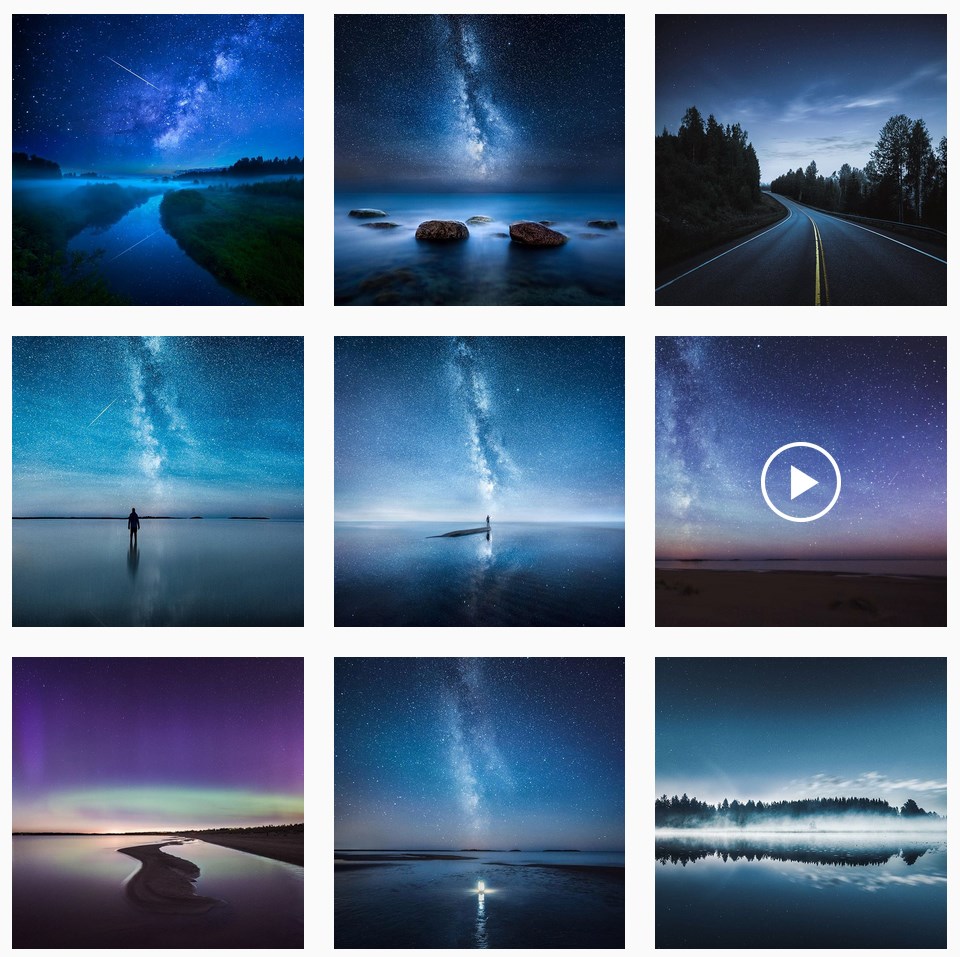 Description – Have A Little Text To Help Your Images
Your profile has a profile picture and a space for bio, so make sure you fill that in properly. It should fit the photographs you will post and your style accordingly.
If you are planning to post pictures from your traveling, make sure that is noted in the bio, thus when your audience visits your profile, they will know what to expect – all sounds a little safe and intentional, but it does make sense, trust me.
Furthermore, you have the option to add captions/description to your pictures. Even though the well-known quote: "A picture is worth a thousand words" is completely true, people using Instagram expect a written description or a caption.
Even if it's a short sentence or a phrase, this can help improve your engagement and to be honest, it's interesting to read a few words about the photo – i.e. what your intentions were….
Make sure the caption is properly formed and interesting to read. If you write the obvious: "a picture from a house in the woods" while the picture is really a house in the woods, you didn't do any good.
Top Tip!
If you express the way you felt during the picture was taken, that is something the audience can relate to. It's all about emotion sometimes, folks! You want your (potential) followers to feel like they understand your thought process.
If you aren't sure how descriptions should look like, stalk some famous profiles and you'll get the general idea.

Your (all important) Audience
Your audience will define you, it's honestly that simple.
The amount of people following you will dictate the amount of exposure you'll get – additionally, the amount of people you follow will dictate the amount of interaction and potential engagement you'll get.
Usually, people who follow you will expect you to do that in return, however, I personally follow people which I like seeing on my home screen. This makes perfect sense to me as a photographer, some people perhaps don't use this logic.
The way you interact with your audience is up to you: Instagram is an asymmetric social network, meaning that people can follow you, but you don't have to follow them back – it's more "optional" than Twitter, in my opinion.
However, if you feel like "follow for follow" is the right thing to do, go for it and stick with it. If you think that everybody should follow you but you should follow nobody, go for it. Just be realistic and see what works best.
Photo by Very Quiet
Dead profiles are common on every social network, and you don't need those. The amount of followers you have doesn't mean anything if it is filled with dead accounts.
When I post a picture I usually get ¼ to ⅓ of the followers I have in likes on the picture, meaning that my audience is quite active. I know users (also friends of mine) who have ratios of 1/10 or less, meaning their audience is pretty much dead.
Top Tip!
Common Sense Required:
Don't fall for the spammers in the comments that offer an 'X' amount of follows with a single click or such, it's usually a scam, so regard it as nothing more than spam – don't waste your time – you could be out with your camera rather than going down this rabbit hole, right?!
Engage with your audience,

View other profiles,

Like what you like, and

Comment with thoughtful comments.
It's a photography community just like any other and the same rules apply. If you are kind enough, the audience will respond in the same manner. You've just gotta put out some positive energy in your comments and it always comes back, trust me.
Synergize To Explode Your Social Media Presence!
Instagram, as a social media can be synergized with other social networks such as Facebook, Twitter, Tumblr, Flickr and so forth. This can be done via the app itself – it's pretty easy (check out the screen shot below – you toggle a logo on or off, simple.
This means when you post a picture on Instagram, it will be posted on every social network that you have linked the app with. For example, when I post a picture on Instagram, it is instantly posted on my Facebook fan page, my Twitter account, and my fresh Tumblr blog.
From the fan page, I share the photo on my personal Facebook profile, and to several groups with which I interact occasionally. But since I am sharing from the fan page directly, I am effectively increasing the exposure towards it.
It's essentially keeping my photography business life separate from my personal one because I am controlling the flow of the audience towards social profiles made just for the business/hobby.
Further Learning
As a photographer you've gotta have a decent grasp of composition. Don't worry, it's not something that you just "get" when starting out – it does require continual practice – this then leads to a very good understanding of the concept.
This eBook by Pro Photographer Kent DuFault "Understanding Composition" will get your photographs noticed!
Are You An Active Blogger? Read This
On the other hand, Instagram pictures can also be embedded, meaning that if you have a blog on which Instagram can't post directly (or you want to make a blog post which will involve several photos at once) instead of uploading them separately, you can embed them directly so your blog audience can synergize with your Instagram content as well.
The more audience you have on each social media site you have, the more exposure you gain, the more audience can be generated via organic spread.
Summary
Each social networking site has its own audience, with an overlap of around 70%, there's around 30% audience which is native to that social media network. So, adding one more network to your set of networks increases the pool of people that can become your audience.
Instagram is fun! And that's what I'm trying to show you here, that there are millions of artists worth following on Instagram, with pictures that you can find nowhere else.
If you consider yourself to be a photographer that people should have a glance at, go for some Instagram exposure too. It can't hurt, nor will it cost you your reputation. You can only benefit from it. The way I see it, photography with Instagram is like coffee with cream….
---
Getting Great Photography With Instagram – Top Takeaways
We first touched on the quality and post processing "consistency" thing. Create a flow of consistency without darting around a ton of filters – it just messes with your audience and looks a little scruffy.
Photos taken with your main camera (if you have one) can be of course processed in separate software and then uploaded, it will retain that high-end feel you want to put out there with your profile.
Plus, using your smartphone is a must because you can be highly creative and most importantly…spontaneous! You'll no doubt need a reason to pull out your phone and take pictures for Instagram.
Get those #tags right. Use tags you want to be associated with i.e. where your audience will come from. Look for inspiration from the big players and also find out what tags they're using too.
Interact in the space you want to be associated.
Create a story, have a theme – it will keep things predictable (in a good way) for your audience. They'll know what to expect but it'll be different each time because you're pushing your creative limits!
Further Resources
Further Learning
As a photographer you've gotta have a decent grasp of composition. Don't worry, it's not something that you just "get" when starting out – it does require continual practice – this then leads to a very good understanding of the concept.
This eBook by Pro Photographer Kent DuFault "Understanding Composition" will get your photographs noticed!