The brothers Knoll. It sounds like the title of an independent movie, yet, Thomas and John Knoll were an instrumental part in the rapid rise of digital photography and also to Apple Mac's being an integral part of many photographer's lives.
Their software is now used as a verb in much the same way we "Google" something. We are talking about, of course, Photoshop and today we are going to take a little journey down memory lane to see where this important part of imaging history came from and how it developed. There are many things you may not yet know, so brace yourselves and take some time to digest this…
Genesis, Display & ImagePro
In the mid-1980's Thomas Knoll wrote a program to display grey scale images on his newly acquired Macintosh Plus. His brother John worked at the famous effects studio, Industrial Light, and magic was struck by how similar this simple imaging program was to the high-end software that Industrial Light were using.
John bought a newly released Macintosh II with it's color display and persuaded Thomas to rewrite his app to deal with color images. They named this app, rather unoriginally, Display.
[url=https://flic.kr/p/5nVwk6][img]https://c4.staticflickr.com/4/3213/2873516451_9d265d53ab.jpg[/img][/url]
Genesis – Photoshop 1. By ▓▒░ TORLEY ░▒▓
John seeing the potential of this early imaging program pushed Thomas to add new features such as:
Gamma correction,
Support for different file formats,
Color, hue and saturation controls
And perhaps the cornerstone of the modern application, levels.
By 1988 Display was now called ImagePro and the brothers realized they had the potential for a successful commercial product. The name again changed to Photoshop but there seems to be no Eureka moment as to why it gained this moniker.
Through contacts, Photoshop was shown to Adobe who in 1988 agreed to license the software with the brothers continuing to develop it and earn royalties from it's licensing.
If you're just starting out and want to get going on Adobe's Creative Cloud suite by getting involved with Photoshop, then consider this great Course: "Photoshop Basics For Photographers" – "Quickly learn the skills that will set your photos apart from the pack!"
Early Photoshop
Version 1.0 was released on Mac only in 1990. Ironically despite it today being a high end tool for professionals, it was marketed as a mass market app for anyone interested in digital imaging and was half the price of it's nearest competitor.
That said, it's price was still a hefty $1000. Version two was released a year or so later with a many features aimed at graphic designers and digital printing. Realizing the potential of the Microsofts' Windows, a v2.5 was released to support that OS.
The third incarnation of Photoshop introduced perhaps its greatest ever feature, Layers. Further features were added over the following decade such as color management, history and tools for web design.
By 2003 Photoshop had reached Version 13, it was time for a rebranding.
[url=https://flic.kr/p/5LpdU2][img]https://c2.staticflickr.com/4/3092/3127883857_03ba69fa29_z.jpg?zz=1[/img][/url]
Evolution of the Toolbar. By brett jordan
Creative Suite
Known simply as CS, this was Adobe's attempt to tie its many products together such as Illustrator and Premier Pro under one unified brand. Photoshop CS was an integral part of that rebranding.
CS was evolutionary rather than revolutionary but it was the first Photoshop to require product registration. CS2 came along in 2005 bringing with it the recognition that digital photography was getting big.
It included big improvements to:
The RAW processor,
A new smart sharpening tool, vanishing point tool and red eye reduction.
CS3 came in 2007 and provided support for the newly updated Intel Macs as well as much better performance in Windows Vista. A nod to the future growth of mobile technology was included in the form of a tool for creating mobile-friendly files.
Another big moment in the story of Photoshop came with CS4 in 2008, the introduction of 64 bit whilst CS5 started to introduce us to the potential of content-aware tools such as fill.
An incremental update, 5.5 gave us a glimpse of the future of Photoshop with its option for subscription licensing.
[url=https://flic.kr/p/uyWeb][img]https://c1.staticflickr.com/1/143/323287892_530cdbb6f3_z.jpg?zz=1[/img][/url]
Becoming familiar, Photoshop CS3. By Thomas Cloer
The last of the Creative Suite Photoshops arrived in 2012, CS6. This gained multiple enhancements for photographers as well as video makers and illustrators. It also introduced us to the dark interface we know today.
Creative Cloud
In June 2013 Adobe released arguably it's most controversial Photoshop, Photoshop CC. The controversy stemmed from the fact that you could no longer buy a perpetual license, instead, you were tied into paying monthly for the program.
Despite its controversy, CC seems to have attracted a newer, bigger customer base that has allowed them to add smaller incremental updates to the program on a more frequent basis. The current incarnation of Photoshop is CC2016.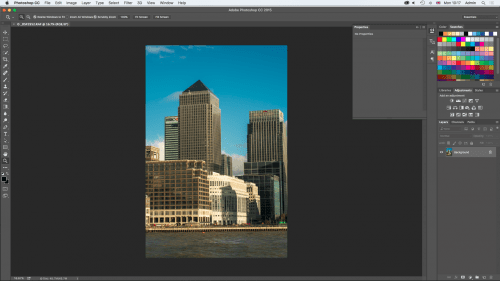 It's been quite a journey for Photoshop, from a simple greyscale mac-only program to the giant of the imaging industry that it is today.
For the time being, Photoshop looks to be keeping its position as the ultimate go-to editing app for photographers.
If you're just starting out and want to get going on Adobe's Creative Cloud suite by getting involved with Photoshop, then consider this great Course: "Photoshop Basics For Photographers" – "Quickly learn the skills that will set your photos apart from the pack!"
Further Resources