Look, reading "how to" books and articles has its place.
A lot of us like to learn that way, myself included. I have read thousands of photography books, magazines, articles and blog posts over the years and you have probably read your fair share too.
But that doesn't negate this fact:
The vast majority of people learn quicker by practising.
Even those of us who love reading usually find that going out and implementing the material we read really cements that information in our mind. It locks it in.
Once you have the information cemented in with some practical application, it's like rocket fuel to your photography skills. It gives you the basis upon which to build.
But what do you practice?
That is the core of the idea and question that lead the folks at Photzy to start brainstorming ways to get people out shooting.
And what they came up with is pretty unique and very powerful.
Action Cards!
These printable cards are specifically designed to get you up out of your chair and out in the field using the very specific combination of information on each card.
Think of them as a photography exercise (with examples, tips and questions for self-assessment) on each one.
Take some time to complete just one, and your skills in that speciality jump a notch.
Take the time to complete them all properly and you will be a very good photographer in most situations.
It's that combination of the theoretical and the practical that makes them so powerful.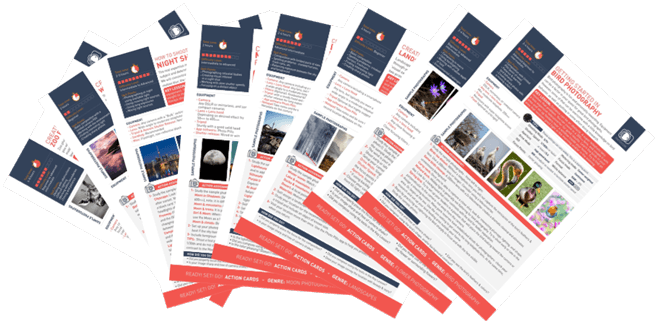 The set includes 31 "Genre Action Cards" that will get your skills pumping for specific topics or categories of photography. Landscape, architecture, night, travel etc. These help you dig down with ideas and practical exercises that are specific to that particular topic.
The set also includes 34 "Composition Action Cards" that help you take a theoretical concept (negative space, juxtaposition, s curve etc) and apply that composition guideline with a real-world exercise.
A core idea here is that the practical application helps you retain your learning in a far more robust way than just reading.
Now, as part of the Cyber Monday deal that they have going on, you also get a bonus "Action Cards Lesson Plan" that helps you put all of the cards in context and give you a plan for getting out and logically applying these practical lessons. This makes the whole set extremely useful.
So take a look at the huge discount they are offering today.
This disappears in less than 24 hours.