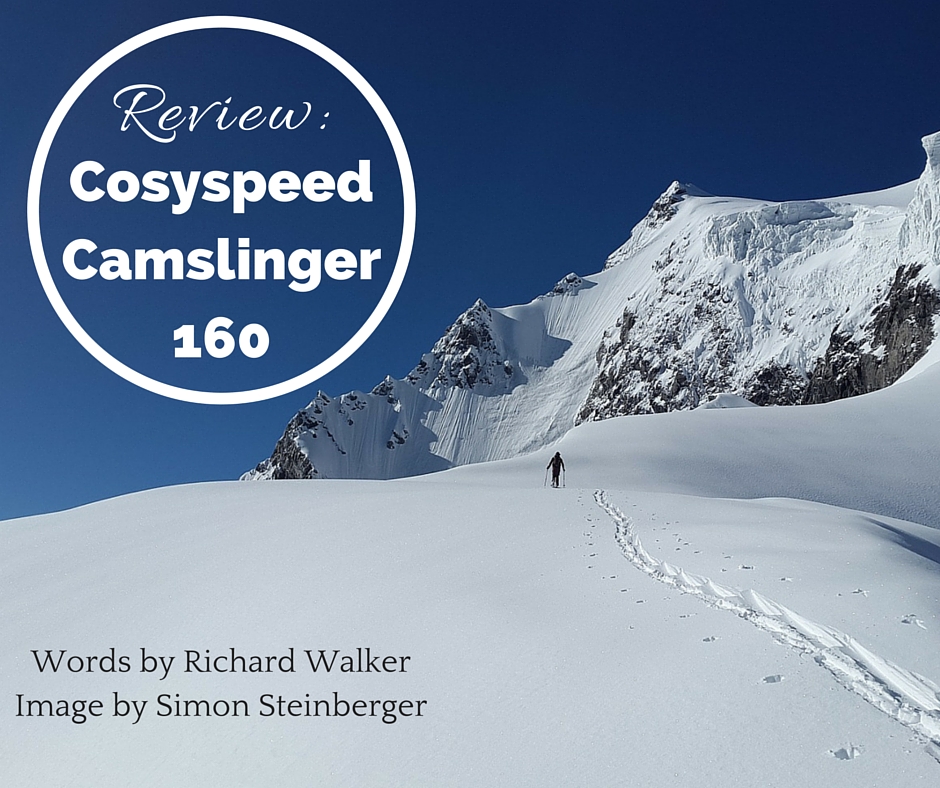 This week our review is looking at The Camslinger 160, from Cosyspeed.
So let's begin. There are two things I dislike about landscape photography. Firstly, tripods. These are the bane of my life, a necessary evil that cannot be carried or stored in any satisfactory way. The sooner someone invents a self-levitating camera the better.
My second pet hate is backpacks. I have yet to find a backpack that does anything more than hang on my back, feeling uncomfortable, making me sweat, and being a complete pain in the arse every time I have the audacity to actually use my camera gear.
You cannot work with a backpack, you fight against it. You hike for miles with it weighing you down and then you finally see the shot that you want. At this point you begin the laborious task of contorting yourself into various bizarre shapes to extricate it from your back, laying it on the wet and muddy ground, and then rifling through endless pointless pockets and compartments to remove the required body, lens, filters, etc that you require to take the shot.
By this time the gorgeous light that bathed the valley ahead has gone behind the mother of all clouds so you decide to pack it all away again and press on.
After another 5 minutes of faffing you pick the backpack up, clean off as much of mother nature's muck as you can and swing it over your shoulder ready to begin the muscle tearing process of getting it onto your back.
It's at this point you hear a sickening thud. "What was that?". Your blood runs cold. "Not a lens, please don't be a lens". With trepidation you slowly turn to take a look. "Bollocks!!!!". It was a lens. In your haste to actually get on with the rest of your life you have left one of those myriad of compartments open and your prized glass has flown out and hit the only rock within 25 miles.
This for me is the reality of using a backpack. A backpack doesn't aid my photography in any way, quite the opposite, it hinders it.
And don't even get me started on the prospects of being able to shoot spontaneously whilst hiking as this entails either having a strap around your neck or simply holding the camera in your hand, neither of which sit very well with long hikes, scrambling over rocks, crossing slippery stones, or any other treacherous undertaking you might perform whilst out and about.
In my opinion, backpacks were sent by Beelzebub himself to hinder photography and make photographers sweat and ache. I have not found a well designed one yet.
It was with all this in mind that I found myself wandering amongst the stands at the photography show back in March, searching for some kind of alternative, when I happened to stumble upon a stand manned by a friendly chap named Thomas. It turned out that Thomas was the founder of Cosyspeed and he proceeded to enthusiastically demonstrate their Camslinger system to me.
I could immediately see the potential for street photographers, after all they have a Thomas Leuthard signature model and you don't get a better street photography-related endorsement than that.
But I am predominantly a landscape photographer, I have to carry more gear, could it really be any good for me? There was only one way to find out and that was to acquire one. So, about a month later I received a parcel containing the following:
1 X Camslinger 160
1 X Camstrap 10
1 X Camslinger Lensbag 80
1 X Camslinger Stuffbag 30
Looking for a Sunset Photography Video Series? This exclusive course will teach you everything you ever wanted to know about How to Photograph an Amazing Sunset.
So, 2 Months On, What's It Like?
Well, it's great, it really is. I think the most flattering thing I can say about it is it helps me do photography rather than hindering me. It not only acts as a carrying aid but also as a work bench.
No more putting a backpack on the floor and working from that, it just stays around my waist the whole time. When I'm walking, when I'm cycling, and when I'm actually shooting. Everything is there within easy reach.
My Personal Setup
As mentioned above I have the Camslinger 160 and 2 smaller companion bags. As well as this I have a Lee Filter Pouch that also attaches to the belt. I have the Camslinger 160 on my right hip, the Lee pouch on my left hip and the other 2 bags behind me. "So what about your tripod?", I hear you cry.
Well, that is the one thing that this system obviously can't accommodate, so I've had to start using a shoulder bag and whilst this isn't ideal I have found it is a worthwhile compromise.
What's In The bags?
Well, in the Camslinger 160 I have:
1 X Olympus OMD E-M1
1 X 12-40 f2.8 Pro lens
1 X 75mm f1.8 lens
1 X 45mm f1.8 lens
1 X 9-18mm f4-5.6 lens
In the Camslinger Stuffbag 30 I have:
In the Camslinger Lensbag 80 I have:
1 X remote cable release
1 X iPad lightning SD card reader
1 X Cleaning cloth
Several SD cards
In the Lee filter pouch:
3 X soft edge graduated ND filters
3 X hard edge graduated ND filters
1 X circular polariser
1 X circular variable ND filter
1 X Hi-tech 10 stop filter
1 X Lee Foundation kit holder
4 X step up rings
Is It Comfortable?
Well, after extensive testing the answer for me is a resounding, yes. It does take some getting used to as it seems extremely counter-intuitive at first but once you get used to that you don't really notice it even on a fairly long walk.
You can simply swing everything behind you or keep the Camslinger to your side for quick and easy access. Even hiking between locations you should never miss a shot as you can go from bag to shooting in a matter of seconds.
On a bike it's great. I've never felt comfortable with a backpack, I find it makes me sweat too much. I've tried handlebar bags but that just makes the bike handle badly.
In my opinion, you certainly notice it much less than a backpack but if you are undertaking a self-supported tour and need to carry clothes, etc than it leaves you the option of a backpack as well to carry that stuff rather than your photography gear.
What Is It Like To Use?
Brilliant! This is where the Camslinger system comes into it's own. It's like having a photographic work bench around your waist.
Everything is at hand and easy to access, no more turning around, bending down and rifling through a backpack on the floor just to change a filter or lens, it's all there, ready to go. It's difficult to put into words how good it is so I have made this video in the hope that will get it across.
Note: It turns out that Cosyspeed like this video so much they have given me a discount code. So if anyone feels inspired to get themselves a Camslinger just use street316 at www.cosyspeedshop.de to get 10% off.
The quality and construction appears to be second to none, and the double fastening system gives you confidence that you won't lose your gear. It also comes with a waterproof cover that hangs off the bottom and can be put on in seconds as well as a pretty clever system that allows you to adjust the size.
Are There Any drawbacks?
After using the system for 2 months I have only found a couple of small problems and these really only apply to me. Firstly, it's just a little too small for the gear I carry.
This is not the fault of the bag of course, indeed it is testament to it that I can carry so much, but for me it would be great if it was just a few mm taller so that it could take the E-M1 fitted with a 12-40 Pro lens just a little easier.
The only other thing is that the Velcro on the lens bag seems a little weak. I can fit the 75mm f1.8 lens in but it has a habit of forcing the top open. It is fine with the stuff I have in it though.
Conclusion
If you are looking for a viable alternative to a backpack for landscape photography then I would thoroughly recommend giving the Camslinger a go. At under $45 it is great value and if you're a street or casual photographer I'd say it's a no-brainer.
Just remember the size, it's for mirrorless users only 🙂
More at www.cosyspeed.com
Looking for a Sunset Photography Video Series? This exclusive course will teach you everything you ever wanted to know about How to Photograph an Amazing Sunset.
Further Resources