"The Rough Guide to Digital Photography is designed to help you get to grips with the technology, to work out what you need to know and the kit you really need (rather than what the manufacturers claim you need)." This is the claim made in the opening sentence describing what this new book is about and for all intents and purposes, the guide does exactly that.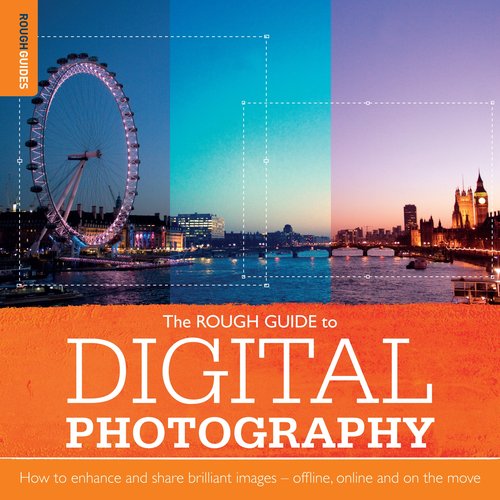 Last week we were lucky enough to be sent a review copy of Sophie Goldsworthy's new book – The Rough Guide to Digital Photography. Now if you're into travel (as a huge amount of photographers are) then you are probably already familiar with Rough Guides – they make a huge range of travel guidebooks. This is their first major foray into photography.
What Does the Book Cover?
As their first photography guide, it starts right where it should – by explaining the basics with a lot of visual examples to help.
Your Camera – Starting where is probably should, the guide goes through the different types of cameras from compact, bridge cameras up to DSLRs. The pros and cons of each type are discussed and it's a fine introduction to the topic and not too technical.
Kit – Tripods, printers, bags – a lot of the extra kit that we all have is covered and what is suitable for different situations.
The Settings and What They Do – This is a technical explanation of what the different camera settings and how they affect the outcome of your images. There's a solid and simple explanation for people who are unfamiliar with what their camera is actually capable of and how to control it.
Rules of Composition – The general rules are covered here. It's somewhat prescriptive (something we have been guilty of here at Light Stalking in the past), but it also offers a good starting point for folks who are not sure where to begin. There are also a lot of perfectly selected images that demonstrate the various principles of composition (framing, negative space etc). This sections also goes into the basics of colour theory, texture in photography and other compositional elements. A solid introductory rundown.
Genres – This section is more of an inspirational section, with plenty of examples of the different genres (street, portrait, wildlife etc). There are a few technical tips and there's a nice little collection of inspirational websites with great photography at the end of each genre section. Going through the great websites will kill a few hours and it's clear that Sophie spent a lot of time finding some great photographers for this.
Post Processing – This section divides the software and post-processing options up into free, entry level and pro and covers most of the major players. It's a good rundown, but is necessarily brief (it would be a whole book to cover all of the cool options for post-processing). There are also good introductory explanations of plugins, workflow and storage options. There is also a solid rundown of the major editing tools that most post-processing software offers (levels, dodge and burn, curves etc). The major ones are all well illustrated with examples too.
Photography Online – This section goes into some of the bigger online photography communities and (perhaps more importantly) how to use them to their potential. There are also a few good tips for minimising theft of your online images. To the book and author's credit, a great site called Light Stalking gets a prominent mention and image on page 182 – clearly Sophie knows a good site when she sees it!
Going Further – There are also sections on creating an online portfolio and starting a photography blog which are a good introduction to some of the options. This is really for folks who want to really get their photography out there. There is also a brief section about shooting stock or selling your work via other means. It serves more to make you aware of the possibilities rather than go into the issue involved in any of those (huge) tasks, but it's a nice rundown.
Film – There is a brief chapter on the resurgence of film in photography though the rest of the book is heavily skewed to digital. It covers the various niche film cameras that are popular at the moment with reference to a few websites. (Holga, Lomography etc).
Resources – As somebody who is already familiar with the basics covered in the rest of the book, I have to say that this was one of my favourite parts. There is a well curated collection of online blogs, sites and courses. Many of them I wasn't aware of which is great because I thought I had already found most of them! This section alone will keep you busy looking up great things on the internet and give a lot of places to continue learning about photography. Combine it with the online resources in the rest of the book, and it will keep you busy with reading for weeks.
So Who Is the Guide For?
Rough Guides obviously wanted to have some crossover with their existing audience of travellers for this guide. And this is a perfect guide for folks like that who are travelling and want to know the basics of what they need to get great shots. This book will take a new photographer from clueless to clued in 246 pages to the point where they will know what gear is best for their own situation and how to get respectable images from their chosen kit. They'll also be aware of some of the ways they can take their photography a little further online, and share it with a larger audience.
Who Is The Guide Not For?
Advanced amateurs or professional photographers will already be familiar with a lot of the information in the guide – the camera, gear, composition and post processing information will probably be fairly basic for most people at those levels. On the other hand, the explanation of photography online is probably worth a read by many who struggle in that area. As mentioned, the resources sections can also keep anybody busy a long time.
The Verdict
This is the type of book I would give to somebody who asked me "How do I take better photographs?"
For the audience it is going after, it's a great introduction to the entire life-cycle of a photograph from selection of gear through to printing and selling it. For somebody looking to buy their first DSLR or take a series of great photographs on their trip, this is a fine place to start reading.
This was the logical place for Rough Guides to start their foray into photography and will serve their existing fans very well. Hopefully, it is the basis one which they will allow photographers like Sophie Goldsworthy to explore more in-depth, the topics which this book covers in their basic form.
You can get The Rough Guide to Photography on Amazon for $16.99