Samsung just revealed their latest line for the Galaxy S21 and it not only sports a striking, beautiful design but also a list of features that might make it the go-to handset for photographers.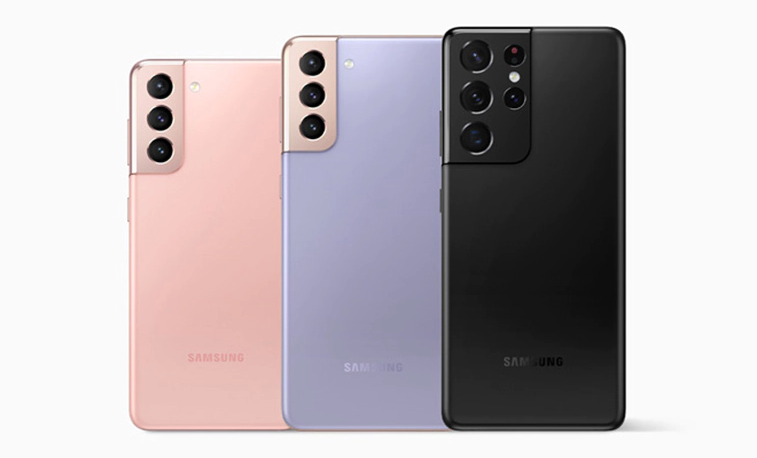 We've got three iterations, Galaxy S21, Galaxy S21 Plus and the Galaxy S21 Ultra, each distinguished by a different level of capabilities and at different price points, of course.
What are we looking at in terms of features?
Space Zoom, a Hybrid Optic Zoom and enhanced Super Resolution, provides up to 30x zoom with a Zoom Lock providing extra clarity by stabilizing the image. A 64MP sensor provides high-resolution image output with especially impressive capabilities in low-light settings. This is accompanied by a 12MP wide-angle camera and 12MP ultrawide camera. The front-facing camera is 10MP and, as DPReview points out, Samsung has dropped the depth sensor. You can even capture 8K video at 24fps. Screen size options are 6.2" and 6.7".
The real showstopper from Samsung was its powerful S21 Ultra. Features for the top-of-the-line model include 100x zoom, a 108MP camera, 8K video recording and a 12MP ultrawide camera, a 10MP camera with 3x zoom as well as a 10MP camera with 10x zoom.
Color options include Phantom Gray, Phantom White, Phantom Violet and Phantom Pink for the S21 and violet, black, silver, gold and red for the S21 Plus. The Ultra arrives in Phantom Black, Phantom Silver, Phantom Titanium, Phantom Navy and Phantom Brown, DPReview reports.
The new Samsung Galaxy smartphones should be available on January 29th. Pricing for the Samsung Galaxy S21 Ultra is $USD 1,200 with 128GB of storage, $USD 1,250 for 256GB, $USD 1,380 for 512GB. Pricing for the S21 and S21 Plus is $USD 800 and $USD 1,000 respectively.
You can watch a video about the Ultra over here on YouTube.
Are you interested in the Samsung Galaxy S21 line? Let us know your thoughts on the latest Samsung smartphones in the comments section below.
Don't forget to check out our other photography news on Light Stalking at this link right here.
[DPReview]