Samyang's 35mm f/2.8 Autofocus FE Lens announcement has got a lot of folks excited today with a very useful prime that is reportedly performing as well as its much more expensive competitors.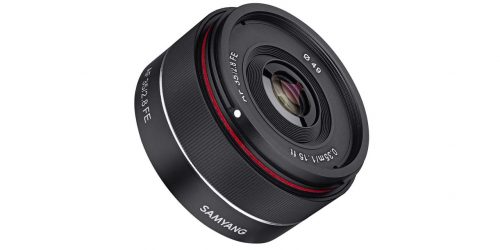 With the price expected to be around the US$300 mark, Samyang's latest lens comes in well under half of the price of its direct competitor, the Zeiss 35mm f/2.8 FE lens which is currently up over the $700 mark.
This lens is pretty small too at only 85 grams and 3.3cm in length, it has 7 elements in 6 groups, two aspherical lenses, a high refractive lens and an "Ultra Multi Coating" which is designed to combat unwanted light dispersion and aberration.
Primarily designed for full frame Sony cameras (Sony E Mount), when used on APS-C cameras the crop factor take it to the equivalent of 52mm.
The folks at SonyAlpha rumours are even comparing its performance to the Zeis. "The MTF looks nice, at f/2.8 it looks as good as Zeiss, but weaker at the far corner. The mid-zone are looks even better than Zeiss." (Click to see the graphs being referred to).
What is the Samyang 35mm f/2.8 Best For Shooting?
The 35mm focal length is the classic street photography lens measurement and roughly equivalent to the focal length of the human eye. Basically, this could be the lens you leave on the front of your camera so it's ready to go at a moment's notice. Samyang specifically named travel photographers as a possible market and that would be about right. A very versatile focal length.
Note: Samyang or Rokinon? Or Bower? Who knows? Seems to be different depending on which geographical region you live in. Same lenses, different branding. The folks at FStoppers have a short article on it if you want to know about their market testing.
This will be Samyang's third autofocus prime with the AF 50mm f/1.4 and the AF 14mm f/2.8 already established.
Here are some sample images from Samyang:
More Reading on the Samyang 35mm f/2.8