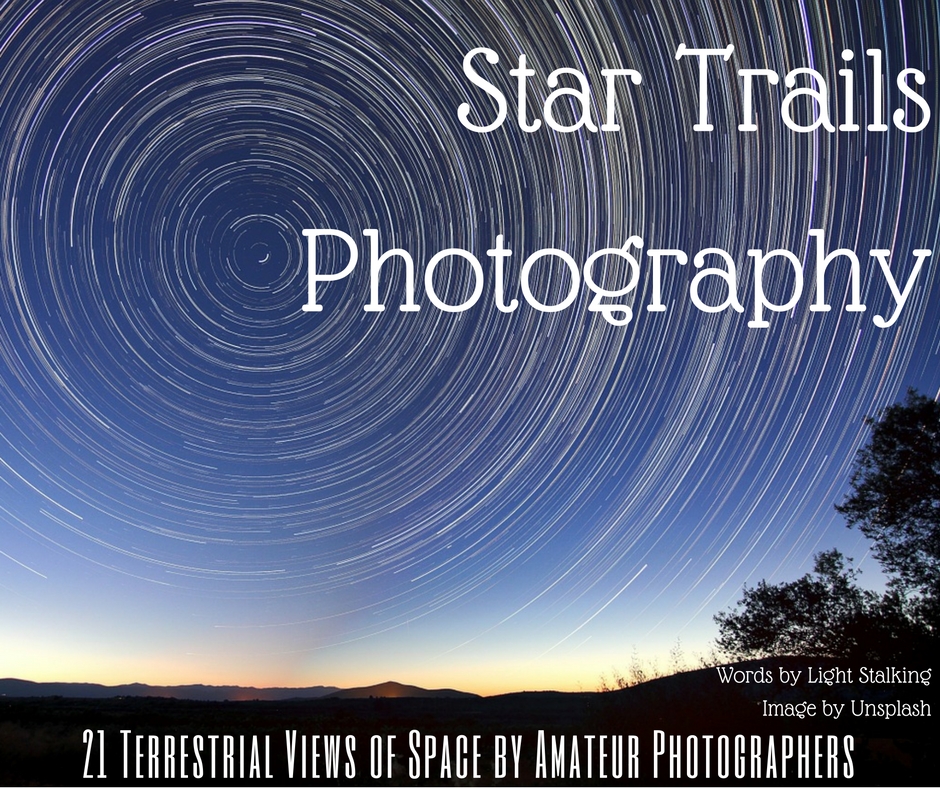 Stunning Examples of Star Trails Photography
Timed exposures in the sky at night produce what are known as 'star trails' – enabling you to get some amazing star trail photos. The movement of the earth makes the exposure of the stars like that of a moving object that produces lines of light.
If combined with a well composed image, the results can be quite striking. This collection of star trail photography shows some great examples of this photographic niche which we really enjoyed.
Check out the tutorials at the end of the post if you want to know more about star trail photography.
---
Grab your Milky Way Photography Blueprint for free right here.
---
[url=https://flic.kr/p/8Dy9H1][img]https://c3.staticflickr.com/5/4090/5019480602_98620b147d_b.jpg[/img][/url]
Assiniboine Star Light
by
Jeff P
, on Flickr
[url=https://flic.kr/p/ejV2jD][img]https://c6.staticflickr.com/9/8541/8746680293_40e2d14cb4_b.jpg[/img][/url]
Tree and Star Trails by Brian Tomlinson, on Flickr
[url=https://flic.kr/p/eouGiV][img]https://c8.staticflickr.com/3/2838/8787199631_a40f4a4b5a_b.jpg[/img][/url]
Star trails by Ledzepman71, on Flickr
[url=https://flic.kr/p/8qLjHJ][img]https://farm5.static.flickr.com/4114/4874741180_fc68108fdc.jpg[/img][/url]
Startrails by TuckerH586, on Flickr
[url=https://flic.kr/p/7J4uTU][img]https://farm5.static.flickr.com/4016/4414115978_9430761765.jpg[/img][/url]
Star Trail 2010-03-06 by jronaldlee, on Flickr
[url=https://flic.kr/p/8PdsjB][img]https://farm5.static.flickr.com/4020/5128802575_362e7ec650.jpg[/img][/url]
Trona star stack by cloudchaser32000, on Flickr
[url=https://flic.kr/p/dbm6Nu][img]https://c5.staticflickr.com/9/8451/7993367932_a510ff5dcb_b.jpg[/img][/url]
Star trails by Mike Lewinski, on Flickr
[url=https://flic.kr/p/cQgK2N][img]https://c5.staticflickr.com/9/8438/7766187692_3bea8a109b_b.jpg[/img][/url]
Perseids?? What Perseids? by John Fowler, on Flickr
[url=https://flic.kr/p/63a94U][img]https://farm4.static.flickr.com/3378/3306199978_f2de3288de.jpg[/img][/url]
canfelip_II by Aitor Escauriaza, on Flickr
[url=https://flic.kr/p/94x7dS][img]https://farm6.static.flickr.com/5126/5290873034_786ec5eba8.jpg[/img][/url]
Shelfstars by Zach Dischner, on Flickr
[url=https://flic.kr/p/5Rm5BD][img]https://farm4.static.flickr.com/3359/3183853139_1c5792926f.jpg[/img][/url]
taixeta_6 by Aitor Escauriaza, on Flickr
[url=https://flic.kr/p/rrnGem][img]https://c7.staticflickr.com/9/8636/16696064286_2df6718d4c_b.jpg[/img][/url]
Star trail by pero belobrajdic, on Flickr
[url=https://flic.kr/p/8rGd46][img]https://farm5.static.flickr.com/4135/4885254803_1867dd56c6.jpg[/img][/url]
Milky Way Star Trails – Lake Mary, Flagstaff, AZ by Logan Brumm Photography and Design, on Flickr
[url=https://flic.kr/p/5rrZWm][img]https://farm4.static.flickr.com/3222/2913412172_a7bbb3f5fd.jpg[/img][/url]
Star trails2 by typicalnaloboy, on Flickr
[url=https://flic.kr/p/6P6ouR][img]https://farm3.static.flickr.com/2610/3814710393_8e91477440.jpg[/img][/url]
Startrails Over Wicken Fen by Andrew Stawarz, on Flickr
[url=https://flic.kr/p/qiAXaP][img]https://c6.staticflickr.com/9/8615/15951762261_e590f4a786_b.jpg[/img][/url]
Star trailing by ramesh Iyanswamy, on Flickr
[url=https://flic.kr/p/ptr7rT][img]https://c6.staticflickr.com/4/3931/15406650541_eac69663b0_b.jpg[/img][/url]
Bromo Star Trail by Zexsen Xie, on Flickr
[url=https://flic.kr/p/8iHSXF][img]https://farm5.static.flickr.com/4096/4795048829_ca542f9839.jpg[/img][/url]
Trails on the Henge by Bala, on Flickr
[url=https://flic.kr/p/qCbXu][img]https://farm1.static.flickr.com/88/278656794_48c08ed8cb.jpg[/img][/url]
Happy Trails by makelessnoise, on Flickr
[url=https://flic.kr/p/jJAEA8][img]https://c4.staticflickr.com/4/3712/12296478275_05b5f9acfe_b.jpg[/img][/url]
Bridge Trails by Jannis, on Flickr
[url=https://flic.kr/p/dTUeyk][img]https://c8.staticflickr.com/9/8242/8463613943_fa7e7e6d81_b.jpg[/img][/url]
Mokuleia Star Trails by Kyle Nishioka, on Flickr
---
Star Trail Photo Resources