One of the exciting things about photography is the anticipation of 'the shot' – hunting down the moment in time that is worth recording and being there with your camera poised when it happens.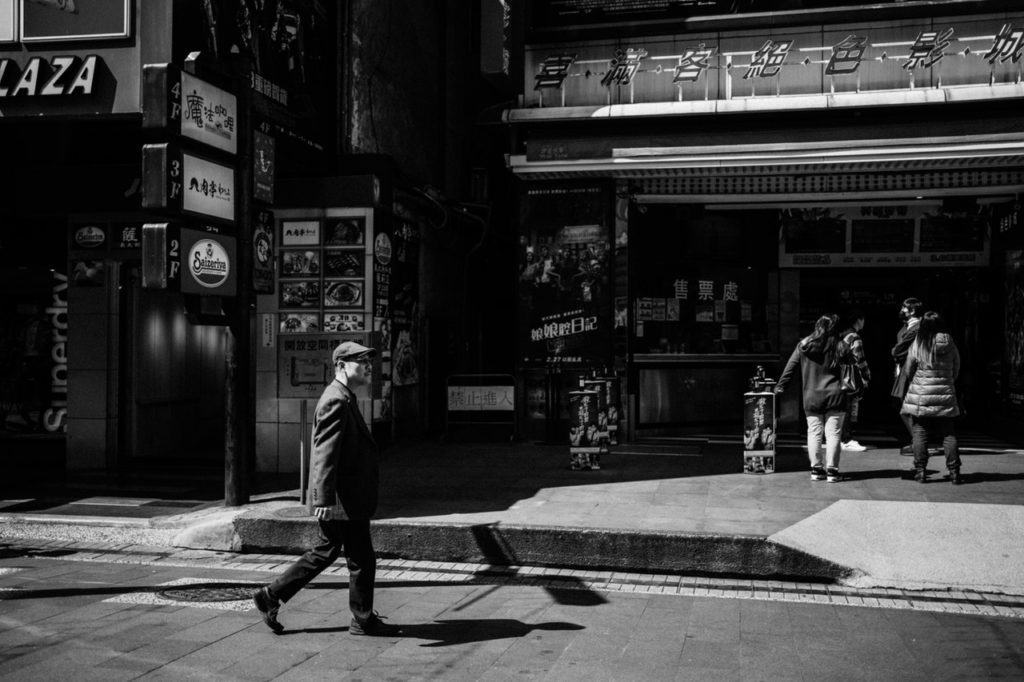 No genre of photography creates this anticipation like 'Street Photography'; moving with the crowd, ever alert to the signs of human activity, watching and waiting: to see and not to be seen.
Photo by Tom Dinning
Street photography has been a passionate past time for many since the discovery of photography. The very first fixing of a photographic image of a person was a street scene. Street photography has been given great impetus by such photographers as Cartier-Bresson and Kertesz and by the availability of compact cameras.
Photo by Tom Dinning
Everyone has the potential to be a street photographer. Not everyone is game.
This is my approach. It doesn't suit everyone and there may be some ethical questions I am answerable to, but I'm sure you can weed out the bits you like from the borderline criminal behaviour of an obsessive street photographer such as myself.
Photo by Tom Dinning
Check your rights.
In Australia, where I live, my rights are relatively straight forward and are available on line from the Arts-Law Centre.
There will be similar advisory centres in most other countries. Its a good idea to check with the authorities before you start snapping away.
Editor's Note: There are downloadable photography law guides for the UK here, Canada here and for the USA here and a general guide for New Zealand here. Be sure to do your own research.
Photo by Tom Dinning
Irrespective of your 'rights' there is the question of etiquette. That also varies from culture to culture and person to person. I have my own personal approach (which requires the wearing of a good pair of running shoes and a more than ignorant look on my face) but that may not suit everyone. Ultimately, discretion, common sense and personal safety, are the prime considerations. It may not always be about 'getting the shot.'
Photo by Tom Dinning
Place.
The usual venue is where people gather. 'Street' can be interpreted in many ways and might include alleys, shopping malls, shops and cafes, parks, buses and trains, market places, in fact, anywhere you will find the structures and architecture of civilisation with the people who frequent them.
Photo by Tom Dinning
My favourite places are shopping malls (open and closed), High Street in small towns and villages, and the back streets of big cities.
Photo by Tom Dinning
Equipment.
I usually think small. My smallest combination is a Nikon D700 with a 35mm f: 1.8 lens. It doesn't look flashy so I'm not mistaken for someone who knows what they are about (which isn't all that difficult for me). Its lightweight and compact so I can fling it around and hide it up my T-shirt if I need to. Its fast enough for most situations. The wider angle gives me a good depth of field at moderate f:stops. I only have to worry about focussing and moving my feet.
Photo by Tom Dinning
The only drawback might be that I need to get in close for most shots. I carry a 50mm and an 85mm if the going looks tough.
Photo by Tom Dinning
You may be asking yourself why not a zoom to cover all that? The last thing is to make myself obvious. You'd be surprised how many people will look at you with a fancy bit of glass stuck to your face. Never-the-less, I have been known to use a 24-70mm f:2.8 when living seems less important.
Photo by Tom Dinning
I leave the tripod at home. That could draw a crowd. Then again, it could act as a defensive weapon if needed. Your choice.
Preparation and subject matter.
Do your homework if you can. Suss out the place before hand and know your way around. Get a map. It will help you look like a tourist as well.
Photo by Tom Dinning
Instead of wandering aimlessly and hoping something of interest will happen, identify some places where there is a greater chance of finding a worthwhile 'moment'. Intersections, outside the main entrance to large buildings, around cafes and alfresco restaurants, places where people will stop and chat.
Photo by Tom Dinning
I'll also be on the lookout for interesting backgrounds such as doorways, alleys and signs that might create a juxtaposition at the right moment.
Photo by Tom Dinning
People are interesting enough but people involved in their daily activities is even moreso. Look for the story to develop. Anticipate the moment. Be patient. Be prepared.
Use the surroundings to complement the images you capture.
Photo by Tom Dinning
I often set my camera on shutter speed priory when photographing the street and set the shutter speed relatively low (1/60 0r less). I'm not so concerned about technical perfection here but trying to capture the feel of the place. Movement is a part of that feel and having a little movement blur can create a sense of urgency that is lost at higher shutter speeds. Even a little camera shake or some background blur as a result of panning can be very effective at establishing the 'feel' in the shot.
Photo by Tom Dinning
Moving in and out of shops and cafes can be rewarding as well. I will often sit the camera on the table in front of me while enjoying a quite drink and shoot away. This does require a good seat in the house so I look for one that gives me a vantage point and a clear path to the exit door as well. A fast retreat is always in order.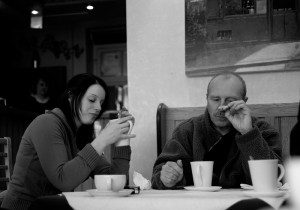 Photo by Tom Dinning
This is an activity you can do as part of your travels but its just as exciting doing it close to home. People getting on with their life and intent on their purpose can make fascinating subject matter.
Photo by Tom Dinning
Just be careful if you catch someone doing something they shouldn't be doing. That's when it can get ugly.
Photo by Tom Dinning
This is a guest tutorial from Light Stalking community member and professional photographer and teacher, Tom Dinning. Check out Tom's photography website and his blog for some great photos and tutorials.