Tamron just announced a new 24-70mm lens for full frame with a massive 5 stops of image stabilisation – the SP 24-70mm f/2.8 Di VC USD G2. According to Tamron, that is the most vibration reduction of any lens in the class.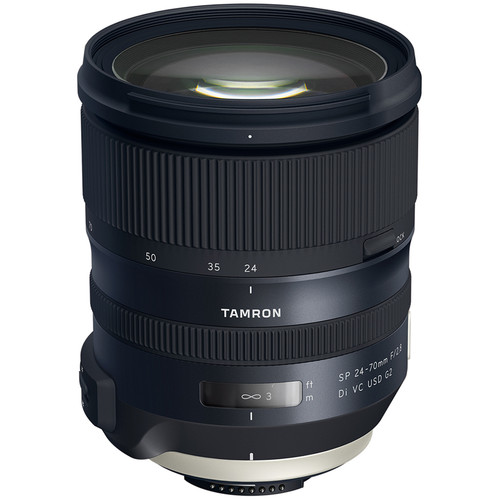 Other specs include a 905g weight which is about standard for a 24-70 2.8 and a "Dual Micro Processing Unit" (MPU) for speedy auto-focussing. It has 17 elements in 12 groups as well as Tamron's eBand coating designed to minimise flare and ghosting.
This lens also ship with the ability to use Tamron's TAP in Console which allows it to be used with an additional accessory, connecting it to a computer for firmware updates – hopefully a way to incrementally improve its performance with autofocus and vibration reduction.
In broader terms, this lens will appeal to photographers who want a fast mid-range zoom but aren't sure about forking out over twice as much money for the Canon or Nikon equivalents.
Highlights of the Tamron SP 24-70mm f/2.8 Di VC USD G2:
EF-Mount Lens/Full-Frame Format
Aperture Range: f/2.8 to f/22
Two XR Elements, Three LD Elements
Four Aspherical Elements
eBAND, BBAR, and Fluorine Coatings
Ultrasonic Silent Drive Autofocus Motor
VC Image Stabilization
Moisture-Resistant Construction
Rounded 9-Blade Diaphragm
Compatible with TAP-in Console
What is the SP 24-70mm f/2.8 Di VC USD G2 Best for Shooting?
Well, the 24-70mm lens is the classic mid range zoom and probably the most common range of zoom that many pros keep on the front of their camera for general shooting.
At the 24 mm end, you're getting wide enough for landscapes and real estate and at the 70mm end you're getting close to the classic focial length of 85mm for portraits (but not quite). Of course around 35mm you get roughly the same field of view as the human eye. This versatility makes a 24-70 lens the classic general shooting lens for many photographers.
Point of Interest: Depending on what brand you shoot, the general "holy trinity" of zoom lenses are the 14-24, 24-70 and 70-200 – all at 2.8.
When can we see the SP 24-70mm f/2.8 Di VC USD G2?
According to Tamron, the SP 24-70mm f/2.8 Di VC USD G2 will ship in July for Canon and Nikon users.
Current price for preorders on B&H is $1199.