Happy Holidays and Yes, It's That Delightful, Winter Time of Year.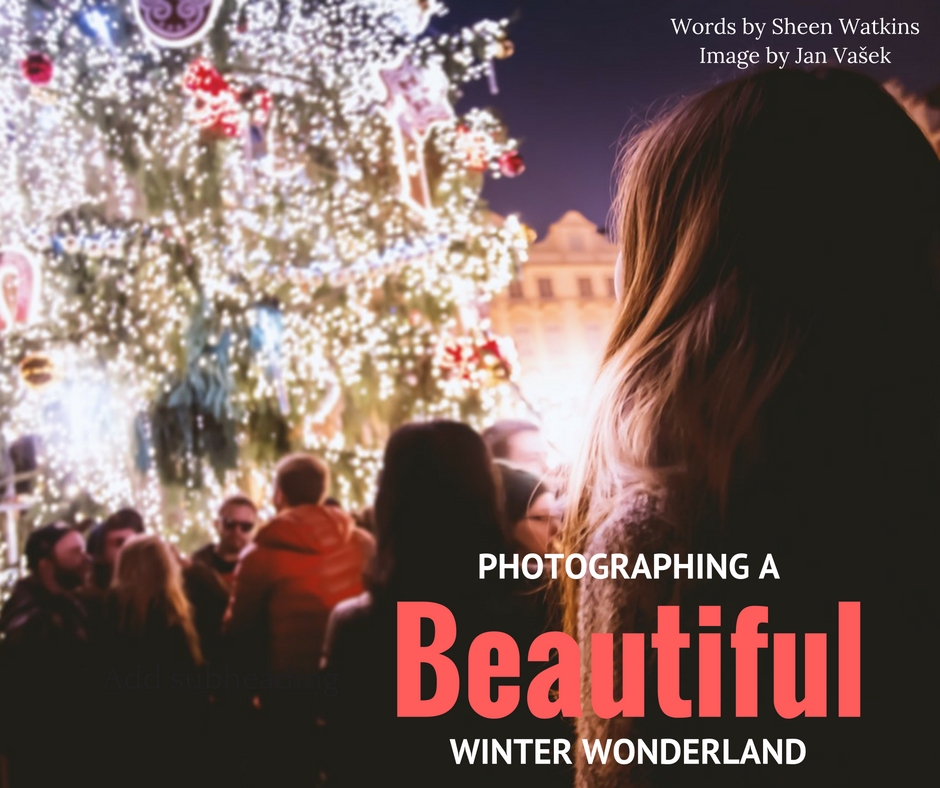 So, are you ready for it this year?
We've made our lists, we've checked them twice and we're hoping that our stockings we'll reflect that we've been really, really nice. HO! HO! HO!
The holidays gift us with amazing photography opportunities. It's up to us to get out there and capture the lights, color, gatherings, food and holiday festivities.
For a bit of holiday cheer, I'm using one of my favorite holiday songs written in 1934 by Felix Bernard (music) and Richard B. Smith (lyricist). See below for the lyrics of Winter Wonderland along with a few holiday photography ideas and tips.
By the way, this holiday favorite has been recorded by over 200 different artists over the course of time. Pretty cool!
"Sleigh bells ring, are you listening….In the lane, snow is glistening…A beautiful sight, we're happy tonight…Walking in a winter wonderland"
Our winter wonderlands can vary greatly depending on where we live. We may live in snow laden terrain or sunny beaches. We may celebrate under the bright lights of a big city or country roads.
Take advantage of the colorful and seasonal moments both day and night.
Take a drive into the countryside and look for old, vintage barns and other settings. For a bit of inspiration 14 Stunning Barn Photographs shares several images of barns across the variety of seasons.
"Gone away is the bluebird…Here to stay is a new bird…He sings a love song, as we go along…Walking in a winter wonderland"
As the temperature changes, different birds migrate back into their wintering area.
Bird photography is a year round opportunity. 4 Basics that Will Get You Great Shots or Capture Amazing Photos Using These Techniques will illustrate the basics of bird photography, equipment and post processing techniques.
Here are a couple of birds in festive blue:
Top Tip!
Tired of buying Christmas or holiday cards that are 'off the shelf'? Dig into your bird and other nature images as they make for beautiful holiday and special occasion cards.
If printing cards are not a personal choice, sending an email with some of your favorite photographs included is also a nice touch.
"In the meadow we can build a snowman..Then pretend that he is Parson Brown…He'll say, "Are you married?"…We'll say, "No man"…But you can do the job, when you're in town"
Light Stalking's own Jason Devaun shares his holiday snowman on the tree.
Jason Devaun
In addition to the snowman, holiday bokeh adds a festive feeling to our photographs. This Bokeh link will take you to a plethora of Light Stalking articles with 'how to' tips and creative ideas.
Decorations with creative edits may provide a festive moment to capture and share as in below.
"Later on, we'll conspire…As we dream by the fire…To face unafraid, the plans that we've made…Walking in a winter wonderland"
"In the meadow we can build a snowman…And pretend that he's a circus clown…We'll have lots of fun with mister snowman…Until the other kiddies knock him down"
The Kids At Christmas
Children and the holidays go hand-in-hand.
Keeping your camera nearby will ensure that you capture unplanned moments in addition to the traditional family photos. The 'nifty fifty' is a fast, cost effective, lightweight prime partner that you can almost keep in your pocket…or small camera bag.
The Unlimited Photography Opportunities with the 50mm may influence a new addition to the wish list.
"When it snows…Ain't it thrilling…Though your nose gets a chilling…We'll frolic and play the Eskimo way…Just walking, talking…Hand in hand in a crazy winter wonderland"
When it comes to playing in the snow, experiment with flash photography and get a few action shots.
Further Learning
If you're looking to inspire yourself and improve your indoor portraits, have a look at this eBook guide this holiday season.
It's your chance to truly master your portraits!
The holidays are filled with many moments that turn to warm, beautiful memories. In addition to photographing the colorful and fun sights along the way, don't forget to savor the fleeting moments that will soon be special memories for those you hold most dear.
From all of us at Light Stalking, we wish you a warm, safe, happy and healthy holiday season!