The Yashica's Y35 "digiFilm" Camera KickStarter project launched to bring back iconic Japanese camera maker Yashica has produced a stunning Kickstarter result in being fully funded in a matter of just a few days raising almost a million dollars.
As reported in "The Return of Yashica – Kickstarter Project to Launch October 10, 2017," legendary Japanese camera manufacturer Yashica, now a part of a Hong Kong-based holding company, was returning to market upon completion of a successful crowd-funding effort to put the make back into the market.
PetaPixel reports that the results of this collaborative effort between the returned Yashica and photography enthusiasts has delivered a unique concept that aesthetically mirrors the analog days of the past.
Utilizing a "digiFilm" concept, Yashica's Y35 will simulate the use of film rolls with a device that is purely digital in form but analog in execution, or what PetaPixel calls "pretend rolls of film."
Aesthetically mirroring the Electro 35, remarkable because it was the pioneer in the electronically controlled shutter, the Y35 has a 1/3.2-inch CMOS sensor that shoots 14-megapixel photos and a 35mm f/2.8 glass lens.
As the KickStarter page describes, the Y35 delivers the joy of analog photography without the expense and time required for development.
Yashica's page describes it, "A brief pause is required to wind on the film before shooting. At this millisecond of pulse, it grants us time to inspire and think, the exact moment the shutter snaps."
The project touts Yashica's digiFilm system as the selling feature of the camera. The product will have "a glass lens for super sharp photos, an advanced automatic mode that makes sure every shot is perfectly exposed with an aperture of 2.8 as well as lot of creative digiFilm" and will have "ISO 1600 High Speed, ISO 400 Black & White, 120 format of 6×6 images and ISO 200 Ultra Fine" digiFilm rolls available upon debut.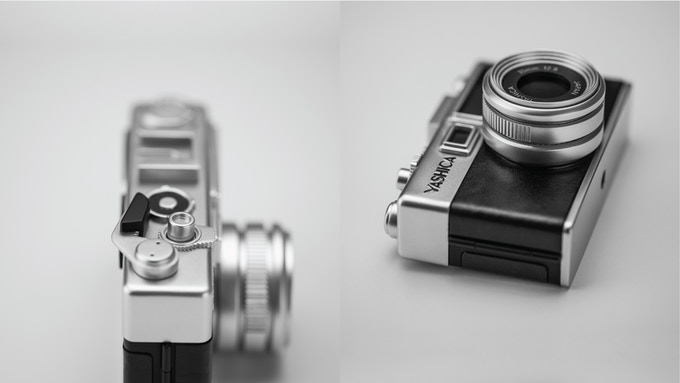 The ISO1600 High Speed digiFilm roll will allow the photographer to take high contrast, grainier photos and will "capture true color even in low light condition[s]." It is also appropriate for high-speed photography or "fast moving objects."
120 Format (6 x 6), ISO 200 Ultra Fine, and Black and White digiFilm rolls will be offered as well.
The digiFilm rolls only change the camera's mode – all images captured by the Yashica Y35 are stored on an SD card.
At the time of publication, the Kickstarter has raised over seven milion Hong Kong Dollars.