The expansion of options in the camera lens market segment keeps going unabated, with Yongnuo's latest joining the wide-angle game.
Renown for their affordable and competitive lenses, Yongnuo has expanded their product lineup to include a new wide-angle lens that will give photographers another option to choose and this one at an affordable and competitive price.
And this is even better news for some: If you're an architectural or landscape photographer shopping around for a new wide-angle lens then a new offering from Yongnuo might just be what you need. If you have put off that new glass purchase, you might want to take a look at Yongnuo's option.
The recently announced YN14mm f/2.8 lens from Yongnuo, compatible with Canon and Nikon DSLR cameras, gives users a lightning quick maximum aperture of f/2.8. According to photography press blog DigitalRev, this allows for fast shutter speeds in low-light conditions and for shallow depths of field.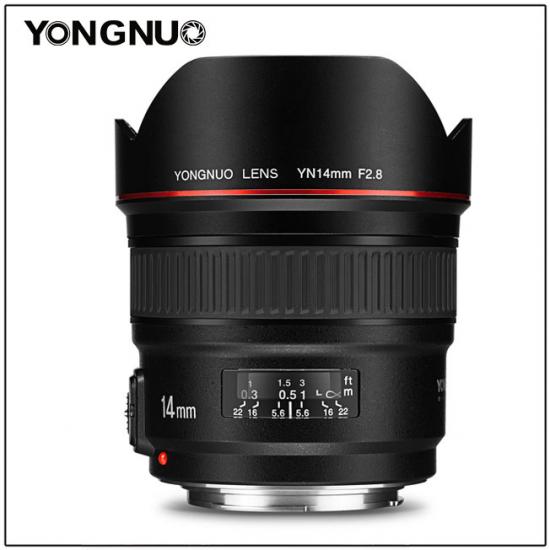 The YN14mm f/2.8 has an autofocus system with a DC motor. The design includes 12 elements in 9 groups and a multi-layer coating to improve image quality and reduce ghosting and flare with a 7-bladed diaphragm for bokeh and "an abnormal dispersion element to help reduce optical aberration."
The lens also has a focus distance indicator as well as a USB port for connecting to a computer to update the optic's firmware in what DigitalRev says is a "future proof" for the device. With a focal length of 14mm the YN14mm f/2.8 has a 114-degree field of view, an aspect that makes it suited for landscape and architectural photography. No pricing information is available as of press but the new glass is expected to hit shelves in January 2018. Yongnuo, affiliated with Shenzhen YongNuo Photographic Equipment Company, Ltd., is a relatively new player in many consumer markets but has made a splash in the past decade. It is expected their presence will only grow with the introduction of new products in varied market segments.