I've been using a ThinkTank Shape Shifter backpack for a little while and, overall, was quite pleased with its performance, which is why I was especially pleased when ThinkTank was nice enough to send over an Airport Roller Derby for me to try out and put to test.
Think Tank Airport Roller Derby
As an avid traveler, I was curious to see how well the bag would hold up and keep my gear safe while I put it to the test–which, admittedly, is no easy task. Read on to see how it fared:
Meet ThinkTank's Airport Roller Derby
Technical Specifications
Four pairs of wheels
Holds 2 standard DSLRs with lenses (or 1 pro-grade DSLR and 1 standard sized DSLR with lenses), 6–7 standard zoom lenses or strobes, 15″ notebook computer, iPad/tablet, tripod, and lots of spare room left over for other accessories
Meets current US (and most international) carry-on requirements and weighs just 10.5 pounds (4.8 kg)
Water repellent, nylon exterior, 210D nylon interior, comes with rain cover
Comes with its own rain cover in addition to a lock and cable for security
First Impressions
Upon unboxing the bag, my focus was immediately drawn to the detail that went into the construction of this wheeled bag. Just by looking at it, you can tell the nylon is of high quality. Upon closer inspection, you see the stitching is straight and well done, the zippers, hook and loop (Velcro) closures, mesh netting, and wheels were considered with equal measure. Everything looks solid and trustworthy, probably the most important key features in any travel camera bag.
No complaints as to the looks of the Airport Roller Derby, either. It's classically styled, aesthetically pleasing, and a perfect marriage of function and form. The size isn't overwhelmingly large, but is still big enough to fit a lot of gear inside, the extra pockets found all around the exterior and interior of the bag are a pleasant surprise. There's no shortage of nooks and crannies in the Airport Roller Derby.
The Roller Derby At Work
On our first trip together, I was just planning on doing some island hopping close to home in Hawaii. I had no set itinerary and wasn't exactly sure what kind of gear I'd need, so I packed a wide assortment of gear including a full frame and crop sensor bodies, extra batteries, a charger, and several lenses. There was still plenty of room so I tossed in my Outex waterproof housing, a few filters, and a short slider for my tripod. Still more room. Couldn't have that, so I decided to bring my Shoulderpod (for iPhone shooting). a TriggerTrap dongle, and a my laptop charger. It started to feel like I was getting carried away so I zipped up the main compartment and moved to the large front pocket, into which went my notebook (in it's own dedicated, padded pocket), an external hard drive, 4 extra memory cards, a sketchbook, pens, earbuds, iPhone charger. There was plenty of room for my tablet, but I opted to keep it in my shoulder bag for easier access on the airplane.
I have a separate carrying case for my extra memory cards, as I suspect most photographers do nowadays, but one thing I felt would have been a nice option in this bag was a dedicated pocket(s) for memory cards. It could even be removable for on-the-go needs, too. Definitely, not a deal breaker as there was plenty of room for the cards in one of the many pockets, but it would be a nice feature to see built in memory wallets in future models.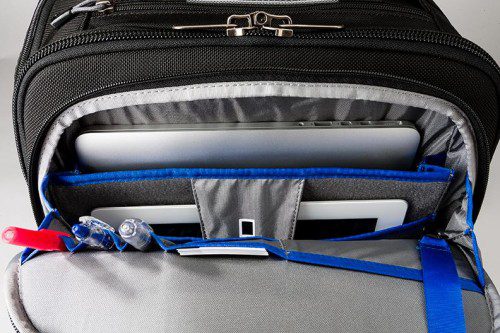 Another minor qualm I found at this point, and I stress how minor it really is, is that it would have been nice if the main pocket on the front of the bag (which, upon opening, is home to many other pockets–bonus!!) could have opened a little more. The front pocket is deep and only opens about a third of the way down. It was a little hard to see to the bottom of the pocket when I dropped small items in there. But, again, not even close to being a deal breaker. There is a lot of storage in a little place and the most accessed parts of the bag are incredibly simple to get to.
I was off to the airport. Well, after one slight mishap, which is really a blessing in disguise. We haven't talked about the wheels on the aptly named, Airport Roller Derby. They roll. Nicely. Smoothly, In all directions, on its side, or on all fours wheels, you barely notice you're pulling anything at all. They glide over various surfaces with ease. That's the blessing (and also the compromise) I came to terms with as I was rolling the bag down my driveway to load it into the car. Did I mention I live on a mountain, a steep one? I stopped behind my car and took my hand off the bag just long enough to open the hatch and almost instantaneously the bag started rolling away–quickly. Half of me was impressed at how easily the wheels were handling my rough driveway and the other half was panic stricken.
Luckily, I was able to grab it in time before it really got momentum going, but it could easily have been a different ending. Now, that was a silly mistake on my part. I should have known the bag was going to roll away, it's wheels are capable of rolling in every direction, and doing it quite well. Of course, it's going to take itself for a walk if left unattended on a steep hill. I only mention the story to let you know
This is a thing that really does happen. Camera bags with wheels will inevitably roll down mountains if you don't hold them or lay them down. You've been warned.
Some kind of wheel lock is the one thing I'd like to see this bag have more than anything.
My ride was a helicopter and I knew the flight crew well enough to know that I didn't need to worry about locking up the Roller Derby, but it was nice being reminded it was there, tucked away discreetly in a side pocket, for future adventures. The bag glided across the tarmac and was easily picked up by it's tough side handle and loaded into the 'copter. I felt entirely confident in the bag's ability to protect my gear and didn't give it a second thought.
Think Tank Airport Roller Derby
Overall Impression
If you're looking for a rolling bag, the Airport Roller Derby comes with my recommendation. Any issues I found with the bag were the result of me being nit-picky and nothing that would deter me from purchasing this bag. It's well organized, which as an asset when you have a lot of gear that you need to be able to get to easily. It has many applications, even if you don't often travel by airplane, the bag would be nice to use in other situations as well. Basically, whenever you need to move your gear, safely from one place to another. It shines, however, as an airport bag. It handles sweetly, making it super easy to navigate airport crowds, and it you instantly feel assured that your expensive gear is in good hands inside the bag.