You'll Be Glad You Hung Around For These Photography Links…
With so much excitement going on right now in the field of photography, it's becoming a challenge to find sources of tutorials, special features and great photography of interest.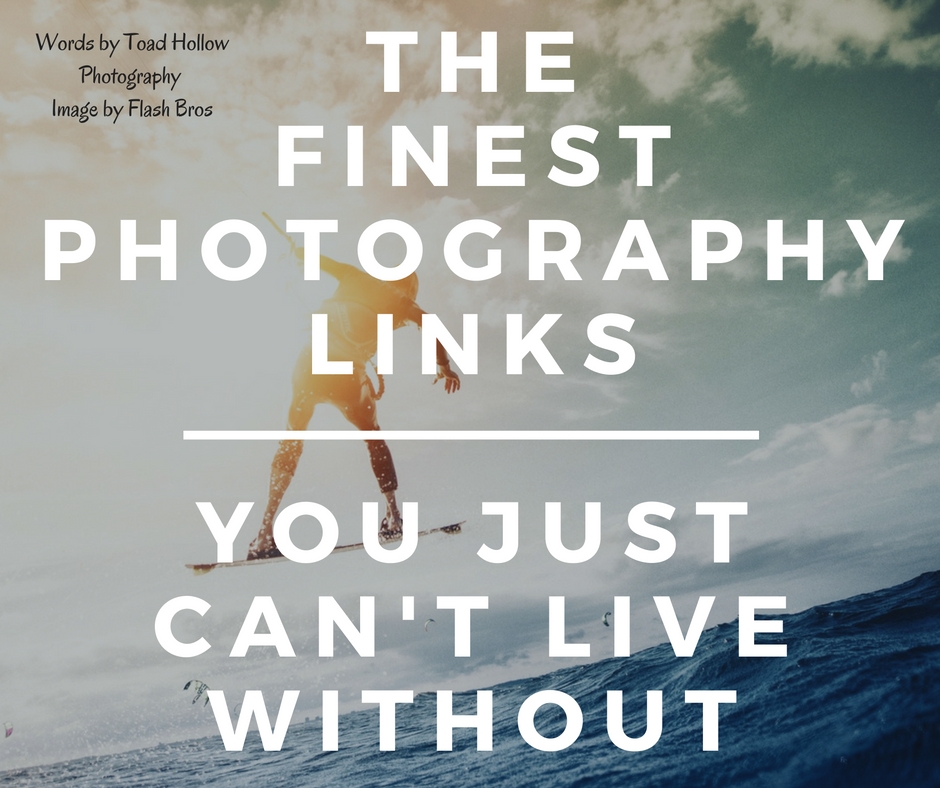 We are lucky to find that Toad Hollow Photography relentlessly searches all known corners of the internet looking for great photography links to shots and articles from some of the best folks working in the field today to share here with enthusiasts from all genres of the craft.
We really hope you enjoy checking out this week's collection of links (we're sure you will) as much as the Toad did himself in bringing them to you.
Sit back, grab a beverage and have fun…
PHOTOGRAPHY TUTORIALS
7 Factors To Consider When Flying Your Quadcopter For Aerial Photography – once again, if you are looking for great information on any subject related to photography, Light Stalking should be the first place you look.  Here at Toad Hollow, we are just getting into drone photography ourselves and I've signed up for an in-depth course to get properly licensed.  This form of photography opens whole new worlds for us as creatives, and this terrific article from Jason Row gives you a set of tips that can really help get you started in this exciting new world!
Beware the Golden Myth of Photography – this is one of the best articles I have read in my career regarding the application of mathematical equations to composition.  Alex Cooke has an obvious deep background in complex math, and he takes his background and pulls apart the concept of the "golden ratio" in terms of art composition to show you why it can be a consideration in terms of how you compose, but should never be a driving force in it.
Tips for photographing children in the great outdoors – a ten minute video tutorial gives you some great ideas and tips for how to capture stunning shots of children in an outdoor setting.  By using a long lens, the natural compression from the focal length adds a great feel to the shots resulting in really incredible candid feeling shots.
7 Essential Stock Photography Tips From a Graphic Designer – if you are looking to expand your stock image offerings, this is a great article to read and review, full of excellent insights and tips that can really help.  Sample shots are included with the points covered, giving you an instant visualization regarding the topic being discussed.
How to light close-up product shots at home simply and easily – simple setups can produce the best results when it comes to photography, and this great video tutorial shows us how to achieve this goal.  Just over 5 minutes in length, this presentation covers the entire process from beginning to end and shows you the finished results you can expect from using these techniques.
SPECIAL FEATURES
This photographer climbed the spire of One World Trade Center to shoot photographs and 360° video – this fully interactive video presentation gives us a true 360* view from high atop the new One World Trade Center as famous mountaineer and photographer Jimmy Chin braves these incredible heights to capture this footage.  As you are watching the video, you can pan around in a full 360* view to see everything that is going on around the camera; truly amazing technology here!
Ethereal images capture meteor speeding over molten lava (PHOTOS) – an amazing post that features once-in-a-lifetime images shows us an incredible lava field alight as a meteor streaks overhead.  The juxtaposition of all the key elements in this shot really highlights how amazing nature and the universe around us truly is.
See the Mesmerizing Geometry of India's Salt Pans – this post features and incredible set of photographs taken recently from the air, revealing glimpses of huge salt pans in India that have been mined for centuries.  As conditions change both economically and environmentally, the landscape changes with it and these shots reveal a once-in-a-lifetime look at the abstract results.
The week in 32 photos – pop on over to the official CNN site and check out the curated set of 32 photos they have selected to visually represent current events from all over the world.  Note, some of the pictures could be considered as hard to view by some, as is the case with raw truth when captured in photography.
Montpellier (#1) | Montpellier (#2) – Mathias Lucas takes us on an in-depth exploration of a very old part of France, showcasing its inherent beauty through the photographs he has taken.  Mathias shares shots featuring the incredibly unique architecture, sights and vignettes of the community where footsteps has walked over for hundreds of years.
GREAT

PHOTOGRAPHY

LINKS
Castle Eltz – muted tones accent this amazing castle that finds itself in a setting with fog swirling all around it to accent the overall mood in this shot from Johannes Hoehn.  Terrific textures and details in the stonework add to the old-world feel, making for a shot that looks like it came straight out of a Fairy Tale.
Making the best of sunrise – Frank King carefully processes a sunrise shot to accent the vibrant colors and details in the landscape to deliver a wonderful shot full of serenity and peace.  The trees in the composition create terrific silhouettes, with one in particular leaning into the still waters that form the foreground, creating a terrific mirror for the shot.
Marina Dreamscape – luscious fog rolls over the Dubai cityscape far below in this shot taken from an elevated perspective by Daniel Cheong.  Daniel's shot takes advantage of the great details found in the dramatic architecture of the city, producing another trademark picture of this incredible city that he is so famous for photographing.
Ohio State Reformatory – Shawshank – Michael Criswell shares three shots taken inside a world-famous reformatory that has been the site of movie sets and paranormal activity.  Michael's compositions here use the walls as natural frames, where a visual exploration reveals incredible textures from decay and strong vanishing points to add incredible drama.
Cottonwood Curves – curves, lines and shadows play together perfectly in this abstract composition captured at Steptoe Butte from photographer Ray Green.  This wonderful shot uses the natural compositional elements of the region to create a strong picture that gently guides the viewer through the frame by following the natural leading lines.
Dust – Garfield, Washington – thick dust from moving vehicles create an ethereal feel in this landscape shot from Len Saltiel taken in the Palouse region of the US.   This shot was taken in the early morning, with golden light highlighting the natural warm tones the area exhibits this time of year as dust from countless harvests coats the entire setting in a blanket.
Access to paradise – natural light streams in from frame right, casting delicate shadows that form lines all along this predominantly white setting.  Matteo Abbondanza processes this shot as a black-and-white to highlight the raw drama found as we follow the lines into the frame where a lone man stands, adding a touch of artistic tension as we carry through and out towards a terrific vanishing point.
Grizzly – Randy Hall from right here on Vancouver Island captures a stunning portrait of a large Grizzly Bear in a stream, presumably fishing around for it's next meal.  This young bear is incredible to see close-up, and even though it's a young example of this species, it is clearly a creature not to be trifled with.
Two Jacks Reflection – Jesús M. García takes full advantage of several strong elements in this shot to create a picture that is truly breathtaking.  Stars linger far above as a gentle landscape below finds harmony with the still waters of a body of water in the foreground that adds a wonderful mirror effect.
A Different Pair – Andy Hooker (LensScaper) captures a pair of distinctive shots with many parallels and similarities, and many differences.  The first shot is a set of discarded windows, full of patina from years of use in the elements, and the second shot feels as if it has a similar photographic frame, focusing on a new set of windows with complimentary tones and lines.
Trams in Berlin – Simon Alexander takes a low perspective photograph to in this picture, accenting the inherent drama in a scene that takes on a highly cinematic feel due to the way the colors are muted in post-production.  A yellow tram is the prime subject of the shot, but there are a plethora of details and features to be found if you explore the frame visually.
Snake River Sky Fire – Mark Garbowski captures a landscape shot here that features stunning colors in the sky as the final vestiges of light fade from the day.  Dark, brooding clouds linger overhead in the right part of the image and add a perfect touch of drama.
Canoe trip to Spirit Island, Alberta – the epic beauty of the Canadian Rocky Mountains form a perfect frame for this landscape composition from Rishad Daroowala.  This world-famous location is a perfect setting for amazing imagery, and in this case we find a lone canoe with people in the frame, paddling their way across the incredible blues of Maligne Lake.
Maples Creek Lake Catwalk – Jim Denham's monochromatic shots uses a portrait format to accent the natural leading line created by the rusty ensconced catwalk that leads out over the lake body.  The long exposure Jim used to capture this piece also creates a silky smooth look on the waters, adding to the ethereal and highly moody feel of the overall image.
Sunrise at Manteo – incredible colors highlight the natural leading line from a wooden pier that leads the viewer out onto a dock where a white lighthouse sits perched.  Edward Reese's elegant shot is full of wonderful romance, creating a picture that is serene and tranquil at the same time as it expresses wonderful artistic tension.
Riomaggiore blues – Jim Nix shares a stunning sunset shot captured in old Italy, featuring a beautiful gradient in the blues in the sky, and incredible architecture found in the homes and buildings that sit perched on the slopes overlooking the waters.  The buildings themselves are painted in many colors, adding splashes of interest throughout the frame.
Incoming… – wildlife photographs are a genre all unto their own, as is evidenced by this incredible picture from the studio of Austin Thomas.  This shot features a kestrel flying in for a landing as Austin presses the shutter just before touchdown as the bird looks straight into the camera, creating an instant classic that showcases the incredible spirit of these birds in nature.
Are We In Kansas? – what appears to be an abandoned farmhouse is carefully processed in muted tones by CJ Schmit to heavily accent the drama of the scene.  The brooding clouds overhead add a perfect element to the overall look and feel of this shot, completing it perfectly.
4th of July Fireworks, Lake Union, Seattle – Dale Johnson captures a great shot of colorful fireworks streaming across the night sky in this dynamic image.  The motion blur from the long exposure found in all the moving objects that surround the setting help you to focus on the main subject, the vibrant colors that create streaks over the dark skies.
Blood Moon Over Pittsburgh – a glowing supermoon lingers over the contemporary architecture of the city of Pittsburgh below, creating a perfect sense of artistic tension in this shot from Brad Truxell.  Terrific details in the buildings help to create a sense of modernism and activity underneath a moon that takes on a character all it's own.
Cruising into the Mountains – Laurie MacBride takes us deep into an inlet that runs towards the interior of BC from the coast where incredible mountain ranges seem to run forever as they reach relentlessly for the sky.  The epic beauty of the Canadian west coast comes to life in this series of shots, showcasing how special a place this part of the world truly is.