Let's face it, there are tons of little gadgets on the market all claiming they can turn your photos into brilliant works of art so long as you fork out the cash to buy it. While we all wish photography were that easy at times, unfortunately, it doesn't quite work that way. That being said, there are also a lot gadgets that will really make your workflow (and life!) a lot easier and seamless, giving you more time to practice your craft and improve your work the old fashioned way–with a little elbow grease! Below I'm going to share with you a variety of items that have become a fixture in my photography work.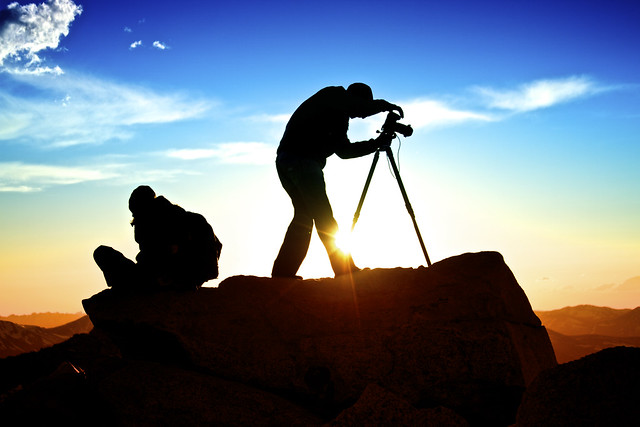 Getting the Shot
by
Zach Dischner
, on Flickr
Graphics Tablet
I'd heard a lot of mixed feedback on these, but my curiosity finally took over and I went out and bought a Wacom Intuos 5. After just a couple days familiarizing myself with it, I decided that I never wanted to work in the Adobe Suite without one. What started only as a tool to help me more quickly edit photos and create digital painted portraits, turned into something that quickly replaced my mouse entirely. Graphics tablets are useful for photographers for a whole multitude of reasons such as quickly making hand-painted images from your photos like the image above. Here are a few more key pros which helped me sell myself on my tablet:
The active area of the tablet represents your display pixel for pixel, especially useful if you've been relying on a laptops touchpad. You'll never have to worry about running off the edge of your mousepad or touchpad during an edit forcing you to stop, pick up your mouse and move it back the to top before carrying on making your selection. With a graphics tablet, you'll never run out of real estate.
Pen Pressure Sensitivity is a huge timesaver. Simply by varying the pressure in which you are touching the pen to the tablet, you can quickly change the thickness, opacity, color, etc. Depending on the model you have, you can make quick changes by tilting or rotating the pen. No more having to manually change these settings, just press harder with the pen midstroke and the tablet takes care of the rest! Keep in mind that not all tablets are created equal, they usually vary in pressure sensitivity with a range from 256 to 1024.
Digital Painting Portrait
by
Justin Hee
, on Flickr
They feel very natural to use when editing photos. Rather than working with a clumsy mouse, you are using a pen which offers much greater accuracy and ease of use.
Graphics tablets will range in price from anywhere around $50 USD to upwards of $2000 depending on how many bells and whistles you'd like. Some models will offer programmable buttons, ability to use a pen or your fingers, an active display so you can see your photo right on the tablet rather than your computer screen, and, of course, the size in which you prefer will also affect the price.

Mobile Ephemeris For Scouting and Planning Your Next Photoshoot
There are more than a couple of these apps on the market, but the one I am most familiar with and personally prefer is a relative newcomer to the scene called PhotoPills. This helpful app allows you to find exact locations of the moon and sun at given time, anywhere in the world. That's not all it does, to me PhotoPills really has become an all-in-one solution to my photo shoot planning. Here's why:
If you've pre-visualized a shoot where, for example, you want the Milky Way to be directly above your favorite mountain range or beach scene, all you have to do is to drop one marker representing your precise shooting location and a second representing what you'll be shooting onto a map within the app. This information then gets imported into the planning features of the app where you can customize your search to limit the timeframe, moon phase and location, sun location, etc…When you press search, the app quickly outputs the exact date and time in which the scene you visualized will actually occur.
Another nifty feature of the app is its "Augmented Reality" feature. Just point your phone towards the scene you want to shoot and, using your phone's camera, the app shows you the scene with lines representing the exact path of the sun and moons and what time they will be present at the desired location.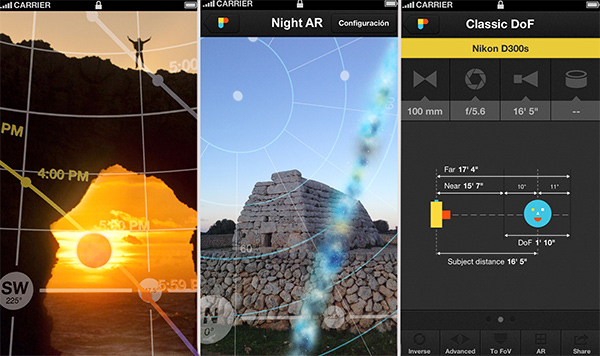 The app is packed with features, so many there's a bit of a learning curve to master using it. But, the developers have posted video tutorials on how to get the most of the app. I strongly suggest watching them all. I'm especially looking forward to utilizing the TimeLapse planning and Star Trail planning features, but some other perks to the app include a Depth of Field Finder, magic/blue hour information, long exposure calculator, I could go on and on…
What I've found most invaluable, however, is that it combined all of my other favorite apps and rolled them into a single package. I could essentially scout location, discover the locations' vital natural light or sky pattern information, figure out when and where I need to be located to get my shot, and figure out my camera settings all in one app, all within a matter of minutes. It has saved me hours in planning time and ensures I'm getting exactly the shot I want.
Organization and Equipment Protection
I'm an adventurer. I enjoy extreme weather and difficult locations. More specifically, I enjoy photographing extreme weather and locations, which is not exactly safe for my expensive camera equipment. I used to spend a lot of time bagging all of my equipment individually in weatherproof bags before packing them into my camera bag. Then I decided to eliminate that tedious step by getting one rugged and fully waterproof bag. I wanted one that could:
Hold all of my camera equipment, and keep it super tidy at the same time!
Not water resistant, WATERPROOF. If I accidently take a plunge into the ocean with my pack on, my gear needs to stay dry. Period.
Be comfortable and easy to carry.
It needed to look stealthy and low-key enough to not draw attention to myself. You don't always want people knowing you are packing thousands of dollars worth of gear around on your back.
There are many different makes and models of these bags available, but I ultimately settled on a Lowepro because it not only eliminated the need to fully waterproof all my individual items, but it also keeps my stuff highly organized. And we all know organization is the real key to time saving!
What tools and accessories do you use to simplify your photography process so you have more time to spend creating photos? Feel free to share your must-haves with us in the comments section below!