Some say the use of photography for surveillance has been part of the medium since its inception. But present day technology is advancing to a stage where camera surveillance has the potential of taking on an Orwellian presence. Here are three ways cameras have been used for surveillance in past and present time.
On the Ground: Security Cameras
The first use of a security camera by a city in the USA dates back to the late 1960s when one was installed in the business district of Olean, New York to fight crime. By 2009 there were a reported 30 million security cameras in operation in the USA. And by 2013, 3,000 security cameras were in operation in New York City's post 9/11 financial district.
England and Wales had 100 security cameras in 1990; 40,000 in 2002; and 4.2 million by the middle of that same decade. It is estimated that Britain is now home to 5 million security cameras, or one for about every 14 residents. There are an estimated 400,000 security cameras in operation in London alone.
In China, state authorities are using the same rationale as Western governments to justify the proliferation of security cameras: to fight crime and terrorism. There were a reported 7 million security cameras in operation in China in 2010, with that number climbing to an estimated 30 million by last year.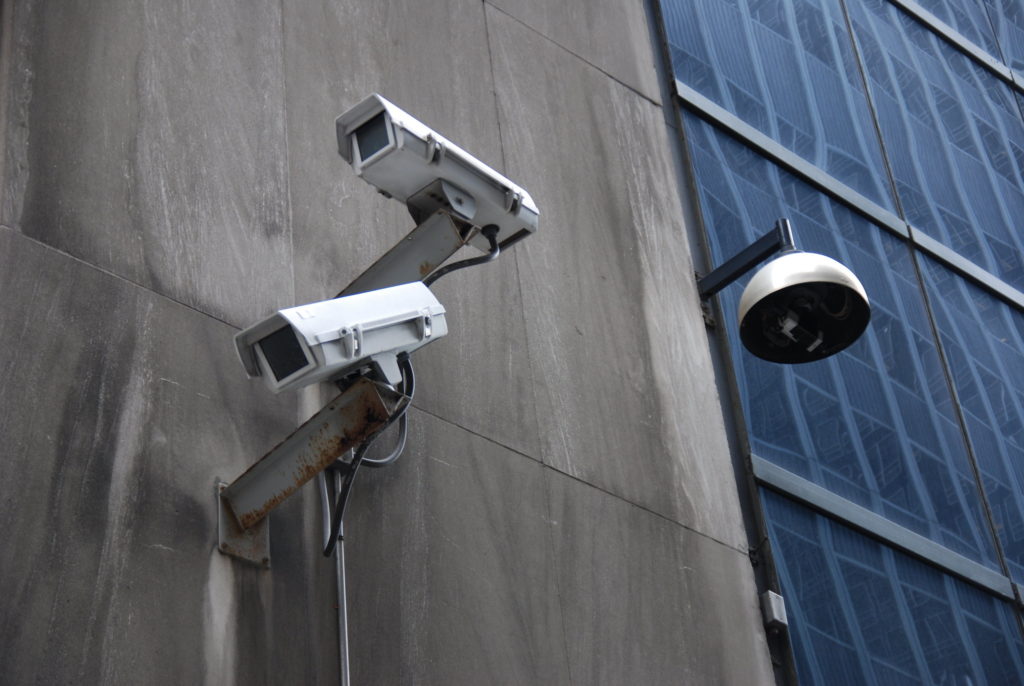 In the Sky: Aerial Photography
The first aerial photograph was created in 1858 by photographer and balloonist Gaspard-Félix Tournachon, a photo of Paris, France which no longer exists. The earliest aerial photo that is still around today was taken in 1860 by James Wallace Black, titled 'Boston, as the Eagle and the Wild Goose See It'.
The UK firm Aerofilms Ltd , founded in 1919, pioneered the use of photogrammetry – the making of geographical maps from aerial photographs. Maps created from aerial photographs have been used for military reconnaissance as well as a wide variety of civilian uses (land use planning, environmental studies, public health, policing etc).­­­­
Drones – or unmanned aerial vehicles – will be a game changer in the field of aerial surveillance. The cost of operating an airplane or helicopter places financial constraints on the ability to capture aerial photographs by public and private organizations. But drones, which are remotely piloted, will dramatically lower the cost of taking photos from the air.
A 2013 New York Times article reported that small drone systems consisting of an aerial vehicle, a control system and software could be purchased for $15,000 – $50,000. And currently, drone systems equipped with a fish-eye camera are for sale at a camera store in Toronto for under $1000.
Trevor Paglan, who holds a PhD in geography from the University of California, Berkeley and an MFA from the School of the Art Institute of Chigago, has been taking photographs of drones, as well as combat aircrafts and secret military bases. He says, for him, seeing drones in the 21st century are a bit like the painter JMW Turner seeing trains in the 19th century.
In the Sky: Satellite Imagery
The origins of remote sensing by USA satellites can be traced back to the Corona program of 1959 to 1972. The Corona program was a secretive military reconnaissance program used primarily to collect information on military activities in the Soviet Union and other enemy states. Data from the program was declassified in the mid-1990s under the Clinton Administration so that it could be applied to civilian uses. A version of the Corona program continues today under a different name.
The Landsat program, a civilian American initiative, dates from the early 1970s. Under the Landsat program satellite images of Earth have continuously and consistently been captured, giving scientists an unparalleled ability to assess changes in the Earth's landscape over time. The Landsat program is still active today, and the most recent satellite in the series, the Landsat 8, was launched into space in February 2013. All Landsat archived data is available to the public free of charge.
Google Earth was initially released in June 2005, making satellite imagery easily accessible to citizens around the world. It was made possible by the acquisition of Keyhole Inc., a CIA-funded company that was bought by Google in 2004.
Google Earth offers static, high-resolution images of the Earth's surface. It also offers 3D images of buildings and terrain for parts of the globe. The base version is available for free, and a higher-end version, Google Earth Pro is available for purchase for use in planning and analysis. Both versions allow users to add map overlays and output from GPS devices to Google Earth images.