In any profession, there are wild pioneers who do things that others won't do and go places that others won't go. In photography, we have quite a few of these individuals. But some stand out from the crowd. Some go where nobody sane would even consider. And they come back with the shots that we all say, "hey, I wish I could have taken that." War photographers especially are a special lot. Their stories and their photographs make and shape history. But let's face it – some of these heroes are simply fearlessly insane to go where they go and do what they do with the almost certain danger of great physical harm that they accept as part of the job. Thank god for these folks. Here are some of our favourites.
Don McCullin – (Photo by TV Brasil) You know the old wive's tale about the guy with the bible in his pocket that stopped a bullet? Rubbish, right? Well, Don McCullin was lucky enough to have his Nikon F stop a bullet in Vietnam that would have killed him. No joke.
Don McCullin – Nikon F
by
martsharm
, on Flickr
Hair-raising is a kind word to describe the shenanigans that McCullin has been in. A veteran photographer of the Biafra, Vietnam and the Northern Ireland conflicts, he has never shied away from the pointy end of the world's stick. The Mau Mau uprising, the Suez Crisis, the Cyprus conflict – reading McCullin's resume is like reading a late 20th century history of destruction.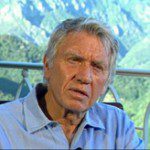 We figure that anybody who says this has probably been in some fairly hair-raising positions: "I am a professed atheist, until I find myself in serious circumstances. Then I quickly fall on my knees, in my mind if not literally, and I say : "Please God, save me from this."
The upshot though, is the photography. McCullin is recognised as one of the world's finest conflict photographers and has even been called the best photographer in Britain. In 1992 he became the only photojournalist to be made a Commander of the British Empire (CBE). Let's hope the recognition for this fine photographer continues to come in.
George Silk – When a photographer has been captured by, and escaped from, one of the greatest Field Marshals of all time (Rommel), wounded by German grenades, trekked 300 miles through Papua New Guinea during war, photographed the Battle of the Bulge as well as being the first to photograph the results of the atomic bomb on Nagazaki, well we're pretty sure he qualifies for some sort of award for "hardcoreness" (yes, we know that's not a word).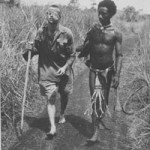 George Silk waltzed into Australia's Ministry of War at the beginning of World War 2 and ended up seeing half the world at some very interesting times (and also shooting some of Australia's most iconic wartime photographs). While being in enough hard spots (and photographing them) in a few years to make anybody mad, his only regret was that his photographs weren't being given enough distribution – so he quit working for the Aussie government and took a job with Life Magazine towards the end of the war which lasted until 1972.
In that year, while on assignment for Life Magazine in Nepal, we was informed of the company's bankruptcy and sent the response. "Your message . . . badly garbled. Please send one-half million dollars additional expenses."
The anecdote alone gets him a spot on this list.
James Nachtwey – (Photo by Victor Mozorov) When you read that a photographer is an "associate of the Bang Bang Club," you know there is probably a story to tell. In Nachtwey's case there are quite a few. As one of the most prolific contemporary conflict journalists still shooting, Nachtwey has done it all from being injured by a grenade in Iraq through to shooting the crumbling Trade Center towers on September 11 and the fall of apartheid in South Africa (where he was present as fellow photojournalist, Ken Oosterbroek was killed and Greg Marinovich injured).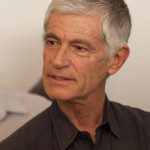 And Nachtwey keeps going back for more hoping that his photographs can help change the decisions that lead to these horrific outcomes. As the subject of the film, War Photographer, we are given quite a generous insight into what makes this guy tick. In the words of critic, Ken fox, talking about the film, "Frei assembles a fascinating profile of a deeply humanistic artist who, in spite of all that he's witnessed, remains surprisingly idealistic, and retains an extraordinary faith in the ability of images to communicate the truth of the world around him."
It's photographers like Nachtwey who, with some might say, limited regard for their own health, continue to bring us the shots that change our way of thinking about the world.
Robert Capa – (Photo by Gerda Taro) No list like this would be complete without Capa – one of the greats of the war photography genre and co-founder of the renowned Magnum Photography agency. At one time or another, Capa covered the Spanish Civil War, the Second Sino-Japanese War, World War II, the 1948 Arab-Israeli War, and the First Indochina War.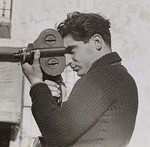 Capa was probably most remembered for his shot of the falling Spanish soldier which later became quite controversial and his shots of the D Day landings. "The Magnificent Eleven" were a collection of surviving photographs taken by Capa on D Day in an area very heavily defended by the Germans. While 106 images of the landing were taken, the guys at the processing lab managed to destroy all but 11 in a bungle. These remaining images are probably Capa's most famous collection.
Not content with his time on the front lines of wars in Spain, China and various theatres in WW2, Capa continued photographing wars with time in Israel during the Arab-Israeli War of 1948. While he said that this would be the last war he photographed, he couldn't resist the lure of the First Indochina War in Vietnam.
Capa was eventually killed while photographing this war (the precursor war to the Vietnam War) when he stepped on a landmine. He remains an almost mythical figure in war photography and photography in general.
Margaret Bourke-White – When you think of war zones and hardcore photographers, you might be forgiven for overlooking a lot of female photographers. Big mistake. Margaret Bourke-White was as fearlessly insane as any male war photographer and easily stands among this group (possibly even leading it) and is widely known as the first female war correspondent in history.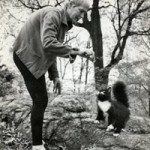 She was once described as "The woman who had been torpedoed in the Mediterranean, strafed by the Luftwaffe, stranded on an Arctic island, bombarded in Moscow, and pulled out of the Chesapeake when her chopper crashed, was known to the Life staff as 'Maggie the Indestructible.'"
In 1941, she was the ONLY foreign photographer in Moscow as German tanks rolled in and she captured a lot of the carnage on camera. After that, she was with the US Airforce in North Africa, then Italy (where she came under heavy fire) and also Germany with General Patton as Allied forces moved in in 1945.
Not content with leaving war photography after World War 2, she went on to photograph the violence when India and Pakistan separated. Her work hangs in many places from the Museum of Modern Art to the Library of Congress as well as many other places. She stands as a hero among photographers.
Let's Not Forget the Others
War photography is an obviously risky past time and one that has repeatedly had a real and lasting impact on history, politics and society. There are hundreds of other names we could include on a list like this – both famous and relatively unknown. They all put personal safety aside in an effort to get that shot. Thank god for them. They might be a little crazy, but their work is profoundly valuable and influential to the society we live in.