Are you after the best photography podcasts you can listen to right now…well here we give you a comprehensive list of our favourites and we do think that they are the very best photography podcasts out there.
I mean, what a great time to be alive! I still remember when in 2005 Apple announced their version of iTunes that featured podcast support, it was amazing.
A whole world of content possibilities was at our fingertips, and I was thrilled. Nowadays, Podcasts are still a very important thing, and they represent a huge amount of our source of knowledge, no matter the discipline we are more passionate or even curious about.
Photography can't get away from this amazing dynamic, and there are plenty of podcasts out there dedicated exclusively to broadcasting high-quality photography related content on a regular basis.
1. Podcasts About Gear
This Week in Photo
Better known as TWiP, This Week in Photo is more than a photography podcast, it is a robust photography platform oriented to spread knowledge. It has been constantly evolving and almost at their episode 550 (which airs weekly, so imagine, more than 10 years now) they are one of the biggest photography podcasts out there.
There are many topics on their weekly podcast that spans on average a bit more than an hour or so. From gear to thinking about photography, you can find plenty of good stuff at their shows. They have recently launched TWiP School, so you can learn more about the things that you love the most regarding photography.
PetaPixel Photography Podcast
If you are curious about photography, it is very likely that at some point you have at least read something published by PetaPixel. Something that not many people are aware of is that they have a podcast as well.
The PetaPixel Photography Podcast is a photography podcast that airs twice a week, which is huge. They talk a lot about gear and other things in the world of photography. It's a fusion of news, opinions, humour, and real-world experiences, crafted in an easy to digest format of 30 to 45 minutes long depending on the amount of content they share on each show.
They have quite a host by the way. Mike James is an award-winning retired photojournalist who lives in Utah with his wife and kids. He is actually a former editor and publisher of a parenting magazine, and a lot of his work has been featured in Reader's Digest and TIME. As a passionate photography enthusiast, he is a true believer that there is something that can be learned by everyone, and he enjoys sharing his knowledge and experiences through this podcast.
2. Podcasts About Photography Itself
The History of Photography Podcast
It really doesn't matter if a podcast isn't airing anymore, the knowledge is there, and we should embrace it before it is gone for good. This is one of those podcasts that stopped a long while ago, but there is still plenty of good information that will suck you in. This one is called History of Photography, and well, it is pretty much about that, the history of our beloved discipline.
This podcast was hosted by Jeff Curto, a former Photography Professor at the College of DuPage in Glen Ellyn, Illinois, where he taught for twenty years from 1984 to 2014. The podcast was recorded during his lectures, so you are going to get some really high-quality knowledge here. The original scope was for the Glen Ellyn College students, but thanks to the wonders of the internet, thousands of people around the world have found this as a useful tool for their education as photographers.
Honestly, this podcast is basically all you need to understand the History of Photography, and we want to give a special thank to Jeff, for being such a great educator.
The Candid Frame by Ibarionex Perello
The Candid Frame was the first ever podcast I heard, and I really fell for it. Conducted by the charismatic Ibarionex Perello, this show is a blast. Perello is a photographer, writer, and educator with over 25 years of experience in photography.
The special thing about The Candid Frame is the format. All the episodes revolve around insightful interviews with photographers, from top and established photographers, to the best of the emerging talent. This gives all of us not only access to knowing about these photographers but a more intimate perspective about the way they think about photography. He currently lives in the Los Angeles area with his wife and their dog, Zooey.
Such a huge podcast wouldn't be possible if it was only Ibarionex himself. He also works with Martin Taylor who is in charge of the audio engineering of the podcast. At night, he shoots film and frames.
Hit the Streets by Valerié Jardin
Personally speaking, I must say that Valerié Jardin has been a great inspiration for me. I first noticed her while browsing some episodes of This Week in Photo, and suddenly I stumbled into "Street Focus". I followed that podcast religiously until it stopped airing after episode 104. You can still hear them all here.
She stopped conducting that podcast but made her own podcast titled Hit the Streets, and this is without a doubt one of my favourite shows ever. On the previous podcast she talked exclusively about street photography, but after getting her own show, she has the liberty of experimenting a bit, and sometimes it isn't just about street photography but photography in general.
If you haven't heard Valerié yet, well you'll love her. She is a visual storyteller with a great passion for photography. From workshops to books, from the podcast to her webinars, everything she produces is fantastic, including her photos.
The Martin Bailey Photography Podcast
Well, it is true, this is one of the longest running photography podcasts out there. Here Martin Bailey talks about pretty much everything related to photography (and some other goodies as well). You can find all the episodes here, and they are about to hit episode 650 – so much information in one place.
Having such a long podcast must be a huge challenge, and here Martin Bailey shares with us information on gear and software solutions, as well as travel experiences and some really nice ideas around photography itself.
He is a nature and wildlife photographer, so there is plenty of outdoorsy stuff in his episodes. He is one of the very few Capture One Ambassadors, and he is really passionate about sharing his photography knowledge with the world.
Gina Milicia's Podcast
Gina Milicia is one of those photographers that does a lot of things well, from photography to education. So, it wasn't a surprise when we noticed she has a podcast as well. Here you can hear any episode from her archive.
She is quite a celebrity amAussiessie photographers. She has photographed a ton of public and famous figures worldwide, like Daniel Radcliffe, Jon Bon Jovi, Ricky Martin, Princess Mary, Liza Minnelli, Shane Warne, David Wenham and Shaun Micallef. Not everybody can afford to pay her daily tuition fee ($10K per day) but we can always learn from her by hearing her well structured podcast.
PhotoBomb Podcast
Don't let their odd looking website (and media player, especially their media player) distract you, this is quite a nice and quirky photography podcast conducted by Booray Perry and Garu Hughes. They both have long careers as photographers and as it usually happens with passionate photographers, the discipline's scope doesn't end with the photographic workflow per se.
They started in 2015 and they are close to posting their 200th episode, so they have been pretty consistent. Since this is a podcast conducted by two crazy photographers connected via the internet, they tend to get really excited and their episodes are not tiring at all. Check them out, and you won't regret it!
The Negative Positives Podcast
This is a pretty smart name for a photography podcast, it has a fun double meaning and we all know that negatives aren't bad when talking about photography. This is the photography podcast that you needed in your life if you are into film photography. It is Hosted by Mike Gutterman and Andre Domingues.
These two photographers are just like any other passionate photographer with just that little extra time to make their podcast happen. They have a great love for film and analogue techniques, and here you can hear all their episodes so sit back and relax.
Tips From The Top Floor
This is indeed the show about ALL things about photography. Hosted by Chris Marquardt, here you can find anything that you could dream about in photography. At this point, it has surpassed the 850th episodes, and if you are not familiar with Chris, then you should take a look at his books. He is an amazing writer, and I don't understand how he manages to keep his life running. His latest book is just about Wide Angle Photography, and it is huge… it has more than 200 pages and it is all about wide angle. Also, you can get information about his tours, workshops and more.
On Taking Pictures
This one has been a little bit silent, but it is still fascinating. This podcast was (or is, we still don't know) conducted by Bill Wadman, a very well known American portrait photographer. He has been a contributor to Time, BusinessWeek, Improper Bostonian, Poz, and others. His images have been featured worldwide in Le Monde, Der Spiegel, Times of London, USA Today, The New York Times, and Corriere della Sera. Here you can find a lot of information that has to do with photography itself.
PhotoFocus
This is a weekly podcast that covers various crafts and business related topics around photography. They frequently feature industry leaders and experts on their show, so you'll have a great time listening to them. Photo Focus is another larger brand covering a lot of things, but their podcast is pretty neat and friendly.
3. Podcasts About Being a Professional Photographer
10 Frames Per Second
Being a professional photojournalist is getting harder and harder, and many photojournalists need to flirt with other niches in order to make a living. Or did you think that wedding photographers invented the journalist approach by themselves? 10 Frames per second is a podcast about photojournalism, made by photojournalists, but not only for photojournalists. This podcast is intended for everyone interested in this fantastic and difficult profession.
This amazing podcast is possible thanks to various people, first, there is Audrey Gatewood, the person producing the podcast, then J.M. Giordano, who is a photojournalist himself, and of course Elena Volkova a photography educator. Here they explore photojournalism through the eyes of working photojournalists. Aiming to go beyond tech talk, 10FPS focuses on the heart of photojournalism: why and how they do what they do.
The Business of Photography Podcast
What about having access to information entirely about the business of photography? Well, that's exactly what you get with this amazing photography podcast. This once awarded by Apple podcast is a weekly podcast where Bryan Caporicci interviews industry experts and business specialists who share business ideas for professional photographers.
It has been running for quite a while now, and there is tons of information as well as tools, courses and articles which you can find at their website too. We are sure that many business schools may not be very happy at all with this podcast.
Six Figure Photography
This is a podcast conducted by Ben Hartley, an award winning photographer that is willing to share a couple of things about being a successful photographer. Here you'll find plenty of interviews about building a sustainable photography business and more. The name comes from his own adventure into turning his photography business into a six figure business in no time (just 2 years).
PhotoBizXposed
This podcast has a very interesting tool, if you are new to Andrew's interviews, then you can click here and "he" will help you select an interview. This is quite helpful since there are hundreds of interviews here specialising in the business of photography. That's why the name, Photo Biz Exposed, smart huh? The tool requires to fill in your email at the end, so if you don't want to do that, you can also check the special selection of favorite episodes handpicked by Andrew himself.
Being a professional photographer these days is like being a one person army, so it is important that you get around Facebook and Instagram Ads, Google Ads, SEO, pricing, customer service, referrals, third-party marketing, messenger bots to bridal expos, networking and referrals. You can find all of these and more at this podcast that is about to reach its 300th episode.
Imagely Has a Podcast Too
Imagely is a growing digital media company helping photographers to improve their web presence. Obviously, their podcast is pretty much intended for a very specific niche, Professional Photographers trying to make their online presence bigger and more efficient.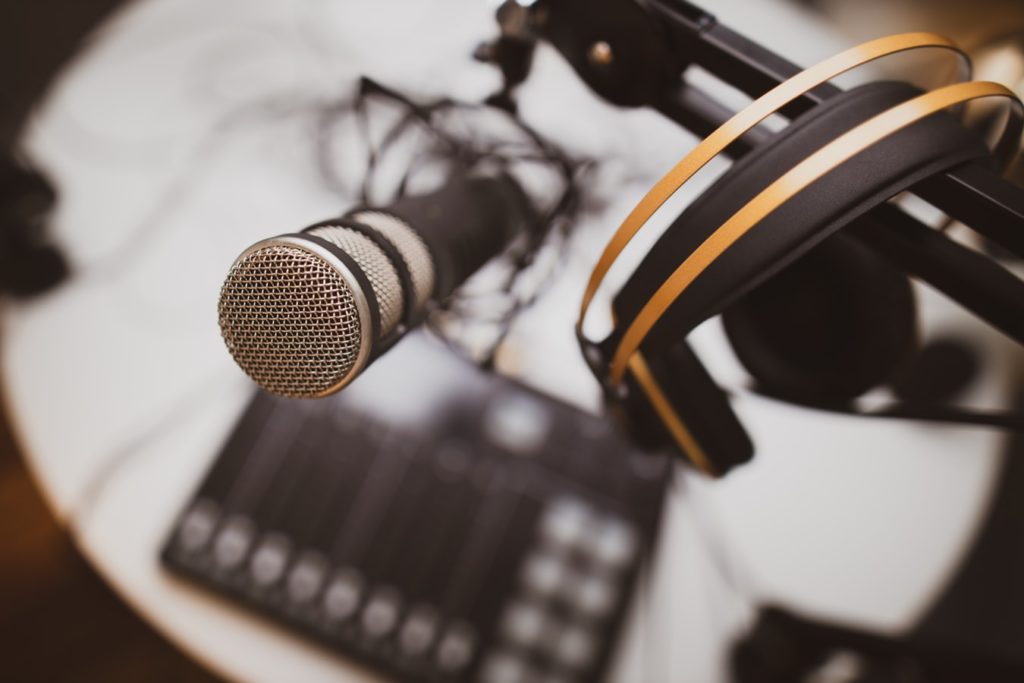 4. Non Photography Podcasts That Are Still Pretty Helpful
It is always useful to mix photography podcasts with non-photography podcasts in order to get a broader perspective. Here are some of our favorite non-photography podcasts that will help you as a photographer.
The Tim Ferriss Show
This guy is a genius, on each episode, you'll have access to the minds of industry leaders and public figures. Here he deconstructs world-class performers from various backgrounds (investing, sports, business, art, etc.) to extract the tactics you can use. He finds out about their favourite books, morning routines, exercise habits, time-management tricks etc.
This guy has been listed as one of Fast Company's "Most Innovative Business People" and one of Fortune's "40 under 40".
The Artsy Podcast
Artsy is a huge platform with the mission of expanding art to the world. Here you can find a lot of great things in their huge database, and as many great places, they have a podcast as well. Here you'll find art related things (some of them cover photography of course), and here they will take you behind the scenes of the art world, talking about everything from art history to the latest market news.
So that's it – the best podcasts from around the web. Do you have any favorite podcast? Please share them with us in the comments or in the forums, wherever you find it better for you!
Podcasts are a beautiful source of knowledge that our parents could only dreamed of, or not even that… We should embrace them and share them with the world too.