Thousands of birders and bird photographers flock to Magee Marsh during May. It's the Warbler Capital of the World. Warblers are sometimes referred to as the 'beautiful little butterflies' of birds. They delight with their vivid colors and lively attitudes. For photographers, Magee Marsh provides some of the most up-close views in North America of multiple species of warblers and migratory birds within a short time.
Chestnut Sided Warbler –
©Sheen's Nature Photography
Settings used: f/8, 300mm, 1/320 sec, ISO 250
This birding migration hotspot mecca is located on Lake Erie near Oak Harbor, Ohio. It is along the migratory flyway for warblers and other birds. Warblers trek thousands of miles from other southern countries to their nesting spots. For humans, it's about a sixty mile drive southeast from Detroit's Metro Airport.
During the annual Biggest Week in American Birding celebration, the who's who of the birding and bird photography worlds can be seen. Kenn Kaufman, author of Kaufman Field Guides, has contributed greatly to the birding world. Kenn and his wife Kimberley are actively involved in the weeks festivities. Saving Birds thru Habitat, is an organization committed to improving habitat for migrating birds one backyard at a time. They sponsored a birding and habitat education field trip for 24 students from an inner city Detroit School.
The featured stars at Magee Marsh are the numerous warblers and other migratory birds stopping to rest in this little haven.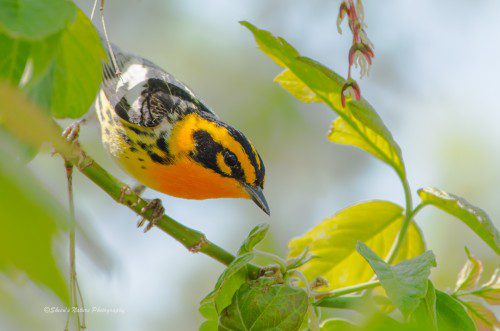 Blackburnian Warbler at Magee Marsh –
©Sheen's Nature Photography
Settings used: ISO 250, f/7.1, 380mm, 1/250 sec. Sigma 150-500mm lens.
Best Bird Photography Locations Within Magee Marsh
Visitor Center – This is the recommended first stop. A white board is posted by the entrance listing the birds seen within the last 24 hours. Barn swallows nest above the doorway. They swiftly swoop within inches of birders only to rest within arms reach on railings. Inside, friendly guides share information about the day's birding hotspots.
Parking Lot Area of the Magee Marsh Boardwalk (aka "Tripod Central") – Photographers and birders with long lenses and scopes hover at the woods edge. There's not a lot of talking going on. Eyes are pressed against viewer finders and scopes while snapping images and keeping up with the warblers as they dart about. It's common to see five to ten warblers and other bird species within a few minutes, while standing in one location. Woodcocks nest on the ground (area is taped off) and an eagle with her eaglets was easily seen this year…from the parking lot. Seriously!
Magee Marsh Boardwalk Trail – The main entrance to the boardwalk trail is at the north end of the parking lot. Along the trail, birders are quick to let others know when a bird has been spotted. The trail is lined with deciduous trees, wetlands and small ponds. Bird species easily viewed include but are not limited to warblers, thrushes, swallows, orioles, vireos, and owls. The list is quite long!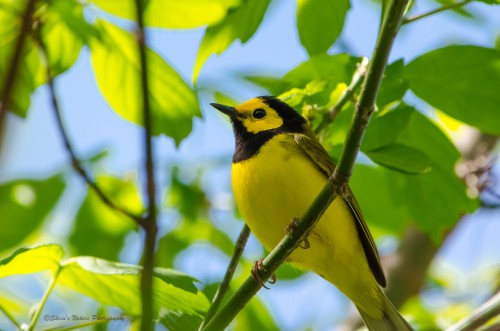 Hooded Warbler at Magee Marsh –
©Sheen's Nature Photography
Settings used: ISO 640, f/8, 300mm, 1/1250 sec. Nikon 70-300mm lens
Nature Trails – There are multiple dirt and grass trails within Magee Marsh to choose from. Inquiring at the visitor center is suggested to maximize photography opportunities.
Visitor Center Trail – Before leaving the area, a quick walk along this trail offers purple martin houses, a tended butterfly garden and a few ponds.
Other Considerations
Recommended Gear for Photographing Warblers – When standing along the woods in the parking lot, a tripod with a long lens is suggested. It's easy to spend an extended amount of time here due to the easy, up close accessibility to warblers and other birds. On the boardwalk trail, a 300mm range lens will suffice. A speed light with a better beamer is a helpful tool in the arsenal on cloudy, low lit days.
Weather at Magee Marsh During May – Temperatures in May average 50 degrees fahrenheit, 10 degrees celcius. Most visits to Magee Marsh have been in pleasant conditions with mostly sun, temperatures in the 50 – 60 degree range. However, in the Midwest springtime, research in advance in order to be prepared for wind, rain and chilly conditions.
Where to stay – Oak Harbor, Ohio maintains a population of 2800 people. There are a few accommodations here. Other nearby areas include Toledo, OH (30 miles west of Magee Marsh) and Port Clinton, OH which is about 20 miles east of Magee Marsh.
In the parking lot, it's not unusual to see specialty license plates on cars from the United States and Canada. Examples from this past week included letters of "VIREO", "WARBLER", "GR8BRDR", "CAMRA1" just to name of few. If a trip to the midwest is planned in the May time frame, or you are considering flocking to the Biggest Week in American Birding, it's definitely worth the visit. The warblers are waiting!