"Master the art of black-and-white photography with darkroom inspired controls" is the tagline of Silver Efex Pro, which is a part of Google's Nik Collection. It is a fast, efficient plug-in offering many black-and-white creative dimensions.
Silver Efex Pro includes thirty eight different presets that are simply just fun and easy to use. Each preset can be quickly edited to the photographers' whim. We'll take a look at 2 images with multiple presets applied. The first image is a simple city clock. The second image is a beach landscape scene taken under a pier. Both images will include:
Original image processed in Lightroom 5
Examples of the foundation image with Silver Efex Pro Presets applied
Example of a preset that has been further enhanced
Original "Clock" Image Processed in Lightroom 5
The original Clock color image was processed in Lightroom 5. Noise reduction, sharpening, exposure, clarity and minor hue, saturation and luminance adjustments were made to the RAW file. It's a nice clean image, and one might even add, a little plain.

Original Clock Image Processed In Lightroom –Sheen's Nature Photography
Silver Efex Pro Applied to the Original Clock Image
For a little drama, the foundation image was edited in Silver Efex Pro using the "Full Spectrum" preset.

Full Spectrum Silver Efex Pro Preset
Since the vintage clock was in a town that was established in the 1800's, Antique Plate II was selected. This preset, like all of the other presets, can easily be modified to add personal preference enhancements.
The last preset is one that is more understated. The Full Dynamic Smooth preset has a soft, lighter feel. Clarity in the darker tones is more defined.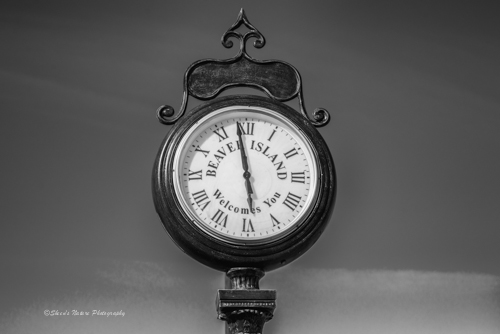 Full Dynamic Smooth Silver Efex Pro Preset
Full Spectrum Inverse Silver Efex Pro Preset with Additional Edits 5
The last clock image uses a preset with modifications using control points. Brightness, structure and contrast edits were applied to the Full Spectrum Inverse preset. Editing took about 45 seconds.
Original Pier Image Processed in Lightroom 5
A cold windy morning in Nags Head, North Carolina forced images to be taken under the pier. The sunrise hues were muted and melted into the Atlantic Ocean. This RAW image was processed using standard edits of spot removal, digital noise, minor sharpening, slight color adjustments and exposure to the right.
Original Pier Image using Silver Efex Presets
The theme of keeping is simple and uncomplicated is effectively illustrated using the Fine Art Process preset.
The preset of Full Dynamic Range Harsh reflected the raw, unyielding low currents and aged wood of the pier beams.
For a feeling of 'time gone by' as many piers have stood the test of time, Antique Plate is good selection.
Pier Image using Silver Efex Presets with Additional Edits
The Wet Rocks preset is a go-to favorite. It combines mood, a bit of shimmer and character into many types of images: landscape, portraits, wildlife. The image below was modified to take out the appearance of digital grain. While grain works well in many images, for the pier image more softness was desired.
How Silver Efex Pro Module Works
When importing an image into Silver Efex Pro, the original file stays in tact. In Lightroom as an example, it makes a copy with the extension .tif. The .tif file is brought in to Silver Efex Pro then modified by the user. After selections and adjustments have been applied in Silver Efex Pro, they are saved and then exported back into Lightroom. Clean and simple.
More Helpful Information on Silver Efex Pro
Ken Kaminesky's review of Silver Efex Pro highlights the intuitive flexibility, ease of use, diversity and capabilities this plug-in offers. Nik Collection's website lists version compatibility with Adobe Photoshop, Adobe Photoshop Elements, Adobe Photoshop Lightroom and Apple Aperture.
If you need a little inspiration or want to try something new, taking this module for a spin is definitely worth a few minutes.