Light up that charcoal-filled grill, flip and sizzle some hamburgers, whip out a box of sparklers and go to your local firework display because it's almost U.S. Independence Day. One of the biggest photographic challenges on July 4th is capturing those extravagant, sky-high visual productions starring as summer's great fireworks celebrations. To successfully photograph such nighttime displays, you should carefully observe these tips:
Photo by Chase Guttman
1. The early bird gets the photo. As with any event, it's advantageous to arrive early and scout out your location. Firework displays are generally short lived, so a key component is setting up and making preparations before the show even begins. Otherwise, you may end up frantically adjusting your focus in the pitch dark during the grand finale. In scouting, be a keen observer, look for elements that may serve as picturesque backgrounds and effective foregrounds. Think about how you would incorporate these and capture them in the best way possible.
2. Location, Location, Location. In determining the optimal location for photographing a fireworks display, you must first research where the pyrotechnics will be launching. Search for perspectives that provide unobstructed views of the display and that also allow for flexibility with lens choice. Ascertain which locations have the best foregrounds and backgrounds that can help you craft a visual story. Foregrounds can be as obvious as a harbor or skyline or as subtle as a silhouette or a tree. By including foregrounds in your images, you are adding context and giving greater meaning to your photographs.
Remember that backgrounds also play a key role, as they can make or break an image. Arriving early allows you to stake out different vantage points so you can identify the perfect perspective for your photographic purposes. Don't just follow the crowds—by taking the time to find your own unique angle, you can have stand out images.
Photo by Chase Guttman
3. It's all in the camera. Fireworks tend to produce odd lighting conditions that need to be approached, from a photographic standpoint, in an intelligent manner. In terms of camera settings, it's ideal that you work in manual mode, using a low ISO and an aperture in the high to middle range. Remember that when your aperture is smaller, you will be able to capture greater color in the firework trails in your images. In addition, your flash should be kept off. Before it turns excessively dark, manually focus your lens on the skies, by setting it to infinity (∞).
Shutter speed, on the other hand, is trickier business, as you need to take a less formulaic approach. I recommend that you shoot in "bulb" mode, as it allows you to perfectly time your exposures based on quickly changing conditions. The secret is to initiate the exposure right before the fireworks' burst and end it after one or several of the bursts have faded. But be cautious of opening your shutter for long periods of time, because it takes very little to overexpose those bright bursts of color. All told, these exposures should only be a few seconds (0.5-6 seconds). Alternatively, if your camera doesn't have a bulb setting, you must manually set your shutter speed and see which speed produces the best results. A good starting point would be 1-second exposures.
4. Steady does it. Tripods are an essential component to your photographic toolkit, especially when it comes to nighttime photography. In order to create crisp and sharp images in low lighting conditions, you need to be able to stabilize your camera and reduce shake. When it comes to firework photography, utilizing the capabilities of a tripod is a must (otherwise, you will be forced to improvise by bracing yourself on a wall, rock or a tree). Moreover, using remote shutter releases will also help you to create tack sharp images as they reduce the shake created when you press the shutter button. This becomes particularly important when you're shooting in bulb mode, because otherwise you will be holding down the shutter button on the camera during the duration of your exposure.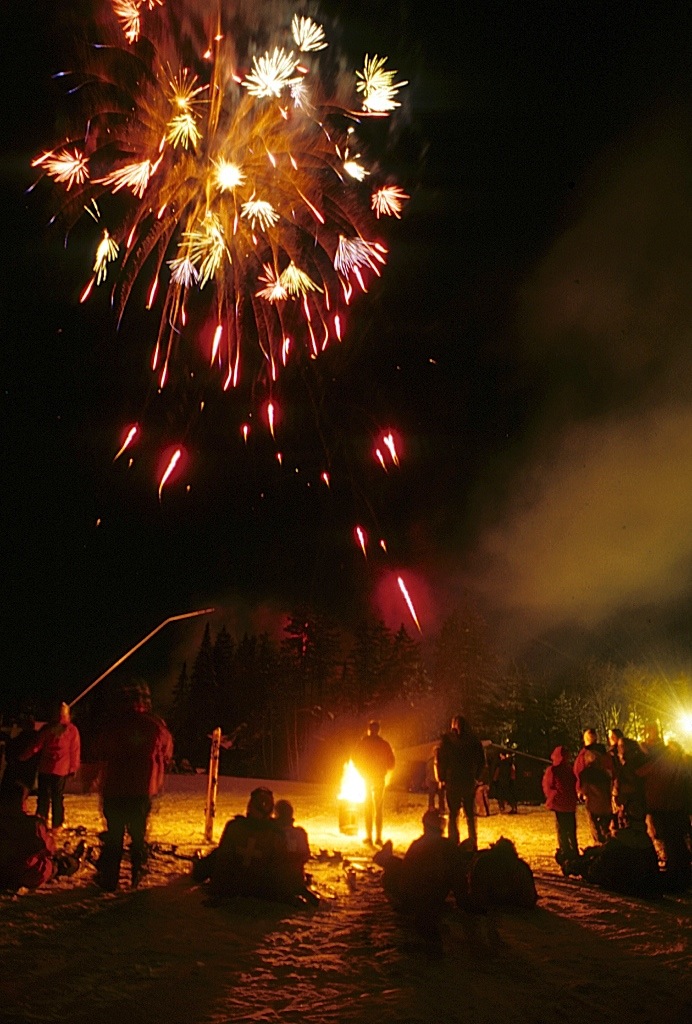 Photo by Chase Guttman
5. A good frame of mind. Think about this: millions of people see July 4th firework shows every year. As a result, creating stand out images is a struggle that often boils down to the photographer's composition. One major consideration when it comes to composition is focal point. The focal point you shoot at is dependent on your distance from the display and how much you wish to include in your frame. When you're close to the display, shooting with wide-angle lenses is often best, as you are able to capture more than just merely the fireworks, which gives greater context to your images. For these types of images, the key is to include complementary foregrounds that help tell a visual story.
On the other hand, telephoto lenses are a must when you're far away from the fireworks. Depending on the lens that you use, you may be able to get "intimate" with the fireworks and capture the minute details that these streaks of color can create. Nonetheless, don't be afraid to vary focal length and see what works best for you. Another consideration is whether to shoot vertically or horizontally. Generally speaking, images shot vertically will have a better chance of capturing the fireworks than photographs shot horizontally.
Horizontal shooting is better when fireworks are being launched from multiple locations and you're far enough away to capture them. For beginner photographers, I suggest that you start out by photographing vertically. Finally, be sure to watch your horizons to make certain that your images aren't crooked.
Photographing fireworks may seem like a challenge in the beginning but by following these tips, you're on your way to explosive, colorful shots. For even more tips on this, check out our article on how to photograph fireworks.
Chase Guttman was named Young Travel Photographer of the Year 2010, a Grand Prize Winner in a National Geographic Photography Competition, his work was exhibited at London's prestigious Royal Geographical Society and he was selected a Top Ten Travel Photographer by the NYIP. "Like" him on Facebook, "follow" him on Twitter, "circle" him on Google+ and subscribe to his blog for a photo of the day.