It's taken me a few months to get over not being in Hawaii, but having spent that time in in the Shenandoah Valley, I'm coming around to truly appreciate the beauty that is found around every corner in this part of the United States. I can't personally say whether the famous tourism slogan, Virginia is for lovers, holds true, but I can say with great confidence that this place sure does strike a chord with photographers. And with it's Blue Ridge Mountain dappled skyline and sprawling valley landscapes, there's no need to wonder why.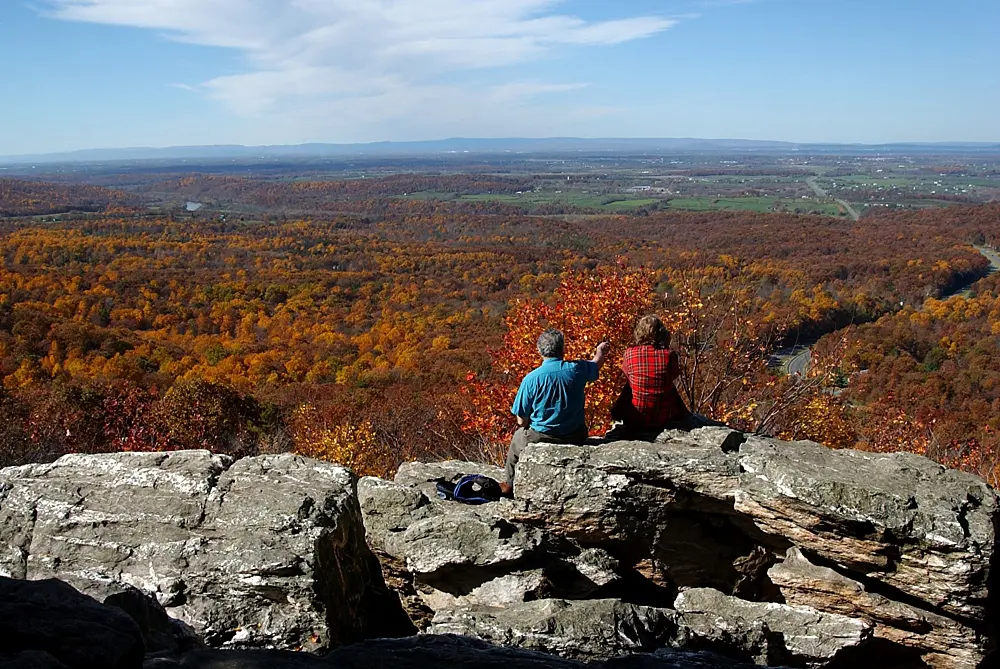 The Shenandoah Valley in the fall as seen from Bear's Den – Image by By Karen Nutini (Own work) [CC BY-SA 3.0 (https://creativecommons.org/licenses/by-sa/3.0)
One of the easiest ways to explore the Shenandoah Valley is via Skyline Drive, a 105-mile long roadway that runs along the Blue Ridge Mountains. Skyline Drive is a public access road which is meticulously maintained by the National Parks Service. The winding road brings you past 75 overlooks with some facing east and others facing west, ideal for photographing sunrise and sunset. Some of the overlooks offer views of distant valley towns, while others are backdropped by mountains. All are photo worthy–an ambitious photographer wouldn't be wasting time by creating a series of images out of them.
Shenandoah Valley – Image By William Thompson Russell Smith (Johnson Collection, Spartanburg, South Carolina) [Public domain], via Wikimedia Commons from Wikimedia Commons
Stretch Your Legs, Build Your Network
Along the drive you will also find entry points to over 500 miles of hiking trails. The trails are well mapped and easily navigable. There are trails for all skill and/or fitness levels ranging from casual hiker to serious rock climbers. There are plenty of photo opportunities without ever getting out of your car, but, by all means, get out, hike, explore! You'll be happy you did. I've met many great photographers on the trail, most of whom are happy to pause and share stories, tips, and good shooting locations. Who would have guessed there are so many networking opportunities in the wilderness?
View southeast across the North Fork Shenandoah River Valley towards Massanutten Mountain – Image By Famartin (Own work) [CC BY-SA 4.0 , via Wikimedia Commons from Wikimedia Commons
Packing Your Gear Bag
I've been partaking in an ongoing self assignment in which I only shoot using my 35mm prime lens. It's been great for the landscape shots, but initially seemed less than ideal for shooting wildlife. One of the main photographic attractions to Shenandoah is the wildlife. Wildlife that you typically want to keep your distance from–you know, like bears. That's when I started realizing my wide angle lens habit might be a problem. Using some creative cropping in post, I managed to get some useable images of the black bears, but could certainly see the benefit of using a longer lens. Next time I will pack both a wide angle and at least a 200mm zoom for added versatility.
The landscape enthusiasts will want to pack a tripod with a smooth moving head to capture those panoramas at their full potential. I usually just bring along a sturdy, but lightweight monopod which offers me some stability and also allows me a little more freedom of movement (not to mention portability when hiking through a particularly grueling pass.) Throw a neutral density filter into the bag along with a polarizing filter and you should have more than enough tools to get you some great shots. You don't need tons of expensive gear to make a great photo, but a few staples in the kit will go a long way!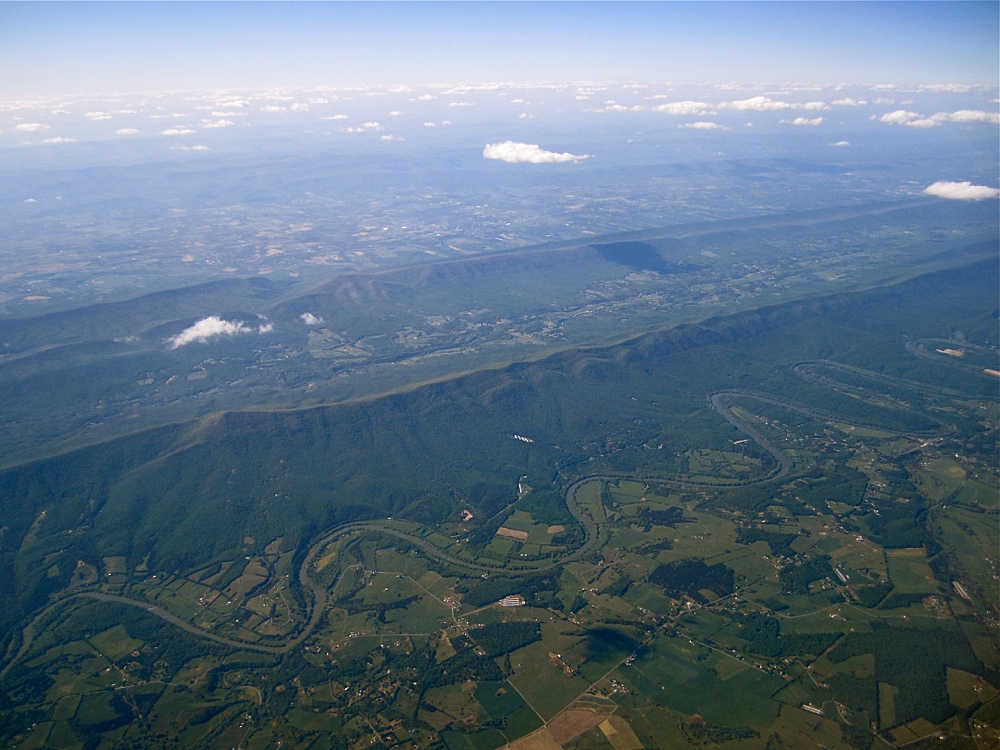 Shenandoah River and Fort Valley, aerial – By La Citta Vita (Shenandoah River, aerial) [CC BY-SA 2.0 , via Wikimedia Commons from Wikimedia Commons
The best advice to finding good subject matter in the Shenandoah Valley is to keep your eyes peeled. You'll be amazed at how many bears you will see right along the roadside ready to be photographed. They are easy to miss if you aren't looking. Aside from keeping an eye out for animals, also keep your eyes on the light. The forest canopy casts plenty of interesting light patterns onto the forest floor for you to use in your photographs, take advantage of the natural filter!
All of the images you see in this post were taken in the Shenandoah National Forest (with a 35mm lens) from some point along Skyline Drive–it really does make location scouting nearly effortless. That being said, be sure to take time exploring the small towns that surround the drive, there a many gems to be found regardless of what the season is. History runs deep Shenandoah and the efforts the Parks Service and locals have made to preserve it are well worth capturing.