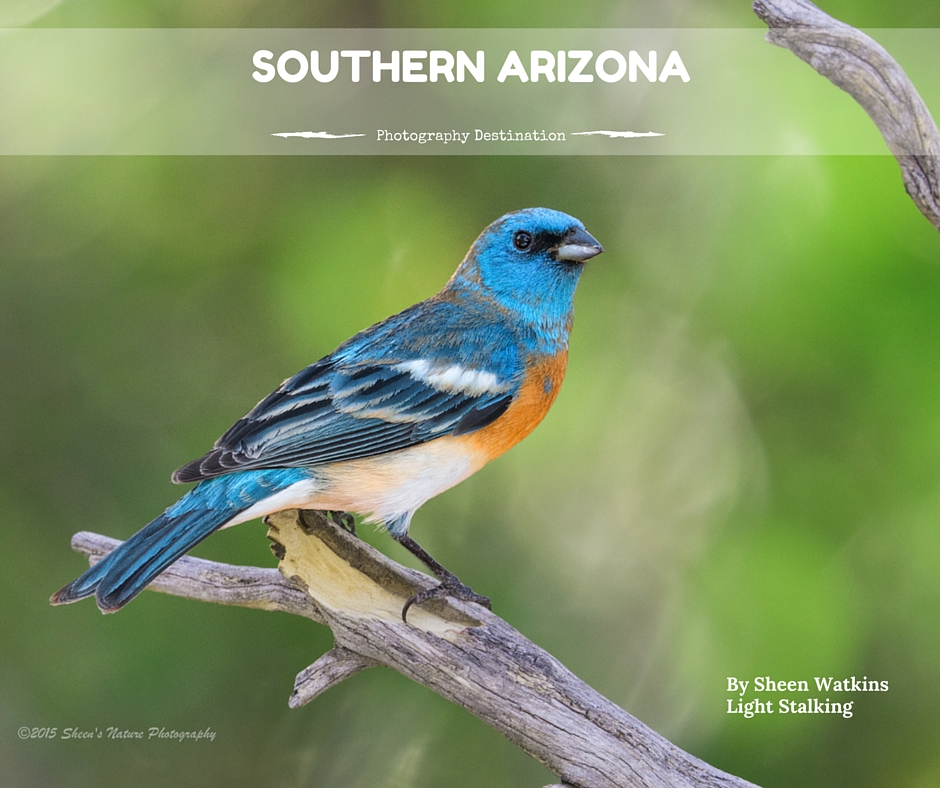 When the state of Arizona pops up in conversation, most people think of the Grand Canyon, Sedona, the Slot Canyons as photography destinations. For bird and wildlife photographers, there are areas where the many different species of hummingbirds, songbirds, owls plus other wildlife, flock to in abundance.
The accessibility to prime spots is also easy. At times, the challenge can be "which bird to focus on". Plus, there are other unique photography opportunities outside of birds – landscape, macro, street and remains from the old west too.
Sound tempting?
We spent the last week in the Tucson and Sierra Vista, Arizona areas. I'll highlight several hotspots in 1) Tucson and 2) Sierra Vista that you can easily access and fill several days with photography opportunities.
Tucson, Arizona
Tucson is a vibrant community surrounded by raw, diverse natural areas including desert and mountain ranges. The Arizona Sonora Desert Museum is a living botanical garden that includes a local natural habitat zoo, natural history museum, aquarium and art gallery. There are animals in captivity, as the Mexican Wolf below and there are many species of wildlife that have also made this natural habitat area their 'home'.
The Mexican Wolf pair roamed their domain, taking turns watching people. The image below was taken when one of the pair decided to take a quick break.
Just north of Tuscon, the Oro Valley and Catalina Mountains offer additional areas for exploration. Within 2 blocks of our hotel in the Oro Valley, we located Phainopeplas, Verdins, Grosbeaks and hummingbirds. Within 3 miles, we were hiking in the Catalina Mountains amidst more birds, cacti and amazing sunsets.
The shiny, jet black Phainopepla with his bright red eyes is a common sight near the Tucson area.
If exploration of street and local history is of photographic interest, the Barrio District in downtown Tucson includes a few city blocks of colorful, historic homes and buildings erected during the 'wild, wild, west" and are still lived in today. Colorful, quaint and unique.
The Saguaro National Park is comprised of many acres and elevation ranges. Desert scrub, desert grassland, woodlands, pine forest and mixed conifer forest can be seen at varying ranges from an elevation of 2000 ft to over 8500 ft. With 6 biotic communities, the diversity birds, wildlife and habitat will feed the internal explorer.
If you're stuck for ideas in Wildlife Photography THIS GUIDE by Kent DuFault, is designed to get you thinking leterally about your photography. The creativity catalogue will help you take your ideas and supercharge them.
Sierra Vista, Arizona
Sierra Vista is also known as the Hummingbird capital of the United States. The reason? Over 17 species of hummingbirds have been documented in the area. In addition, there are many other types of birds and wildlife recorded and found in the area. There are several Bed and Breakfasts that cater to birds and bird lovers by providing a bevy of hummingbird feeders and bird feeders along with several chairs for sitting, viewing and photographing.
Note: these gracious hosts love their birds, bird watchers and photographers. They spend hundreds of dollars at a minimum each year on sugar and politely ask for a nominal tip for visiting their establishment so they can continue providing nectar to our feathered friends.
To see the adorable Elf Owl, Battiste's Bed and Birds owners Tony (a photographer) and Julie have had these owls nesting on their property for many years. Contact them in advance if you want to schedule time photograph the owl or if you also want to stay at their delightful B&B. Tony also shared other area locations where specific bird species could be found.
Other area birding B&B's included Ash Canyon B&B and Ramsey Canyon Inn. Ash Canyon B&B had rich diversity of birds including woodpeckers, orioles, Mexican Jay's, hummingbirds (including Lucifer's) to name a few. The Lazuli Bunting was a thrill to photograph as it was also my first time to see the bird and add it to my life list.
Ramsey Canyon Inn is next to the Nature Conservancy's Ramsey Canyon Preserve. Trails range from easy to moderate. Parking is tight at the Preserve so get there early!
It's not unusual for folks to fly in from all over the world to see the 'rare' bird that just arrived. Check eBird's Rare Bird Alert to pinpoint the location and date of a species last sighting.
Accessing the Yellow-Eyed Junco was easy but not for the faint of heart. A six mile drive up steep switchbacks with no guardrails led to Carr Canyon where these bright-eyed junco's could be found. The drive, while tedious, was worth it.
Travel Tips:
When traveling to Tucson my recommendation is to fly into Phoenix, AZ and driving down. Most major airlines fly directly into Phoenix, there's not always a direct flight to Tucson which is only 80 miles or so away.
When changing time zones, try to take a ten to fifteen minute walk before completely settling into your hotel or taking in a meal. The time outdoors will help your internal clock adjust to the time zone difference. Plus, you may discover a great area to photograph.
Always drink a lot of water when traveling by air – before, during and after the flight. This is particularly important when traveling to dry climates. Our eyes can get dehydrated quickly, we need them refreshed and ready to go for our photo shoots.
Have a soft hat that can be packed easily to protect your scalp, face, ears and neck from sunburn.
Save your plastic bags from grocery shopping and use in your suitcase to store your tripod, dirty clothes, shoes and store liquids (in the event they spill, it will be contained).
Further Resources
One last suggestion – before leaving, be sure that in addition to taking photographs of landscapes, birds, flowers, etc, that you get a photo of you and your travel companions.
And if you're traveling solo? Get someone to take one of you in action – you can share it with your family and friends when you get home.