Photography can get to be an expensive hobby pretty quickly. The software, the lenses, the bag you just had to have… not to mention the actual CAMERA. So why not take advantage of the free photography resources available to you? Below are a few places to make your budget happy – websites that offer absolutely free photography goodies!
Most of the resources below are completely free. The rest offer quite a few freebies if you know where to look.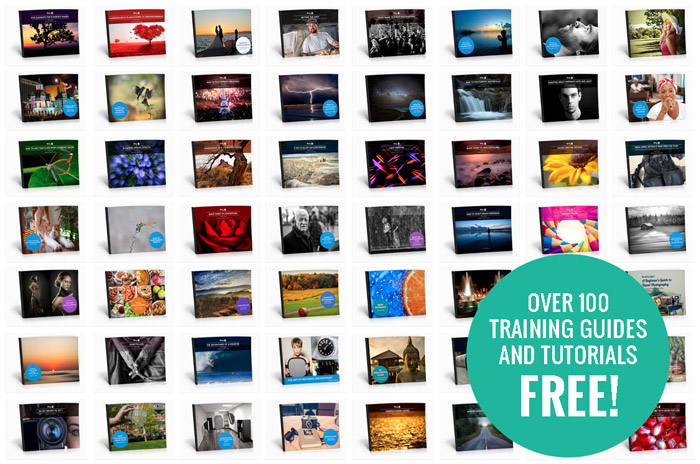 1. Photzy – Yep, we have searched far and wide, but the truth is we just haven't found too many places that offer the sheer number of photography freebies that our sister-site does. Everything from photography ebooks to videos, presets and textures – you're going to love it.
2. Brusheezy – is a great resource if you are a Photoshop user. Don't be turned away because of the downloads marked "premium." Those require a membership and are not free. The site has lots of other Photoshop textures, brushes, actions and patterns for free. These are great for creating a certain effect that you've been trying to achieve, but haven't quite figured out on your own yet. This is also a fun site to just explore and get inspired for your next project.
3. Freephotocourse.com – offers just what its name implies. Explore the free tips for beginners to more advanced photographers. You can search through dozens of articles from the 'photo composition' series to how to successfully sell your photos online. The articles are easy to read and helpful.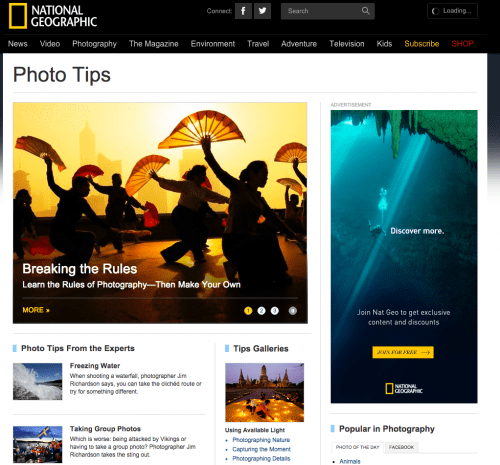 4. National Geographic – Any photographer can appreciate the expertise in the photos found in National Geographic magazine. You can find free tips from its photographers on things like posing, color and how to take the perfect photo of the landscape around you. There are several videos and articles that pick the minds of these expert photographers.
5. Kelbyone's Youtube Channel – The training provided by Scott Kelby and team are far from free. You can find some videos – featuring the same people! – on Kelbyone's YouTube channel. You can get a great deal more training and access on Kelbyone.com, but if you don't want to pay $19.99/month, or just want to check them out first, this is a cheaper way to still get at least some training. The Photography Tips & Tricks and The Lightroom Show playlists are full of tips from one of the most popular photo training teams online, but for FREE.
6. YouTube, of course, is full of other photography tutorials. Other channels that are worth checking out include The Art of Photography and LearnMyShot. Don't just stop there though – YouTube is one of the best places to find photography tutorials for free.
7. Brushlovers.com – has great brushers, layer styles, gradient styles, patterns and vector images you can download for free. The vectors, which include fun illustrations or frames to add to photos, are all free which seems to be really hard to find now a days. Most just want credit added somewhere to your project. The site has a lot of unique brushes and layer styles that will definitely make your next project stand out.
8. Adobe – is not exactly known for offering anything free or cheap, but the 'Learn & Support' section on its website is full of free tutorials. Just choose which program you have, or want to learn about, and voila! There are usually a few beginner videos and articles as well as featured techniques available. Sometimes, 'hands-on' projects are available for programs. These projects will include a video or article and a downloadable package with all of the materials used in the tutorial. It's easier to learn a new skill when you can follow along step-by-step with the same exact photo.
It's also worth mentioning too that Adobe offers free trials for Photoshop Elements, Photoshop and Lightroom. Try it out free before you buy a new program.
9. iheartfaces – This site offers free tutorials on DSLR cameras, Elements, Lightroom, Photoshop and other photography tips from professional photographers. Different tutorials are added every day. I've referred to the posing tips section several times. This is a great site to get some extra inspiration.
10. GreaterThanGatsby.com, has free Photoshop actions just for liking their Facebook page and subscribing to their blog (be sure to click on 'free' since not everything is free on this blog).
These are only a few of the free resources available to Photographers online. There are too many to cover in one post. Start with these great resources and branch out from there. You're sure to find something free to use on your next shoot or project.