Come On In, Grab A Seat And Enjoy….
These Photography Links Aren't Just Smokin', They're Absolutely Awesome!
Another terrific week in the world of photography has passed us by, and here we find Toad Hollow Photography searching everywhere online looking for links to tutorials, special features and great photography to share with photography enthusiasts interested in many different genres.
Now we're talking!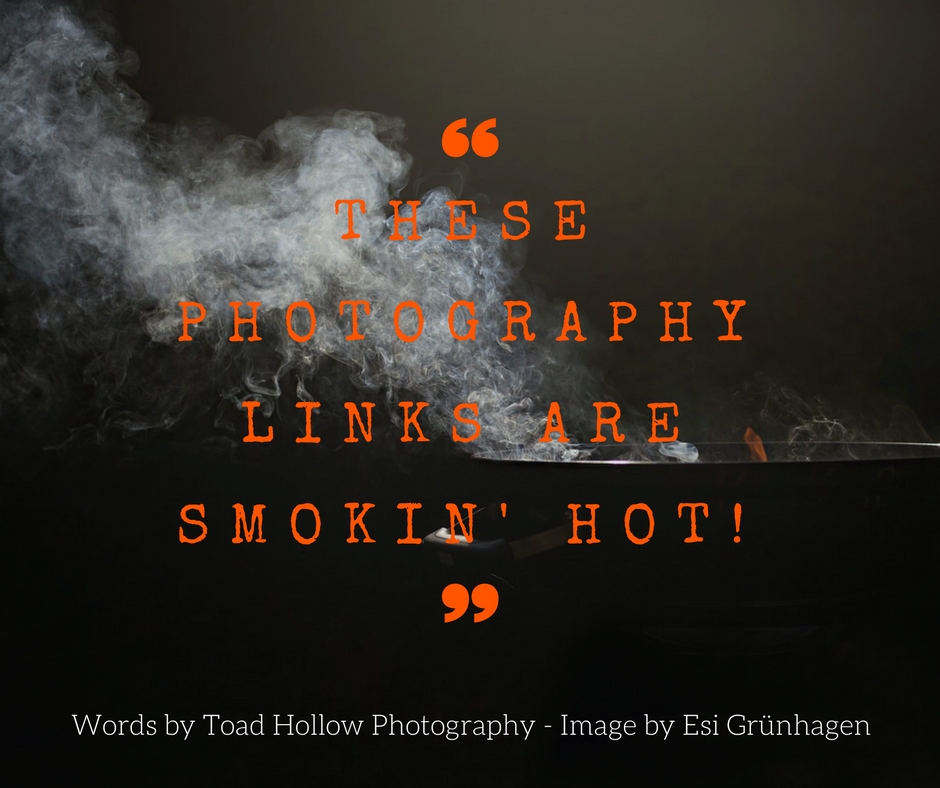 This week's comprehensive list features a wide assortment of posts and pictures from artists and writers currently working in the field today and is a great cross-section of all the latest techniques and images they produce.
We really hope you enjoy checking out this weeks list as much as the Toad did himself in bringing it to you.
PHOTOGRAPHY TUTORIALS
4 Great Insider Tips For Using Artificial Lighting In Photography – progressing into artificial lighting is a natural step many take when shooting portraits, and there is a lifetime of learning to be had just in this one concept alone. This great primer here on Light Stalking takes you through all the basic steps one-by-one as you introduce more artificial lights, and you apply them to the work you create.
Video showing the power of High-Speed Sync in a bright environment – being able to shoot with a wide aperture is key to create great portraits where the backdrop is blurred out with great bokeh to ensure the subject pops out of the frame. This video presentation shows us the power of high-speed sync using strobes by showing pictures that use this feature versus ones that do not.
Less is More: Retouching Tips – this tutorial takes us through a series of steps that can be applied when shooting a model in the great outdoors as we go into the digital darkroom and see some post-production in action. Sample shots are accompanied here by computer screenshots, showing you each step of the process and the results you can expect.
Sunrise and Sunset Photography – Shooting into the Sun – shooting into the sun can be a very challenging proposition, with many artifacts and undesirable characteristics emerging in many cases. This brief tutorial covers several key points to consider, and how to deal with them, when shooting into the sun, giving you some techniques and procedures you can apply on your own to create great shots.
Faces: Telling a Story Through Portrait Lighting – an extensive set of photographs is shared in this post that discusses a photography project involving capturing great portraits of people. The entire process is discussed in detail, giving you a bit of a behind-the-scenes idea of how a series like this can be accomplished over time, with consistent results.
SPECIAL FEATURES IN PHOTOGRAPHY
Supermodel Captures Her Intense Wingsuit Flight Over an Active Volcano – here is a minute and a half of video that most rational people would never undertake to capture in this lifetime, as shot by supermodel Roberta Mancino who dares fate to bring back this footage. You have never seen a volcano from this perspective before, guaranteed, and this presentation is sure to leave you wanting more.
Hitler's Hospital: Exploring the Huge Abandoned Beelitz Hospital Complex – the sprawling spaces and grand architecture of what once was Hitler's hospital forms the subject for this terrific urbex themed photography exploration. These empty spaces were used up until the mid 1990's, and today they left forgotten and abandoned as time continues it's relentless work with natural decay to return the elements to the earth they came from.
Dom Crossley
Prepare, shoot and develop wet plate collodion through the eyes of the photographer – if you love the craft behind photography, you are surely interested in techniques that were used in the early days that helped make photography what it is today. This presentation takes us through the entire process of wet plate photography from beginning to end in a compressed video format, making for an ultimately interesting piece for photography enthusiasts.
Anecdotes: Bacardi Rum Shoot – one of my favorite commercial photographs with a career spanning over many, many years often writes posts that share behind-the-scenes tidbits and thoughts regarding shoots he has done over the years. This post features a delightful story that occurred during a corporate shoot for Bacardi Rum, sharing a perspective of what it means to be a pro shooter in this wonderful world.
MORE GREAT PHOTOGRAPHY
Opera Inferno – this gorgeous shot of the world-famous Sydney Opera House comes to us from photographer Timothy Poulton. The dramatic architecture of the facility is explored in this shot with great detail, as a fire-colored sky lingers far overhead to add a perfect feel to this amazing image.
morning glow – Frank King's abstract piece focuses on a section of a contemporary building that finds incredible natural light glinting off of it's multi-faceted facade. The leading lines created by the edges of the building work flawlessly with this composition to gently guide the viewer into the frame itself.
Spirit Island – jagged mountains with caps of snow seem to reach forever towards the sky in this stunning landscape piece by Sarah Lyndsay. Spirit Island is a must-see landmark in the park, and in this shot Sarah brings out all the majestic beauty of this tiny little island in the middle of a glacier fed lake.
SamAlive – this shot features an alternative perspective and style from the picture shared above here, both featuring the incredible Spirit Island that sits in the heart of the Canadian Rockies. This shot exhibits a brighter outlook of the landscape from a different vantage, revealing a wholly different look of the same magical spot.
La Philharmonie de Paris – the Paris Philharmonic building is explored in this black-and-white set, creating a series of abstracts that are found in it's various angles and lines. Mathias Lucas has a real knack for composition, and this collection shows off his skills by taking advantage of the dramatic features found in this world-famous building.
Summer Journey – the inherent romance of steam trains is something unique to this genre of travel, and when captured well in a photograph can really create a compelling image. Alexander Riek does a terrific job of this as we enjoy the terrific details of a steam locomotive travelling straight towards the camera as it moves through a lush green landscape.
Morning Snack – warm tones greet the viewer in this gorgeous photograph from Len Saltiel. Len captures a scene with a red and weathered barn in it, with a horse snacking away in the foreground to add the perfect anchor into the picture.
la la laaaaa… – let's all join Mark Bridger here as he shares a terrific portrait of a stag in its natural habitat, with it's neck craned upward as it bellows a cry. Wonderful details in the shot showcase the rich spirit and character these amazing creatures have, as the shallow depth-of-focus Mark used in this shot helps to isolate it from its backdrop.
Matterhorn Gold – Andy Hooker (LensScaper) shares a terrific high vantage shot that overlooks a rather strange sight in the context of where it is located; that is we are looking at a golf course situated where many would call the top of the world itself. Shadows play with the green grasses from this perspective, adding a sense of depth and texture to the scene.
Bald Eagle – while its feathers may be damp from playing in the shallow waters on the shore, its spirit remains wild and free in this epic photograph of a mature bald eagle by Milan Zygmunt. The incredible details in the bird's face and feathers are accented terrifically as the shallow depth-of-focus creates a soft bokeh in the background.
Watchmen – this perfectly framed shot features a portrait of what is referred to as a "watchman" at T'aanuu Llnagaay on the west coast of Canada. In this shot, Ehpem captures Mary who is performing this important role in the region, acting as a guide and intermediary into the area that is full of gorgeous landscapes and thousands of years of incredible history.
Buttermere – Barry Turner shares a great landscape that features predominantly blue tones, highlighting the feel of a mid-summers day on the side of a small body of water. The lush greens from the surroundings find perfect harmony with the wavy reflections cast on the water to complete this delightful image.
St. Andrews Church (Cowichan Station Church) . . . – ƊƦคƓ๏ƝŦlץƊгєคɱʂ88, a local Vancouver Island photographer, shares a wonderful rendition of a scene captured at a church we've visited and shot often ourselves. This shot utilizes a portrait orientation, including a bit of the historic cemetery in the foreground with a full frontal shot of the character-filled wood shingled church in the back.
Braies Reflection – incredible reflections dominate this gorgeous landscape photograph, captured by Johannes Nollmeyer in the Dolomites in Italy. Wood buildings sitting on the piers create great anchors into the frame as you make your way around the picture taking in the beautiful details explored in the scene.
New Zealand Seascape – this black-and-white seascape shot comes to us from Barbara Youngleson who finds a sailboat as it slowly passes dramatic rock formations on the seashore. The rippled reflections from the windswept waters adds a great element to complete this shot.
Rebirth – Alister Benn shares a terrific image captured of a little tree growing from a long dead tree trunk that peers out above the still waters of Fairy Lake right here on Vancouver Island. This little tree seems to never really grow much larger over the years, and is the source of many great photographs from artists who see the wonder and dichotomy that nature shares in life and death.
Foggy Glow – if you enjoy intense mood in your photographs, look no further than this terrific image from Brad Truxell captured in his home city of Pittsburgh. This fog enshrouded scene features a bridge with spots of lighting that lead you into the frame where the city lies buried in a thick veil of very moody and dramatic fog.
Downwards – a straight down perspective creates a vertigo-inducing photograph of an active city full of people running about far below. Roof Topper's shot highlights the dramatic contemporary architecture of the city with terrific details creating a multitude of points of interest to explore within the frame.
Another Morning Sunrise – a gorgeous and vibrant color palette is explored in this collage of photographs taken in the early morning as rich sunrises push back the night and greet another new day. JayJacy Photography loves to find and share incredible natural colors, and this series is another great example of the beautiful work they produce.
What's that? – a beautiful Polar Bear appears to be enjoying its natural habitat in this wonderful character study captured by Marsel van Oosten in the far north. As the bear, who seems to be rolling about on the ice sheets, looks straight back at the camera, it poses naturally and shows us all the incredible spirit these endangered creatures possess.
The Memory Box – there is no better way to wrap up a weekly list of photography links than to enjoy the interaction between the digital realm that captures and holds our memories so tightly alongside the human aspect of this entwined existence. Lisa Gordon adds a delightful poem to the shot, framing the emotions found in this black-and-white shot with prose that is sure to tug at everyone's heart.