For a lot of us, photography is synonymous with travel. If you're anything like me, you actually go so far as to plan your travel itinerary around the best places and times to get out the camera. I was pretty excited then, when I heard that two friends of Light Stalking were collaborating on a guide to travel photography.
Who Are These Guys?
Many of you will be familiar with the work of Mitchell Kanashakavich and his great guides that we have reviewed before on lighting and post production in photography. Many of you will also know of or read Darren Rowse's great site over at Digital Photography School. Well these guys got together (Mitchell as author and Darren as publisher) to produce "Transcending Travel: A Guide to Captivating Travel Photography".
Mitchell is a travel photographer by trade – he shoots for Getty Images and his photography has appeared in a heap of magazines as well as on book covers and billboards. He also wrote several guides (mentioned earlier) that went on to sell thousands. In short, the guy knows what he's doing! DPS knows how to pick talent when they see it.
What's So Good About The Guide?
As for the book itself, visually it's exactly what you would expect from these guys – gorgeous, with lots of great photographs and examples. One reason we really love Mitchell's stuff is that he virtually gives away the whole playbook when he uses examples. All of the images have the data such as ISO, aperture etc and most have extra information demonstrating the point he is trying to make about travel photography.
What's Inside?
There are four main sections to the guide – Preparation, Composition, Light and Making Photos.
As anybody who has travelled with a camera knows, preparation is invaluable – it can be the difference between average shots and a print that can proudly go on your wall. Mitchell covers this subject by going through his own process of researching shooting conditions before he even buys a ticket. This encompasses gear selection too and is centrally important to good travel photography.
The composition section is a great little rundown of most of the various rules of photographic composition aswell as when to break them. It's a good introduction for beginners and reminder for more experienced togs.
The lighting chapters of the book are also a great introduction. Judging from both this section of the book as well as Mitchell's other guides, lighting seems to be where he really has a passion. His explanations of directing light and how to get the right type of light for shots are great.
The final section on the photographic process takes us through how a travel photographer goes about getting a great shot – from conceptualising the image through to planning, waiting and shooting. There are also chapters on the most common types of images for travel – landscapes, buildings, interiors and people.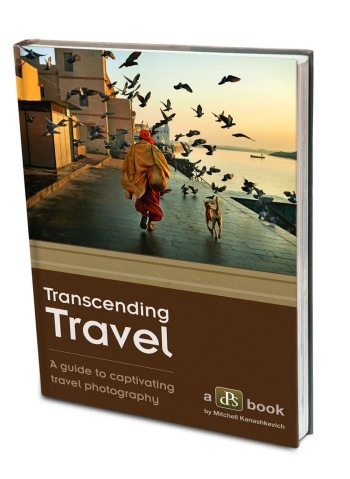 It's the sections on people that makes this book stand out. It is clear from the photos that Mitchell gets access to people that the rest of us struggle to emulate. But again, he tells exactly how he goes about it – whether it involves learning a few words of the local language, hiring a guide or simply getting lost in the hills on a motorcycle. To somebody who loves both travel and photography, this is the real gold of the book. Getting access to interesting people in their own environment is tough, but this is the guide that will show you how it's done. To be honest, I would have loved some more examples of the ethics and psychology of photographing people – it really is an area of photography with not enough written (though I will admit I am a total travel junkie).
All up, this is a fine guide to travel photography and a great complement to Mitchell's other more technical guides.
Part photography technique, part travel guide, part psychology – this book deserves a place in the collection of anybody who wants to improve their travel photos or get a handle on how to approach a tough area of photography.
What Next?
Now, Digital Photography School is a lot bigger than Light Stalking, but we still managed to convince Darren that it would be a good idea if DPS would offer Light Stalking readers a discount for this guide. He agreed, but only for a week.
So if you use the discount code "25lightstalker" you will get 25% off the advertised price of the guide if you get in this week.
Check it out here.
Note: DPS have agreed to share the proceeds of the Travel Guide with Light Stalking for those of you who purchase through our links. 🙂