May arrived, and with its arrival, great things came to our Light Stalking life as well. Personally speaking, I want to give a special shout out to all the people that have been encouraging us to continue with this fantastic project.
We know you all have frantic lives and that it is very hard to cope with everything happening; but don't worry, we got you covered. Here you'll find a curated selection of photos that grabbed our attention the most from Tersha's challenge on Perspective. A very interesting challenge based on one of the most intriguing features of photography.
We are also bringing you some highlights from the forum and some photos that deserve your attention and feedback from our one and only, The Shark Tank!
We love sharing every single bit of photography knowledge we have with you, so thank you again for your kind words and support, we really appreciate it.
Photo Of The Week – May 6, 2019
Ok so our very own @nikon-nut, John Thompson posted this amazing image and well it has left Kent Dufault speechless…he didn't have a lot to say about this photo of the week, because frankly, the image speaks for itself…what a corker!
When I first laid eyes on this photograph, I knew it was the POTW.
Congratulations John on a truly amazing landscape photograph.
Congratulations to John on a truly stunning photograph that definitely deserves Photo Of The Week
Here's What Our Members Are Photographing
These are just a taste of the great shots from our 432nd Challenge – Perspective!!! As always, a very big thank you to Tersha for her continued creativity in choosing such wonderful topics week in week out.
Photography is about finding the perfect composition, and sometimes it requires some odd physical manoeuvres in order to achieve it.
Everything looks interesting through the eyes of a curious photographer.
A peculiar point of view can make a photograph great, also a wide angle lens helps out!
I can't resist such a lovely looking doggo!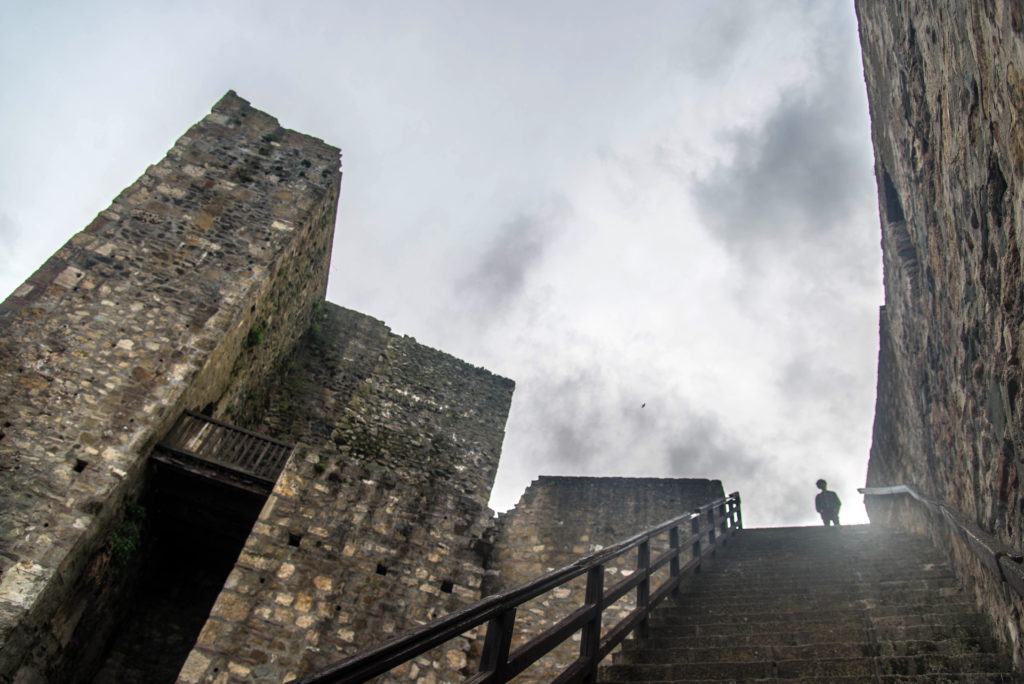 Beyond the wild perspective, this shot has great balance between two competing negative spaces thanks to the tiny human presence on top of the stairs.
Discussions You May Have Missed From The Light Stalking Community
Thanks to Chris Pook we can get a lot of reliable and unbiased information about things going on in Iraq. This week he shared with us a story about three families squatting as refugees outside Dohuk. Here you can also watch a video with the photographs he shared with us. Some of these portraits are extremely powerful. I hope this work transform into a success story about how photography can change lives for good.
Beth shared a fantastic landscape shot featuring a sunken boat. I must say, this scenario is quite a cliché in photography, but I love it (the whole cliche, just like umbrellas). A very long exposure made with her fantastic GFX 50R. The colors in this shot have been treated with extreme care. I must say, she has reached a "style" thanks to this particular color treatment. Perhaps it is a guilty pleasure in photography rather than a cliché, it always looks good.
Dorothy is trying to achieve the Droste effect in some of her photographs. I must say, it looks quite tricky, and I congratulate her since her results are quite impressive. Maybe some of you folks could help her fine-tune her skills. It looks quite hard to be honest.
We'd Love To Hear Your Thoughts
We know it is hard for you to believe something like this, but it is actually true. We certainly can help you out into becoming a better photographer at a reasonable amount of time. We don't have a magical potion of course, but we do offer something that helps photographers, and it isn't a magical spell but a mindset that can be built with consistency, practice and especially good disposition. We believe in the power of criticism and feedback, and we promote it via The Shark Tank. Don't worry about the name, it is a friendly place.
By working around this idea, people are able to nurture their own photographic knowledge when they give out elaborated critiques that go way beyond a simple emoji based reactions or "nice shot" comments. Not to mention the "what camera are you using?" ones. By receiving critiques we can find out flaws that weren't easy to spot for us before hearing an objective opinion upon our work. Here are some of the most interesting shot shared during last week on the Tank:
The Shark Tank is a great place to learn and to discuss, so please read the instructions in order the get a better critique experience. Share your comments, opinions and doubts on any or all of the images above. We also will be delighted to see some of your own images. Don't be shy, critiques are given to photographs and not photographers, so don't be afraid of sharing.
We and many other members will be more than pleased to help you out; after all, we all are in love with photography. Tilt yourselves and participate in the newest challenge published by Tersha on Black!
Please remember to join our friendly photography community if you haven't done already! Take a spin at our Members Picks from this Last Week a well, here you'll find the best of the best from Light Stalking, curated by our very own members.
Today We Leave You With A Conceptual Piece
Lynne Guenther posted a visually stunning album which was recognised by our members titled Spring Is Here. There are some visually stunning pieces in the album and so take a look.
Also, Lynne posted the image below to the Shark Tank, with details on her inspiration and how she's achieved this beautiful look which is definitely worth your time.